Do you want to know why everyone in Miami is so fitness-obsessed? No, it's not because we're a bunch of narcissistic egomaniacs who use every reflective surface in the city to check ourselves out. It's because we've got so much fantastic food here, and we're all looking for ways to burn it off. Seriously, look at our city's collection of burgers for proof: every new restaurant that opens up seems to have its own special take on the dish. That said, we searched high and low throughout South Florida, and found the best 13. In no particular order...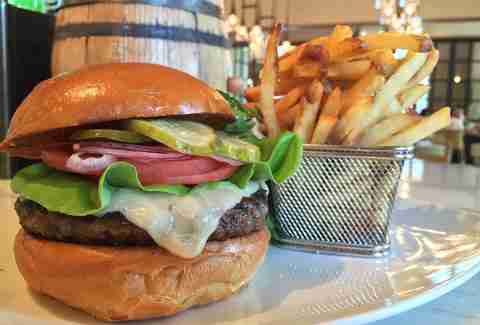 'Edge' Burger
EDGE, Steak & Bar
Address and Info
Four Seasons Hotel Miami
While having a burger at the Four Seasons seems like the eating equivalent of using your hi-def plasma to watch reruns of Alf, Aaron Brooks' 'Edge' Burger takes perfectly seasoned Creekstone Farms beef, tops it with Vermont cheddar and chef's pickles, and lets you laugh in the face of every seafood-eating dude at the table who sneered when you ordered it.
8oz Certified Angus Beef® Burger
Gilbert's 17th Street Grill
Address and Info
Ft. Lauderdale
Before you jump down to the comments and tell us we failed eighth grade geography, we know. Gilbert's is in Fort Lauderdale. But for a lot of people, that's actually closer than Kendall, and this burger is worth whatever kind of drive you have to make. As the name suggests, it's pure Certified Angus® char-grilled to perfection and served up on a fresh roll by the nicest people you will ever meet in South Florida... who'd never call us out in the comments.
Adena Burger
Frankey's Sports Bar
Address and Info
Hallandale
The burger here is nothing fancy, but it's probably the only sports bar burger you'll find where all the ingredients come from a few hours away -- using family farm-raised beef from Ocala, then flame-broiling it and topping it with LTO and cheese. Once ready, it'll be served to you at a table where you can bet on horses while you chow down.
Award Winning Pub Burger
John Martin's
Address and Info
Coral Gables
The Irish aren't particularly well known for their innovations in Cajun spices. But this is Miami, where we've got Irish pubs with salsa bands, so it should come as no surprise that one of the best burgers in the city comes from this longtime Gables pub, which blackens 8oz of beef, flame-broils it, and then finishes it off with Irish cheddar and smoked bacon.
Toston Burger
Pincho Factory
Address and Info
Westchester (& other locations)
Lots of places have tried to make some kind of "only in Miami" burger by throwing all the ingredients from a Cuban sandwich on a bun like they were the first ones who thought of it. You want to be the Pitbull of burgers? Take that beef and put it between a couple of fried plantains, then top it with homemade cilantro sauce.
Keg Burger
Keg South
Address and Info
Pinecrest
Kind of like Pinecrest itself, this burger is simple, understated, and super-local… but still one of the best areas/burgers in Miami. It's simply good old-fashioned American beef grilled up right and served with cheese: nothing fancy, but pure perfection.
LoKal Burger
LoKal
Address and Info
Wynwood/Coconut Grove
The only way this burger could be any more Floridian is if it got indicted for Medicare fraud. The guys behind both the Wynwood and Grove locations have taken Florida grass-fed beef, grilled it up, and topped it with local honey mustard, Jack, Florida avocado, and tomatoes.
The secret burger
The Local
Address and Info
Coral Gables
Sure, taking out-of-towners to a place called The Local will make you seem like a lifelong Miamian (even though you've never done any of these things). But if you want some serious Dade cred? Order this off-menu behemoth: short rib & brisket blend, bacon, double American cheese, b&b pickles and Mississippi comeback sauce, with a fried egg and mc disco -- cheesy discs of house-made pimento cheese spread that are pressed between a potato roll.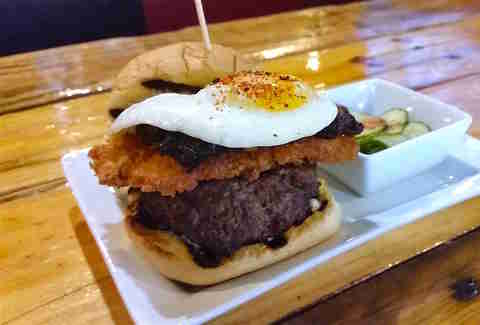 50/50
180° @ the DRB
Address and Info
Downtown
Typically things described as "tucked under the Metromover station" aren't something you'd want to put anywhere near your mouth. Not true of pretty much any burger at this beer bar, where the signature burger is a half-chorizo, half-beef patty topped with queso frito, maduros, aioli, and an egg.
The MM74
Pizza & Burger 
Address and Info
Miami Beach
The old Michael Mina 74 space has transformed from a foodie heaven into a laid-back backyard barbecue, complete with gourmet pizzas and burgers designed by chef Mina himself. The all-star among them is this behemoth, made from dry-aged steak that's topped with double-smoked bacon, American cheese sauce, lettuce, and secret sauce.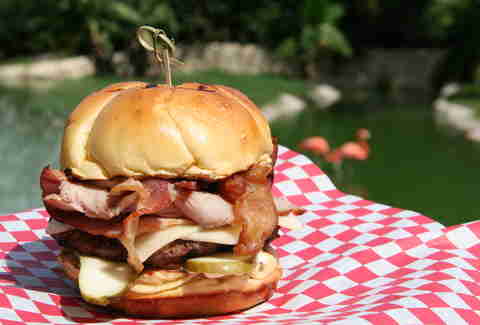 The Cali Burger
Jungle Island
Address and Info
Miami Beach
Even rarer than some of the species of animals at Jungle Island is this creature of beauty: a unicorn-like, reasonably priced food option at a tourist attraction that... ACTUALLY TASTES GOOD. Yep, and you don't even need a ticket to enjoy this flame-broiled patty topped with bacon, avocado, Swiss, LTO, and Jungle Sauce. Just make sure you resist the temptation to feed it to the flamingos.
The Sriracha burger
Bristol's Burger
Address and Info
Hollywood
The brand-new waterside burger joint at the Diplomat is aiming to be a lot more than a casual place in a fancy mega-resort. Bristol's has created some inventive burger combinations served on oval buns, and the one you CANNOT miss is the Sriracha burger: Florida beef topped with Sriracha, mushroom, goat cheese, and miso dressing.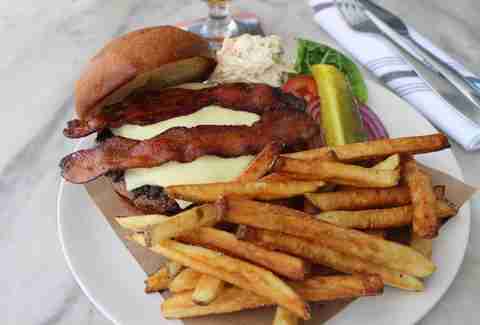 Mod Burger
Midtown Oyster Bar
Address and Info
Midtown
You won't see this hidden gem on a lot of lists of Miami's best burgers, because, well, who goes to a place called "Midtown Oyster Bar" to eat burgers? We do, that's who. And because of a personal aversion to shellfish, we found that this secret spice-rubbed patty might be the best seasoned meat of any burger in South Florida. The spice blend is the star of the show here, but topping the burger with smoked bacon, American cheese, lettuce, and tomato makes it just that much better.
Sign up here for our daily Miami email and be the first to get all the food/drink/fun in town.