In an area where residents argue on Facebook about which Red Lobster offers a better dining experience, it's kinda surprising that Tampa, St. Petersburg, Clearwater, Bradenton, Sarasota and, yes, Lakeland(!) are actually carving out a collective culinary identity worthy of attention. Don't believe it? Well, with a nod to the past and a look to the future, we've put together a list of the 21 essential restaurants in Tampa Bay that proves it.
Recommended Video
Where to Get the Best Waffle Fries You'll Ever Eat
If Willy Wonka walked into Datz, he'd look at the menu and go, "You so cray." Meatloaf stuffed like a pinata with macaroni and cheese? Mezcal flatbread? Bacon flights? C'mon. It's not even fair. SNL cast member Keenan Thompson is a regular, and he knows a… waitforit!... good burger when he sees one.
Everyone in South Tampa just calls this place "Pahhh-nay," like Bono or Beyonce. That's what happens when you offer fresh-baked breads… and elegant dinner service… and upscale lunches… and a cooler-than-cool bar scene. Pro tip: order the saffron pappardelle with lobster, jumbo shrimp, and king crab in a sherry lobster cream sauce. It will make you weep Parmesan tears.
To understand the light years the Tampa Bay area's food scene has traveled, you must visit the chicken-winged mecca of American "breastaurants." The original Gulf-to-Bay Blvd location that spawned an international chain of tackiness recently received a makeover after 40 years of slinging cold beer, curly fries, and visual stimulation, but that kind of nip-tuck is very Tampa Bay. Decry the misogyny, but this restaurant chain's influence is irrefutable.
The lunch line out the door says everything about this smoke-stained hole-in-the-wall tucked into the armpit of a shopping plaza between a rent-to-own furniture store and the DMV. The ribs, chopped beef and pork, chicken, brisket, and sausage have one purpose: to make you happy. Be ready to order because things move Soup Nazi-fast.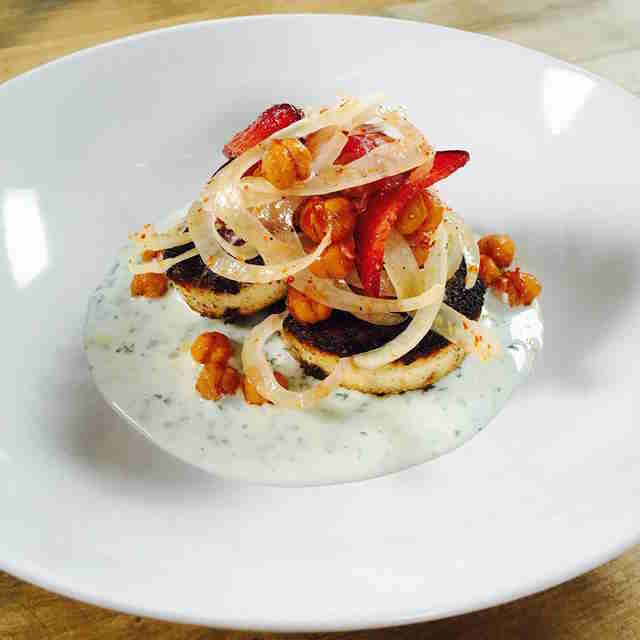 The most astounding fact about this Brooklyn-meets-Tampa spot: Chef/owner Ferrell Alvarez and business partner Ty Rodriguez laid waste to the Tampa food scene in less than two years using only sous vide, a few induction burners, and a combi oven. That's MacGyver-level cooking. Makes you wonder what James Bond-level cuisine will be possible now that they've doubled the restaurant's space and installed a full kitchen.
Back in the 1950s when mullet schools filled waterways, Ted Peters sold the smoked fish by the roadside. The restaurant he built retains that Old Florida charm, with frosty root beer mugs and picnic tables at which you can enjoy hot German potato salad, perfectly smoked salmon, and mahi mahi. How old school is this place? It's using the same plastic plates it used during the Kennedy administration but it doesn't take plastic for payment.
This South Tampa beef palace is decorated like a protein bordello, with glaucoma-dim lighting and gothic decor that would make Tim Burton feel homesick. After five decades, Bern's is the North Star in Tampa's culinary sky, setting the standard for luxury dining, and phenomenal customer service. Its epic wine list is thicker than its dry-aged Tomahawk chop and the steakhouse's Harry Waugh Dessert Room upstairs is so badass -- you can call the piano player to request a song from a phone at your table inside an old wine cask -- it would be one of the top five restaurants in Tampa on its own.
Formerly known as SideBern's, this relatively recent South Tampa creation by the House of Laxer already has other chefs in town saying, "Damnnnn." Somehow, they took one of the best bars in Tampa and made it better. It helps that they tacked on a "cheese cave." Not a cheese counter. A full-on cave du fromage. Chef Chad Johnson also has a penchant for offal and odd cuts. Surrender to them. The guy knows what he's doing.
Crowds flock to this 110-year-old landmark in the Ybor City historic district because the Gonzmart family still makes incredible sangria tableside, and tosses the 1905 salad like Springsteen plays "Born to Run." Try finding boliche, paella, and pompano papillot with this kind of historic ambiance anywhere else. Teddy Roosevelt drank at the bar before invading Cuba. Marilyn Monroe threw a Kardashian-grade meltdown in the ladies' room. It's that sort of place. Taking the Columbia out of Tampa would be like taking Mickey Mouse out of Orlando.
How to describe the service at this oasis of yum on Hillsborough Ave? It would be quicker to order dim sum delivered from Hong Kong. But when it finally arrives, it is definitely worth the wait. So are the salt and pepper tofu, and the sizzling chicken with asparagus in black bean sauce. In fact, the place is so good locals will judge you if you haven't been there, so next time when someone asks if you have eaten at Yummy House, just say yes and then go make reservations if you have to.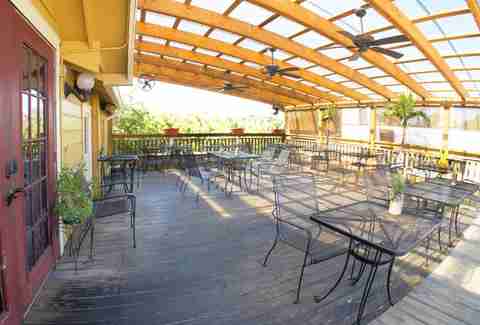 Co-owners Greg and Michelle Baker led a wave of farm-to-table dining in the mid-2000s -- in the unlikely Seminole Heights neighborhood, of all places. That's like going to the moon by launching from a Florida swamp, and no one would do tha… oh, wait. Anyway, the adjective "eclectic" gets overused regarding The Refinery, when what people really mean is that the food is thoughtful, surprising and, gosh darn it, a lot of fun. They put poutine on the menu in Florida. In August. Under a mounted jackalope in the dining room. That takes supremo huevos.
Back when Tampa was a culinary ghost town (no, not two weeks ago), co-owners Maryann Ferenc and Chef Marty Blitz took aim at the taste buds of downtown elites. More than two decades later, Mise is where politicos go to be seen breaking bread and maxi dress-wearing moms you'd like to… um, never mind, nurse their merlot at the luxurious bar. Blitz's enormous menu is a maze of challenging proteins, elegant comfort food, and provocative ingredients, so if you have a poor meal here, we're guessing you probably don't know how to use your mouth.
This is a town known for swans. SWANS. (Insert snooze button here.) That makes restaurateur Richard DeAngelis' quirky, wine-soaked food haven in this lakefront neighborhood all the more remarkable. Seriously, if RD were in South Tampa instead of Lakeland, people would be getting plastic surgery to qualify for reservations. Chef Jason Boniface's small-plates menu is fun, eclectic, and deeply satisfying, but our advice is go for the Phantom Sandwich -- a chef's pick that arrives as a surprise at the table and never disappoints. One recent evening, he skewered fried chicken, bacon, and fried green tomatoes between two grilled cheese sandwiches. Yes, you read that right.
Chris Ponte is the kind of Le Cordon Bleu-trained chef who can serve you foie gras all day long and then crack the seal on a case of Keystone Light after closing. True to his blue collar roots, Ponte has held the culinary high ground in middle-brow Pinellas County for over a dozen years with his dynamic food served in an elegant, 250-seat restaurant.
Cuban food mashed up with Asian fried rice? Makes total sense here on Columbus Dr, Tampa's "Boliche Boulevard." The standard Cuban dishes are here in abundance and executed expertly, but you owe it to yourself to go for the daily specials. Especially if it's camarones enchilado, where giant shrimp lounge in a hot tub-sized plate of tomato goodness like they're on spring break.
Vietnamese refugee B.T. Nguyen's career in food started after a stint in the fashion industry. But this is no Zoolander restaurant. Her light, seasonal dishes are a beauty to behold on the plate and they marry authentic southeast Asian flavors to classic French technique. Oh, and it's also got top-notch table service, so whatever the suggested wine pairings are, take their word. You're in safe hands with B.T.'s knowledgeable staff.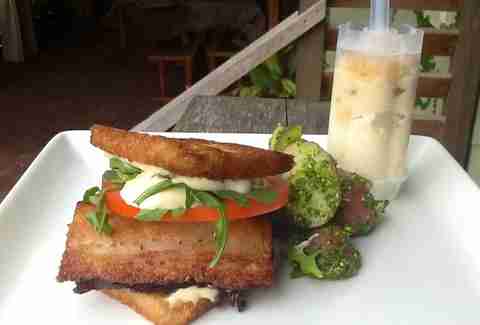 Inside a charming converted Florida Cracker house away from Sarasota's main drag, Chef Steve Phelps is banging out some of the most important-yet-approachable food on Florida's west coast. Not only are most of the ingredients indigenous to Florida, even the foliage outside the restaurant hails from this part of the peninsula. One more thing: he turned the house's garage into an intimate, must-visit wine room. Why don't more restaurants operate like this? Oh, right. Because it's difficult to do perfectly. Got it.
Owner and Chef Sean Murphy's beachfront restaurant earns rave reviews from customers and mad respect among chefs. Maybe if his food was plated in Miami or Orlando (haha… we're just kidding about Orlando!), he would have earned more accolades the past few decades, if only for his "Food Heaven" entree -- lamb, butter-poached lobster, and foie on brioche bread pudding -- which is epic for its excess and its balance. Plus, Murphy exudes Gulf Coast cool. He has the kind of flowing locks you need to publish magazines, steal a diamond, or lead a revolution.
The Gonzmart family not only swan-dived into local flavors for their theme, they went hyperlocal, building a restaurant inside a 100-year-old water plant and sprinkling native Florida ingredients throughout the menu. When the mayor uses a restaurant project like Ulele as a municipal crowbar to rebuild Water Works Park, reinvigorate the downtrodden Tampa Heights neighborhood, and extend the Tampa Riverwalk, you know it's more than a restaurant with an on-site brewery -- it's a legacy project.
This humble and cramped Cuban restaurant beats like the heart in the chest of West Tampa's Hispanic neighborhood. The snapshots along the walls tell the story of its customers. The framed photos along the ceiling tell everyone how vital it apparently is for politicians and fat cats to come and visit. More importantly, the Cubanos and garbanzo soup are worth the trip, even if it's from Cuba itself.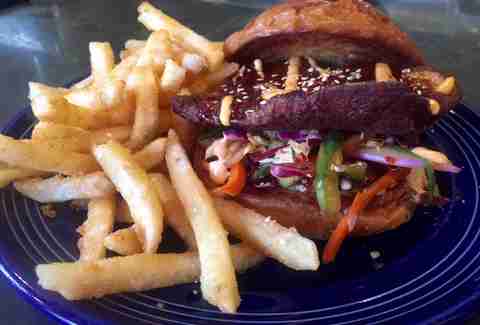 Chef Zack Gross loves his family, tattoos, skateboards, and quirky, fun food. All of them come together here in this half-pipe dining room with a polyurethane bar and a wall display by St. Petersburg tattoo artist Evil Don. Not to be outdone by the decor, the eats menu boasts things like Dr Pepper fried baby back ribs and wasabi deviled eggs that are to Gross what "Gold Digger" is to Kanye. He got that ambition, baby.
Sign up here for our daily Miami email and be the first to get all the food/drink/fun in town.
Jeff Houck is a food writer from Tampa who's been to all of the Bay Area's essential restaurants, and may or may not have a tattoo by Evil Don. OK, he totally does. Follow him on Twitter @jeffhouck.
Stuff You'll Like