Miami When you live in a city that's not only surrounded by water, but, on a bad night in South Beach, is actually UNDER water, you should probably be able to get some great seafood, right? Right, and while we might be better known for things like our Cuban sandwiches, there aren't many places that can beat Miami when it comes to fish... especially raw fish. In fact, the 305's so full of seriously good sushi spots that the hard part is knowing which ones are actually worth your time. Until now.
Bal Harbour Air bread might sound like Nike's venture into artisan toast, but in fact it's among the signature dishes at Stephen Starr's Bal Harbour sushi outpost helmed by Iron Chef alum Makoto Okuwa. The bread's a super-thin slice of Kobe atop a puffed cracker full of horseradish foam, and almost outshines the impeccable sushi menu. Thrice-weekly shipments of fish from Japan put this place squarely in the upper echelon of Miami sushi. And it's definitely the best way to refuel whenever you're forced to go shopping at Bal Harbour. More Stuff You Will Like
Downtown Despite what it might look like, you actually don't need to have a multimillion-dollar yacht to go here. What you do need, however, is patience, since odds are the Dolphins will make the playoffs before you can get in on a Saturday night. If you're the type who enjoys waiting months for sushi, the stuff at Zuma is definitely worth it, made with the same attention to detail and quality standards as its trademark barbecue.
Sunset Harbour You know the Pubbelly crew is doing something right when they can open up a sushi joint and still have one of the best beef dishes in the entire city. Yeah, the Wagyu roll might be the best beef tartare you ever have, but if you're going for the seafood, their creativity extends to more traditional stuff too, and the ever-changing lineup of rolls makes this a place you'll want to put in your regular rotation. Continue Reading
South Beach It's freaking Nobu. We could pretty much drop the mic there and anyone who knows anything about sushi would accept it. But if you don't want to take our word -- and seemingly the word of every Instagram "model" who posts her dinner on the Internet -- listen to the local sushi chef we had rank his favorite sushi joints. He put this place at #1.
South Beach Kinda like it's also-from-LA cousin Bazaar next door at the SLS, this South Beach sushi den takes what California did and makes it better. Here not only will you get a fresh-caught menu crafted by Chef Katsuya Uechi, but you can also chill upstairs in the Asia-chic dragon lounge. Every month, a different artist takes over the space, giving it a different feel each time you go. And, since it's Miami, each time the decor changes hands, a massive must-hit party comes along with it.
Coral Gables The Red Bird Shopping Center is a great place to go get your tags renewed. But for sushi? Yep. For a fraction of what it'll cost you to get new tabs for that leased BMW you can get hard-to-find cuts like yaki ika, hotate yaki, madai, and otoro, plus an all-you-can eat sushi option that's easily the best of its kind in Miami. And even if you opt for a la carte, you're getting the same quality fish a lot cheaper than you will at Zuma or Nobu.
South Beach At first glace, a Collins Ave sushi restaurant with a name only slightly less tacky than the T-shirts sold next door might not seem like the BEST place for a sushi meal. But unlike those T-shirts, eating here won't make you a joke to locals. That's because it's a hidden-in-plain-sight gem, serving actually-delicious sushi in an inventive Asian restaurant disguised as a tourist trap. So a real local will give you props for choosing to endure the deafening bass from rented Ferraris in order to have some of the best affordable sushi in South Beach.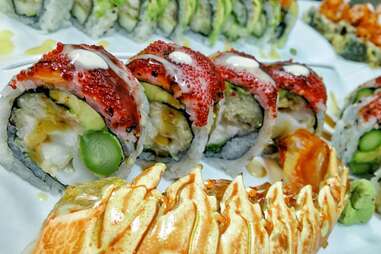 North Miami Beach Take South Beach, then put it in North Beach, and subtract the flocks of tourists, impossible parking, and grossly inflated prices. That's what you get at Sushi House, where long white curtains lead down to white leather booths under muted blue lights where you can sip lychee martinis and enjoy some of the best sushi in the city for considerably less than you'd pay five miles south. If you're a fan of spicy mayo, the Pink Dragon roll may well be the best thing you've ever eaten. And if you're not so big on mayo, the tuna tartare stack is worth going for on its own.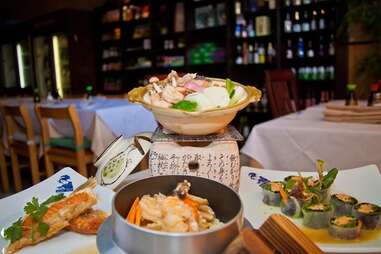 Coral Way It's gotten to the point where you could throw roast pork and plantains in a roll and they'd just call it "Cuban sushi." Not here. Sushi Chef is as traditional and old school as they come, with the resto sticking to Japanese ingredients and Japanese style. So if you want spicy mayo or tempura, look elsewhere. But if you want an experience that's as close to eating sushi in Japan as you'll get without having to change planes in LA, this is your spot.
North Bay Village If you're the type of person who doesn't care so much about "eating" as you do about "getting at least 250 likes for my picture of soy sauce," don't ever go here. This tiny food counter inside a missable Japanese market in North Bay Village may well have the best sushi in Miami, but what it doesn't have are cell phones. Any of them. And even though the "secret" of this place has been out for a while, it still doesn't need you blabbing about it to all of Snapchat.
South Beach Even the douchiest of South Beach denizens, for whom dinner is as much about being seen as it is about eating, will tell you this Washington Ave institution is as good as sushi gets in Miami. For locals who love good seafood, it's a multi-visit-per-week kinda place. And its unassuming facade keeps tourists away effectively, allowing those of us who live here to enjoy the fantastic service, fresh sushi, and neighborhood restaurant feel that's all but impossible to find in the Beach.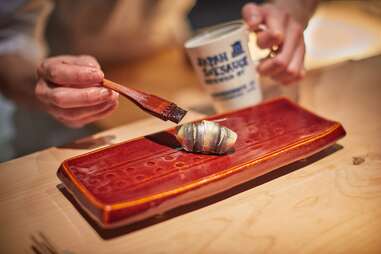 Brickell There are fewer seats in this Brickell Key omakase joint than there are in most of the rented Escalades you see around town. And they probably cost more. So if you've got the cash, this is hands down the best date spot in Brickell, where twice a night Chef Kevin Cory sits eight people down and serves them whatever he damn well feels like serving them. Given that NAOE's received the very rare Forbes five-star rating, he probably knows what he's doing.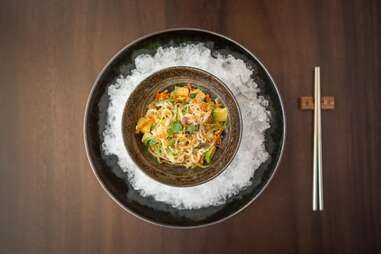 SoFi The new kid on the sushi block popped up in SoFi over the summer and is already a hit. It has a full menu that combines stuff like miso sea bass with a big selection of meats cooked on the robata grill, but the real star is the sushi. The Makoto-trained chef has plenty of traditional rolls and sashimi you can order a la carte, but for the best experience try the $30, $60, or $90 omakase selections.
Hollywood Say you live in Broward, and you're reading this article like, "Damn, those places look great, I wish trying them didn't involve driving home on an inexplicably-two-lane I-95!" Well, thank the Hard Rock that opened this opulent sushi palace with a menu reminiscent of Zuma. Just replace the yachts with a swimming pool. Executive Chef Alex Becker and sushi chef Shuji Hiyakawa have put together a menu that blows anything in Broward away, and if you're looking for fresh, high-end Asian cuisine, you now have no need to drive to Miami. Unless you enjoy traffic. Sign up here for our daily Miami email and be the first to get all the food/drink/fun in town.Matt Meltzer is a staff writer at Thrillist, and despite his mom's best efforts, didn't eat seafood until age 30. See pictures of food he doesn't eat and follow him on Instagram: @meltrez1.