To become a real-deal Miamian, there are a few things you have to do: own chancletas, know someone who can get you into LIV, and do all of these things at least once. Another significant requirement is sampling all of our enticing local cuisines and drinks, which includes everything from Cuban coffee and Cuba Libres, to pastelitos, Los Perros, and your everyday neighborhood pig roast. Before you start saying you're "so 305," make sure you've checked these 22 items off your list.
Recommended Video
Thrillist's Best (and the Rest): The Truth Behind the Saddest Cookbook Ever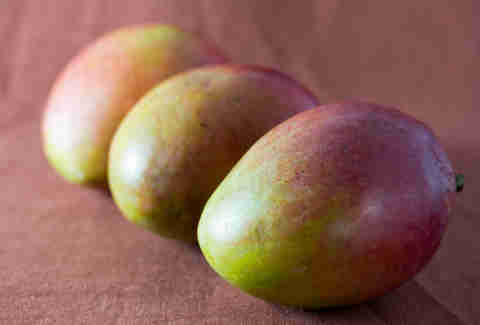 Mangoes
Summertime in Miami is like mating season for mango trees. We don't really know how or why it happens, but suddenly we wake up in July, and these sweet, awkward-looking fruits are covering our front yards and being sold on street corners, and we're making up mango recipes just to get rid of them. The mango is at its most authentic when taken from your neighbor's yard, cut into chunks, and served as a snack.
Cafecito
This white plastic shot glass of uncomfortably strong coffee is an essential part of any Miami workday. We joke here that it's "liquid crack," but we're also not really joking. To be a real Miamian, get it from the La Carreta on Bird Rd or the Versailles on Calle Ocho before work, after lunch, and at 3:05pm. Then pray for your stomach/intestines.
Cortadito
If you're new to the Miami game and can't handle a cafecito, consider this foreplay. It's Cuban coffee with a few tablespoons of milk and sugar, and is served in a slightly larger, white Styrofoam cup by any Cuban grandmother with a window near you.
A hot dog from Arbetter's
Arbetter's is a family-owned joint that's been on Bird Rd for 50+ years, which you'll know immediately because it looks like it's been sitting on Bird Rd for 50+ years. Its hot dogs are as no-fuss as the shack they're sold in, and you can get them with ketchup, mustard, relish, onions, chili, or cheese.  
Guava queso pastelito
This version of the piping hot Cuban pastry is stuffed with melted cheese and guava. Miami babies come out of the womb craving this item, which you can find on Hialeah and Calle Ocho street corners, and at Publix, La Carreta, and any Cuban baby shower, reunion, or wedding. You cannot get more Miami than this.
Cuba Libre
No, this is not just a rum and Coke. A real Cuba Libre requires a strategic mix of dark rum, Coke, fresh lime juice, and the skill of a "viejo" who wears a fedora and probably rolls his own Cuban cigars.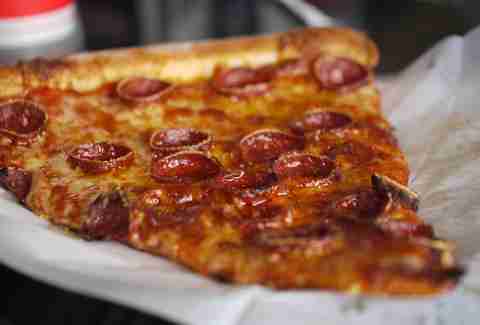 Casola's pizza
It's not that you're simply getting pizza, it's that you're getting Casola's pizza, and you're probably getting it at 3am after unrealistic promises to yourself of "having just one drink" at Batch. The slices are so huge and greasy that you'll have to fold them in half to eat, which after waiting in Casola's seemingly never-ending line that late at night, you will not mind.
Cuban bread
A morning in Miami is not complete without cafecito No. 1 and pan con mantequi -- er, Cuban bread with butter.
A milkshake at Robert Is Here
Robert Is Here is a tropical fruit stand that has been around since the 1960s and was started by a guy named Robert... who is still here! It's known for its exotic fruits -- even the weird ones, like carambola, jackfruit, and dragonfruit -- and its famous milkshakes: a mix of any fruit Robert has in season, fro-yo, and ice cream.
Cuban sandwich
The Miami Cuban is a glorious combination of ham, roasted pork, Swiss cheese, and mustard on Cuban bread. And just like the bread it's served on, we consider it one of our greatest inventions.
Juice from El Palacio de los Jugos
You will want juice from El Palacio because 1) its name literally translates to "the palace of juice" and 2) it has a fresh-squeezed juice counter that can juice any given any fruit grown in South Florida: papaya, guava, mango, and more.
Monty's conch fritters
Monty's is probably the only place in the world where UM frat guys, football players, Coconut Grove drifters, old Florida hippies, and hot locals can stare at yachts together in harmony. Go when the sun's out on a Saturday, and be sure to order the conch fritters. These golden-fried nuggets are made with the freshest conch in Dade, guaranteed.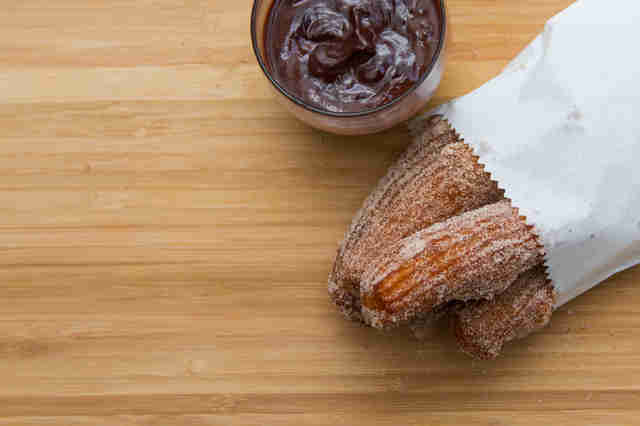 Street churros in Hialeah
While we don't normally advise buying things off the street in Hialeah -- in this case -- we encourage it. These fried dough pastries are covered in sugar, and should be eaten for breakfast, dessert, as a snack, or anytime you see a guy in Hialeah walk up to your car trying to sell you churros.
Cinnamon buns from Knaus Berry Farm
You should never be doing a walk of shame in Homestead for any reason, so if you're there (and awake outside at 6am), it's likely because Knaus Berry Farm has reopened its doors. It's run by Amish residents, is only open from November to April, and has cinnamon buns good enough to convince Miamians that they should get up at 6am on a Saturday and drive to Homestead. And that's saying something.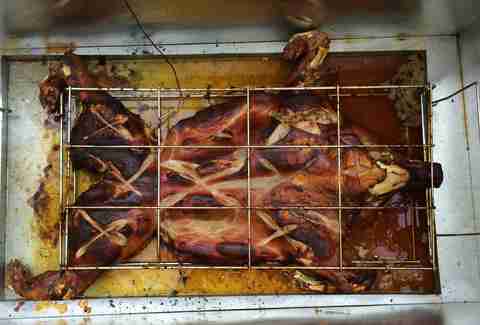 Caja China
This is primarily reserved for special occasions in the backyards of Cuban or Puerto Rican households, and might be made by the same guy who made your Cuba libre and his grandsons. In short, caja china -- pronounced "ca-ha chee-nah" -- is a Cuban-style pig roast. An entire pig is roasted in a wooden box in a pit in the ground, the results of which net you a whole bunch of tender, delicious pork.  
Honey mustard chicken sub from Hungry Bear
Hungry Bear is a hole-in-the-wall sandwich shop that's hidden across the street from the Miami-Dade College Kendall campus, and is known for the only foot-long subs in Miami good enough to rival Publix (yeah, we said it). The standout sandwich is the honey mustard chicken sub, which is packed with chicken, grilled onions, mushrooms, green peppers, and drenched in sweet honey sauce.
Stone crabs
If you're in Miami between October and May, you can't leave without eating stone crabs. For the best, whip out your tool (your claw cracker, people!) and head to Golden Rule, Monty's, Truluck's, or of course, the most ubiquitous of them all: Joe's Stone Crab.
ChillN ice cream
Once upon a time, two young guys from Miami took what they learned in science class and used it for good: to make ice cream. Fast-forward four years later, and now ChillN is in four locations around South Florida. Choose your favorite flavor and mix-ins -- like M&M's, granola, Reese's, bananas, shredded coconut, and more -- and the geniuses enlist liquid nitrogen to flash-freeze it all together. Order the Nutella with cookie bites and thank us later... by bringing us some.
Los Perros salchipapas
Ah, Los Perros -- where bad decisions come full circle. When you're there at 4am (because that's the only time you should be there), order the salchipapas. There are four different kinds of this fried potato and sausage mix, but the winner is definitely the Salchipapa Remix: French fries, mini Colombian potatoes, diced hot dogs, mini pork bites, and three quail eggs, all smothered in an unidentifiable sauce that's absolutely worth the risk.
Key lime pie
This creamy pie gained initial fame in the Keys, before all of South Florida adopted it as their hometown dessert. It's tart and creamy, has a graham cracker crust, and is usually topped with a dollop of whipped cream. Where to get the best is an ongoing debate in Miami, but Fireman Derek's, Joe's Stone Crab, and Publix are all top contenders.
Croquetas from Islas Canarias
Most people show up to someone's home with flowers or chocolate. In Miami, we show up with croquetas. These fried tubes are usually stuffed with ham or chicken, served hot, and are mind-blowing when put between two pieces of bread and turned into a croqueta sandwich. The best ones are at Islas Canarias, and it has a drive-thru... so what are you waiting for?!?!
Tomato & cheese pizza from Frankie's Pizza
Pizza is never a bad idea, and Frankie's has been an iconic Miami pizza joint since the 1950s. Get the cheese-heavy, square-cut, tomato and cheese pizza half-baked, for takeout only, then go home and bake it until it's piping hot. This seems like a lot of work, until you realize that Frankie's sends you home with a cooked slice on top of your box so you can get your fix while you wait.
Sign up here for our daily Miami email and be the first to get all the food/drink/fun in town.