BLT STEAK
BLT STEAK
Aww, June. It's the official start of Summer, which means you can start knocking these 13 Miami Summer must-dos off your checklist, and, it's National Steak Month, which means you could check out our list of Miami's top five steakhouses (or the ones from USA Today, Yelp, Forbes Travel, etc.) for the usual suspects. OR hit one of these eight under-the-radar steak-slingers that don't appear on any of those lists... and one that does but we're betting you've never been to.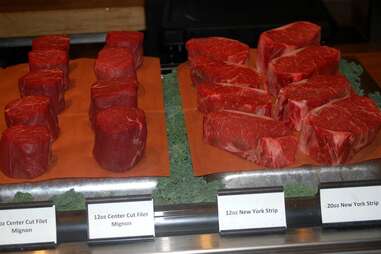 Council Oak (address and info)
Hollywood
Once the Hard Rock's "sorry you lost your house to us playing blackjack, here have a steak" consolation prize for regular players, this meatery tucked next to the escalators at the entrance of the casino greets you with a giant window filled with prime cuts, which you can select while you wait for your table. The steaks are as good as the ones at any of Miami's best and the eight-station boozy brunch with New Zealand lamb and filet mignon is worth the drive to Hollywood alone.
BLT Prime (address and info)
Doral
Rumor has it when The Donald took over the Blue Monster in Doral a while back, he planned this luxury steakhouse with nothing but gut-busting cuts like the 16oz NY Strip, the 22oz Cowboy, and the 12oz filet mignon, not just so hungry golfers could get their protein on with a front row view of the 18th green, but also so he could keep running back into the kitchen and yelling "You're fired!" at the steaks.
Hereford Grill (address and info)
Flagami
"Wait, Thrillist, you mean that place in the Ocean Bank by the airport, next to the six-screen movie theater that looks like The Restaurant 1987 Forgot? ARE YOU INSANE?" Well, much like with that South Beach hookup you never speak of, looks can be deceiving. This Argentinian steakhouse serves up nothing but Certified Angus® Beef, including a savory pepper-sauced filet mignon, a 16oz Portuguese Espetada, and a dozen other different flame-broiled cuts that'll have you looking for what's playing at the LeJeune Cinema 6 so you can wait out your food coma.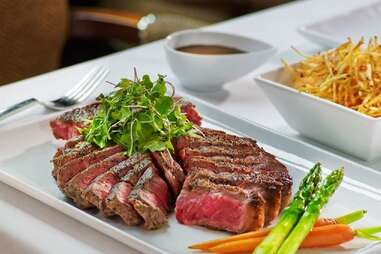 Hollywood Prime (address and info)
Hollywood
While the towering Westin Diplomat is about as subtle as an NFL rookie's mewelery, the understated 15-table steak joint just to the left side of the lobby is about as easy to miss as his career will be. Even though they're AAA Four Diamond rated, boast a Wine Spectator 2013 Best of Award of Excellence, and have a menu full of 21-day dry-aged prime cuts, seafood, and Long Island duck, most South Floridians know less about this place than they do about Billy Turner.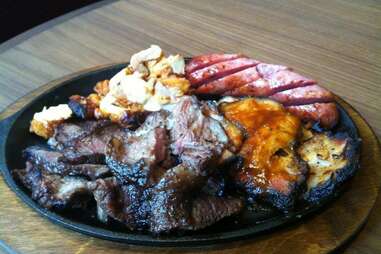 Toro Toro (address and info)
Downtown
For a steakhouse to be any more entertaining than Toro Toro, it would have to have serving wenches and an hourly joust. This spot in Downtown's Hotel Intercontinental settles for starting you out with hand crafted cocktails, then plying you with a CAB prime steak OR a tableside-carved churrasco plate for two w/ picanha, ribeye, lamb, chorizo, AND achiote chicken, then finishing with La Bomba, a giant chocolate orb filled with dulce de leche, ice cream cookies, and edible orchids that literally explodes on your table.
Chima Brazilian Steakhouse (address and info)
Ft. Lauderdale
If you're one of the countless people in South Florida who have curiously become die-hard Brazilian soccer fans in the last few weeks, your loyalty extends to steak too, right? In Broward, that means hitting up this semi-hidden rodizio joint on Las Olas just before Lauderdale Beach, where they've got 15 Brazilian meats brought to you in an endless parade of skewers, a 20yd salad bar with cheeses, soups, and bread, and plenty of the REAL reason those guys are such big fans of Brazilian soccer: Brazilian chicks.
Tropical Acres (address and info)
Dania Beach
Kinda like that chick you were talking too for a liiiiitle too long at Bimini Boatyard last weekend, it's hard to believe this steakhouse has been around since 1949. And since it hasn't spent thousands of dollars on plastic surgery to keep up with the younger, sexier steakhouses, you probably haven't gone. But you should, 'cause you can easily make an 8pm reservation at Broward's oldest steakhouse, where the steak is as good -- if not better -- than anything you'd get at Prime 112, and you actually get to sit in your seat before 9pm.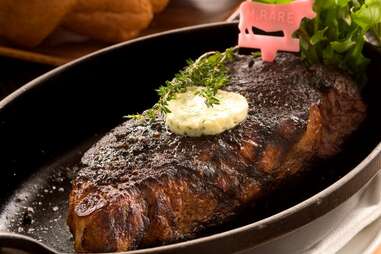 BLT Steak (address and info)
South Beach
Since you're a Miamian -- and therefore avoid Ocean Drive like you avoid turn signals -- you've probably HEARD of this spot in The Betsy, aka that hotel on Ocean Drive that looks like it belongs somewhere in colonial Williamsburg instead of the Art Deco District, but you've yet to try Danny Ganem's menu, which starts with Gruyère popovers, continues with one of the few true raw bars you'll find in a steakhouse, then moves on to four Certified Angus® Beef cuts, as well as a 40oz porterhouse and Wagyu skirt steak, all with multi-weekly live jazz performances in The Betsy's lobby playing in the background.
This list -- and all the rest -- look even sexier in our iPhone app. Get it now!