We Ate Everything at Salty Donut, Miami's First Gourmet Donut Shop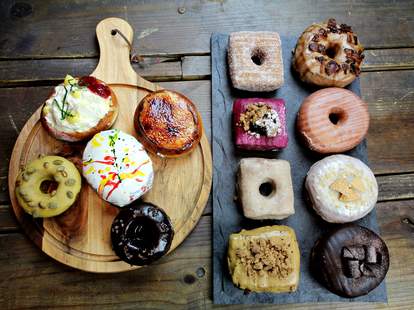 Welcome to the gourmet donut party, Miami! Today, while every other city in the Thrillist family is running a round-up of the best donut shops in town, we decided to do something a little different. Of course, we could talk about Mojo --one of the best donut shops in America -- but that's all the way in Pembroke Pines. And the rest stops along the Turnpike unfortunately do not register as "gourmet". 
 
So with that in mind, we're here to introduce you to Salty Donut. A little trailer that set up shop in Wynwood late last year, and has finally brought the concept of inventive, gourmet donuts to Dade County. After touring the nation for inspiration Andy Rodriguez and Amanda Pizarro teamed with Chef Max Santiago to come up with a lineup of donuts the likes of which this city has never seen. Including actually delicious gluten-free donuts and alcohol-infused donut holes. And Miamians are excited. So excited that we're already lining up outside their trailer on NW 24 St to see what all the fuss is about. So to speed up that line -- and because we're fat kids -- we tried every donut they've got, so you can know what you want before you get to the front.
 
Matt Meltzer/Thrillist
Maple bacon
A yeast donut topped with maple glaze, Miami Smokers bacon, and a J Wakefield Porter reduction.
Tasting notes: This donut is about as Miami as they come, with toppings from some local institutions. The saltiness of the bacon plays perfectly against the sweetness of the maple, and the coffee flavor from the porter makes every bite taste like an entire breakfast.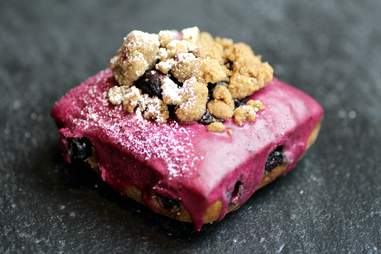 Matt Meltzer/Thrillist
Blueberry cake
All of the cake donuts are made square so it's easy to tell which is which. This one is made with fresh blueberries, filled with blueberry compote, and topped with a blueberry blaze and cinnamon streusel.
Tasting notes: All the cake donuts are more cake than donut, and one can easily feed two people. This one is reminiscent of blueberry pastries you might find at a gourmet coffee chop.
Matt Meltzer/Thrillist
Gluten free chocolate
Here we have gluten free chocolate dough (made with oil instead of butter) that's baked, topped with salted chocolate ganache and coco nibs. And it's all under 120 calories.
Tasting notes: "What taste?", you say. "No way that tastes like ANYTHING!" you say. And you are wrong. This tastes a lot like a HoHo or DingDong, but, you know, good and without unpronounceable chemicals. It's a dense, moist, chocolatey donut with as much flavor as anything else on the menu.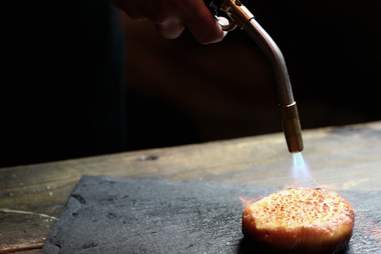 Matt Meltzer/Thrillist
Crème crûlée
Here's a combination of two of your favorite desserts, crème brûlée and donuts, it's a yeast donut filled with a thick Tahitian vanilla custard then topped with turbinado sugar, and torched before serving
Tasting notes: First, let it cool after the fire show is over. Second, this donut weighs more than a lot of steaks, and is probably two meals worth of food. It's like taking a bite out of the top of a crunchy crème brûlée, but without the use of a fork, and combining it with tasty fried dough.
Matt Meltzer/Thrillist
Brown butter salt cake
This is a vanilla bean cake donut topped with a brown butter glaze that's cooked down with extra milk powder for a nuttier flavor, finished with Maldon sea salt.
Tasting notes: If you're into saltwater caramel, in any of its incarnations, this will be your favorite donut at a place actually called Salty Donut. It's cake with a ton of butter, and there's no way you won't eat the whole thing, So plan your meals accordingly.
Matt Meltzer/Thrillist
Guava and cream cheese
Inspired by Cuban cuisine, it's filled with a guava paste/Philadelphia cream cheese mixture and topped with Maria cookies.
Tasting notes: Even if you don't like pastelitos, this is worth a try. It doesn't have that stick-to-your-mouth butteriness of the traditional pastry, so it's a lot smoother and a good segue into Cuban desserts for apprehensive gringos.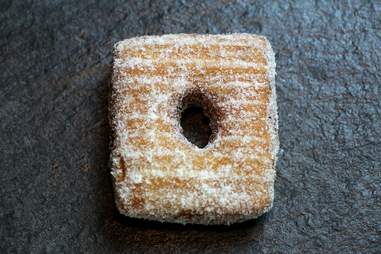 Matt Meltzer/Thrillist
Lemon rosemary cake
We've got dough made with rosemary-infused oil and chopped rosemary, plus lemon juice and lemon zest. Then it's brushed with rosemary oil and topped with lemon-rubbed sugar.
Tasting notes: The light flavors of rosemary and lemon might trick you into thinking this is a light donut. It's not. The flavors are like a citrusy fruit juice, but eat the whole thing and you'll know it was cake.
Matt Meltzer/Thrillist
Boston cream pie
Twenty-four hour yeast raised with salted dark chocolate ganache (SOMEBODY thinks it's delicious), topped with chocolate garnishes and cocoa dust and filled with vanilla custard.
Tasting notes: Make sure you take a giant bite so you get the chocolate garnish and the cream in the same bite. It's got a big, creamy flavor but it's complimented perfectly with the chunky texture of the garnish.
Matt Meltzer/Thrillist
The original
A 24-hour yeast raised buttermilk dough with a vanilla-butter-sugar glaze.
Tasting notes: Take your favorite fundraiser donut, add, like, a stick of butter, and you've got the flavor here. It's essentially an amped-up version of the classic.
Matt Meltzer/Thrillist
Gluten free pumpkin
This one's pumpkin spiced dough made with oil. It's baked and topped with pumpkin glaze with spiced and caramelized pumpkin seeds
Tasting notes: If you like carrot cake, this has a very similar flavor with a creaminess on top and spice on the bottom. But it's about half as heavy thanks to the oil, and half the guilt as it's under 120 calories.
Matt Meltzer/Thrillist
Passionfruit donut
Hello you 24-hour, yeast-raised donut filled with passionfruit custard and topped with white chocolate ganache with colored coco butter splatters.
Tasting notes: Easily the most artistic of the bunch, it's also one of the lighter-tasting donuts on the menu with a big burst of passionfruit and not a lot of dough.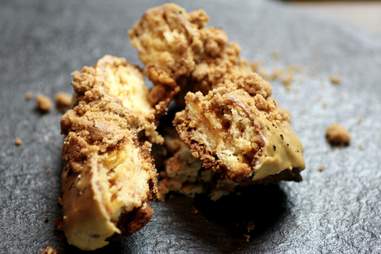 Matt Meltzer/Thrillist
Coffee cake
We've got a coffee cake base swirled with caramel, coffee, and cinnamon throughout, topped with coffee glaze, cinnamon streusel, and Intelligentsia espresso flakes.
Tasting notes: Take a giant bite and get that cinnamon streusel in your mouth for a great mix of textures. It's also an explosion of cinnamon and hints of coffee, with a much denser feel than traditional coffee cakes. Probably because it's, ya know, fried.
Matt Meltzer/Thrillist
Strawberry lemon crème fraiche
A yeast donut filled with Swank strawberries and lemon curd with a dollop of crème fraiche with mascarpone on top.
Tasting notes: If you're into strawberry shortcakes (the desserts, not the books) this is your go-to. It's like one of those with lemon infused into it and offers a burst of fresh fruit.
Matt Meltzer/Thrillist
Spiked donut holes
From left to right: The Cuba Libre: cinnamon sugar with Zacapa rum. The Margarita: lime glazed with tequila and triple sec. The Ferrero Rocher: chocolate glazed with hazelnuts with Nutella (alcohol free). The Moscow Mule: an Angostura bitters and sugar-covered donut hole with vodka, lime, and ginger beer.
Tasting notes: There's a double meaning here, since they actually stick a pipette into the donut holes -- thus "spiking" them --and fill those pipettes with alcohol, "spiking" them again! Those clever bastards!
Also, make sure you squeeze the pipette in before you take a bite. The Cuba Libre packs the most booze of the group, and like great mixologists they change the flavors around frequently so check back and see what new stuff they've got going. They sell these guys in six packs -- just like beer! -- so if you're planning to eat them all, have an Uber on deck.
Sign up here for our daily Miami email and be the first to get all the food/drink/fun in town.
Matt Meltzer is a staff writer at Thrillist and will be eating salad for the rest of February. See pictures of all of them on Instagram @meltrez1.