7 of Miami's best Mexican meals paired with 7 tequila cocktails
Courtesy of Hua Hua Tacos
Mexican food's like any other great cuisine: its traditional foundation is strong enough that a skillful chef can tweak/modernize/interpret/play with it without losing what it means to be Mexican food. We rounded up seven mouthwateringly progressive Mexican dishes from cantinas throughout Miami. And to wash them down, we got Tequila Herradura to slide us seven cocktails, each paired to its own dish by Thrillist's bartender in residence Nick Bennett.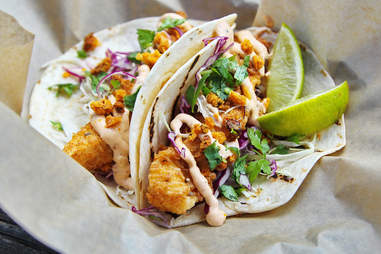 Courtesy of Hua Hua Tacos
Fried Chicken Tacos
Hua Hua Tacos
Hua Hua takes soft, warm tortillas and stuffs them with crispy, north of the border southern comfort alongside jalapeño cornbread, cabbage, ancho ranch, and cilantro.
Courtesy of Herradura
What You're Drinking: Reposado Ramirez
Reposado, Damiana liqueur, fresh lemon juice, simple syrup, ginger, dill, orange
Aside from the flowery Damiana, this cocktail's hint of dill and its ginger zing are what pair perfectly with cilantro freshness and ancho heat. 
Courtesy of Dos Caminos
Mango, Papaya-Habanero Guacamole
Dos Caminos
For the adventurous palate, guacamole is a canvas -- a green, chunky canvas. Dos Caminos dresses their dip with tropical fixings like mango and papaya, and brings the hot hot hot with that habanero.
Courtesy of Herradura
What You're Drinking: Herradura Luxe
Herradura Silver, agave nectar, water, lemon, lime
With plenty of lemon-lime action, this refreshing cocktail will cleanse the lingering habanero zing while also acting as the perfect appetizer sip. Also, "Habanero Zing" would be a great wrestler name.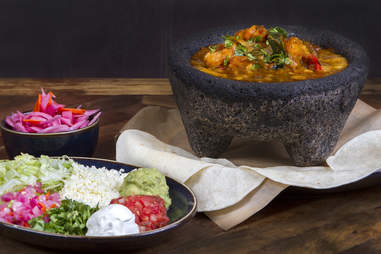 Courtesy of Rocco's Tacos
Molcajete Seafood
Rocco's Tacos
Old-school fajitas are the greatest thing in the world… but just this once, skip 'em in favor of this extravagant spread of shrimp, scallops, mahi, poblano chiles, calabaza squash, and charred tomatoes in a traditional lava bowl. 
Courtesy of Herradura
What You're Drinking: Añejo Old-Finished
Añejo, orange, sugar, Angostura bitters, brandied cherries
This new old fashioned spin works because the drink is simple and tasty (read: not overpowering), while still luxurious enough to go with the extravagance of the beastly feast inside that lava bowl.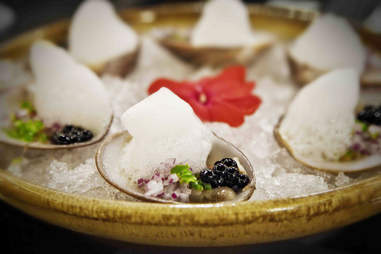 Courtesy of Cantina LaVeinte
Almejas Chocolata Resuradas
Cantina LaVeinte
What do you get when you combine mole with raw clams, maggi-lime caviar, and chopped red onion? You get full. On this.
Courtesy of Herradura
What You're Drinking: Herradura Silver Neat
Herradura Silver, straight up
The raw clams make the dish pretty briny. The to-the-point flavor of Herradura Silver appropriately accents the to-the-point way you slurp down these bad boys.
Courtesy of Porfirio's
Porfirio's Torta
Porfirio's Restaurant
This Mexican hard-roll sandwich comes piled with house-pickled jalapeños, roasted turkey, baked pork leg slices, braded beef, chorizo sausage, cheese [deep breath], avocado, and onion. It's an eight-way match made in heaven.
Courtesy of Herradura
What You're Drinking: The Paloma
Reposado, lime juice, grapefruit soda, salt
With so many flavors in the dish, this classic's refreshing flavor won't overpower anything, and it'll lighten up those eight heavy tastes floating around your mouth.
JaguargroupMiami/UrbanSpoon
Bone-In Pork Chop Huaraches
Talavera Cocina Mexicana
These sandal-shaped corn-masa-flatbreads are pretty much Mexican pizza awesomeness, and they come with black bean purée, salsa verde, goat cheese, and a modern twist on carnitas: a hefty, bone-in pork chop with a mild guajillo chile rub.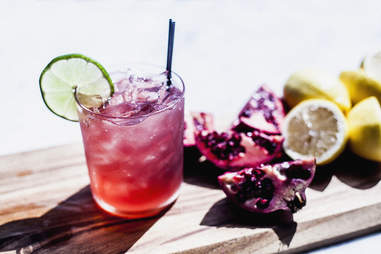 Courtesy of Herradura
What You're Drinking: The Brisa
Herradura Silver, lemonade, pomegranate juice, lime
It just fits very well with the flatbread's simple flavors. It's an easy eat, so you'll want an easy drink to go with it.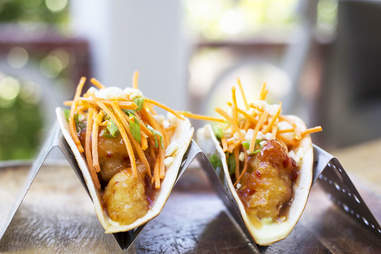 Courtesy of Naked Taco
General Tso Cauliflower Taco
Naked Taco
This masterpiece throws Tso-style cauliflower into a tortilla with spicy chile garlic, avocado crema, and peanuts, leaving you Generally satisfied.
Courtesy of Herradura
What You're Drinking: The Petróleo
Reposado, lime juice, salt, pepper, Maggi sauce, Worcestershire sauce, Serrano chile
This unique drink comes with umami-tinged Maggi sauce and a dash of Worcestershire, the perfect savory pairing to fit the Asian-inspired flavors in the taco.