What was once a bleak, warehouse-laden neighborhood has quickly transformed into a vibrant and energetic arts district, chock-full of food and drinks alongside no shortage of entertainment and culture. Though you might first associate Wynwood with its Second Saturday art walk -- which has been a staple for years -- the 'hood is now a mecca for creatives, who have made it their home as well as workspace. The pedestrian-friendly area is brimming with craft donuts, booze-infused ice cream, $5 happy hours, rooftop yoga, and secret bars. In the past year alone, we've seen Matthew Kenney's Plant Food + Wine become a vegan hotspot, two former Zuma alums open the Asian BBQ joint KYU, and Brad Kilgore create a high-end dining experience -- with Alter -- at a fraction of the cost. What else? Well, we can keep going...
Recommended Video
Ghost Kitchen: Restaurant Gets Help From Community During Coronavirus Pandemic
Best place to have a beer
Wood Tavern
Address and Info
Wood Tavern is Wynwood's resident bar. It's been around since long before the fancy art galleries and luxurious restaurants, making it one of the area's longest-lasting staples. The open-space features indoor and outdoor bars, live music, and life-size Jenga. Next door, find... uh... the Bar Next Door, Wood's sister joint. It doles out chef-driven bar food, like Asian-ginger chicken wings and Cuban sandwiches.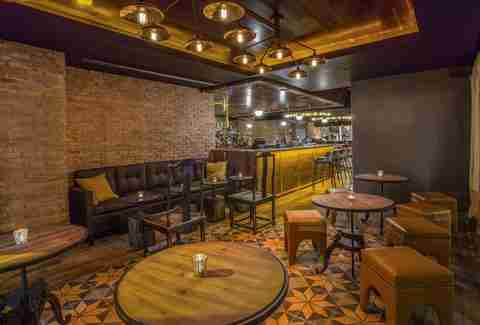 Best bet for happy hour
Beaker & Gray
Address and Info
At Beaker & Gray, there's an entire menu dedicated to happy hour, and we're not talking about a tiny half-page card. There's snacks, cocktails, beers, and wines, all for $5. Feast on croquetas filled with beef and gouda, mofongo cake, and a delicious dish called Chip-n-Dip. Wash it down with an Old Fashioned, a Moscow Mule, a Funky Buddha Floridian brew, or all three. It's happy hour!
Best place to get ice cream
Serendipity Creamery
Address and Info
When Jessica Levison, creator of Surfside's Serendipity Creamery, plopped a portable freezer inside a vacant garage in Wynwood, she never imagined it would soon turn into a permanent brick and mortar. Next door to Zak the Baker, the hole-in-the-wall ice cream shop sells a variety of infused flavors, using almost every ingredient you can imagine, including beers, liquors, and flowers. Her booze-infused flavors have become standard in her Wynwood outpost, with dark chocolate whiskey, J. Wakefield stout, moonshine-soaked apricot, and the White Russian with candied hazelnuts being among her most popular varieties.
Best place to simply hang out
The Wynwood Yard
Address and Info
A few months ago, this lively hangout space (now considered a mecca for food, drinks, and culture in Miami) was a vacant plot of land in between lackluster warehouses. Now you'll find dishes like shaved ice cream and veggie bowls alongside a bar serving craft brews and cocktails, an edible garden, and a pop-up stage always loaded with live music and entertainment almost every night. Pro tip: there's so much life inside the Yard, it can get overwhelming. There's everything from Sunday brunches to happy hours and exercise classes, so get up to speed with its website, which is updated with all upcoming events.
Best cup of coffee you'll find
Panther Coffee
Address and Info
The Miami-based coffee roaster made a name for itself in Wynwood, which is where it opened its first location 2011. It has since expanded to two other locations in Coconut Grove and Miami Beach, and can easily be found in restaurants, fast-casual spots, and coffee shops all across Miami. That said, there's something about visiting the now coffee-empire in the space where it all began. Weekends are busier, but pop in on a weekday, grab a cup of coffee, and bring a book. There's indoor and outdoor seating, with large communal tables as well.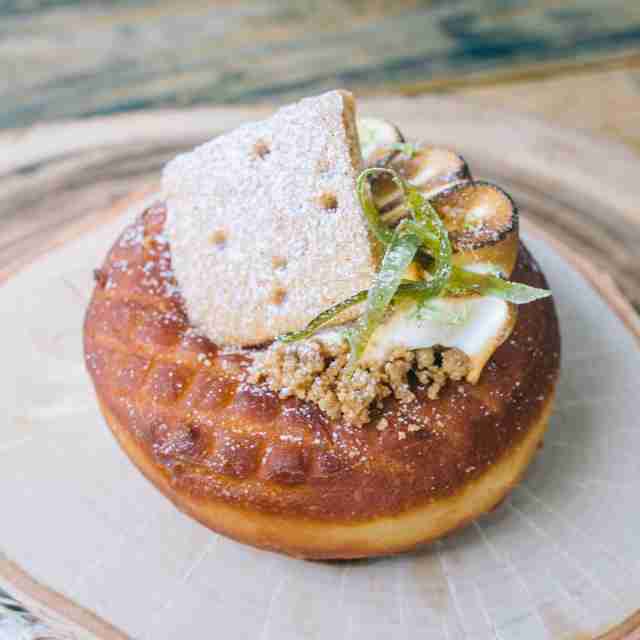 Best sweets shop to get a donut
The Salty Donut
Address and Info
Before the Salty Donut, craft donuts were definitely not a thing in Miami. Since opening a pop-up in Wynwood at the start of 2016, Salty has quickly led a dough-in-a-hole revolution through the 305. As a chef-driven shop, The Salty Donut attracts hundreds of hungry locals and tourists alike to the neighborhood every weekend, with lines averaging around an hour some days. They make everything from maple bacon, guava and cheese, and spiked holes, to a gluten-free baked chocolate variety, which is only 120 calories. Their brick and mortar will be open by the end of the summer.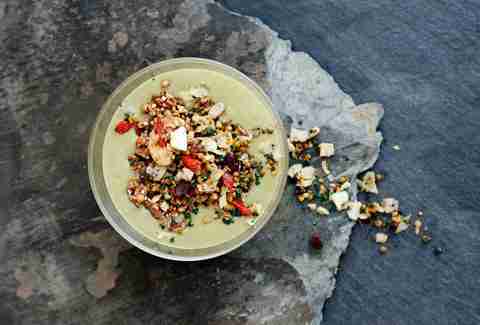 Best healthy eats
Dr Smood
Address and Info
At Dr Smood, you'll find more than juice, smoothies, and bowls. Its name stems from the words "smart" and "food," which explains why the colorful spot sells food like power sandwiches, power salads, and energizing dressings (so, power dressings?). All of its items are color-coded based on health benefits like immunity and detox. And if you have a sweet tooth, there's a bevy of vegan pastries too.
Best place to work, eat breakfast, and pound pastries
Miam Cafe
Address and Info
A few blocks off of Wynwood's main street is Miam Cafe, where a Euro-style atmosphere blends with a Miami-inspired vibe. The small eatery, nestled inside the black-and-white Wynwood building, houses an industrial-designed breakfast and lunch nook, serving hot and cold meals along with a variety of freshly baked pastries. There's breakfast all-day, and besides sandwiches, salads, and heartier foods like pastas made in-house or braised chicken, Miam is known for hand-crafted pastries like croissants, cookies, pies, muffins, and duffins, which are a hybrid dessert inspired by a donut and a muffin. The cafe encourages guests to pick a table and spend anywhere from a few minutes to the entire day there, as they have free Wi-Fi.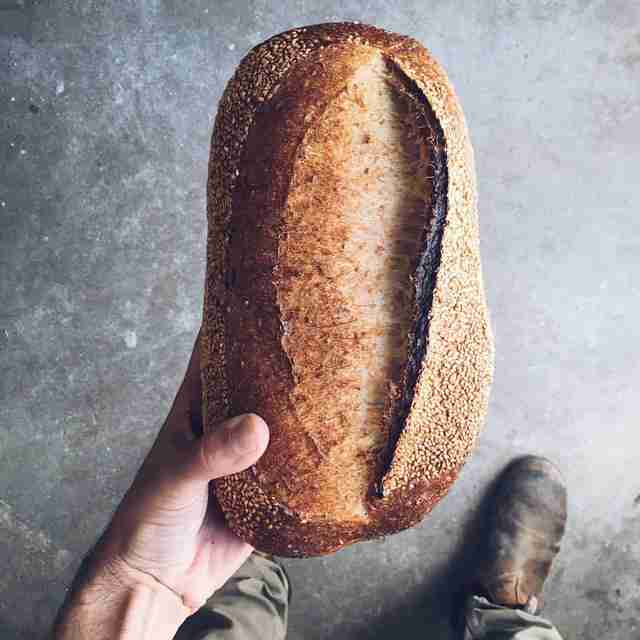 Best place to get that bread
Zak the Baker
Address and Info
Zak Stern's barebones bakery, located a few blocks away from Wynwood's main-street chaos, is where the ubiquitous Zak's Bread is born. There's a good chance there'll be a line out the door for the dough (or other food like avocado toast, breakfast sandwiches, or pastries), but it's worth the wait. The mere smell of Zak's freshly baked sour doughs that engulfs his small outpost are enough to keep you around. Plus, you might catch a glimpse of Stern himself, which is pretty special. Like finding Waldo.
Best burger
Kush
Address and Info
This small-scale joint is off the beaten path in Wynwood, but well worth the trek. The menu features a frita burger, which blends guava jelly, melted Gruyere, potato stix, and crispy bacon, as well as the Johnny Utah, topped with hot pastrami, cheese, and special sauce.
Best place for tacos... and more booze
Coyo Taco
Address and Info
As Wynwood's neighborhood taqueria, Coyo Taco has made a name for itself by serving up fresh Mexican street food, like tacos, burritos, and lots & lots of guac, and then pairing all that with local beers and tequila. But dig a little deeper and you'll find a secret bar hidden within the taco joint... inside Coyo's backroom. Walk in, and you'll enter a hole-in-the-wall drinkery stocked with more than 50 different tequila and mezcal varieties.
Where to Instagram graffiti
Everywhere, duh
Address and Info
What makes Wynwood special is the fact that it's one gigantic canvas. There's not a building in sight that isn't covered in some sort of paint, be it something more traditional like black and white stripes, to whimsical and bizarre designs and murals. Some change every few months, but others have been around for years. Give yourself an hour to roam anywhere from 20th St to 36th St between First and Second Avenues, and you're bound to hit some street art.
Sign up here for our daily Miami email and be the first to get all the food/drink/fun in town.