Wynwood just got a butcher shop, steakhouse, and beer hall all gloriously rolled into one
Since "The Butcher of Wynwood" sounds kind of like what they'll call the inevitable Broadway version of Dexter, the father-son team behind Palm Beach Gardens' fave Charlie's Old Fashioned are simply calling their Miami meat-cutting emporium "The Butcher Shop", and they want you to pick your own meat out of a case, let them season and grill it for you, then enjoy it in a spacious beer garden with custom-made craft beers.
Butcher Igor Niznik and his son Fred invite you to walk right up to the giant butcher case inside and order one of their rotating selection of dry-aged, certified Angus prime steaks, burgers, sausages, kebabs, and other stuff Bill Clinton had to take out of his diet.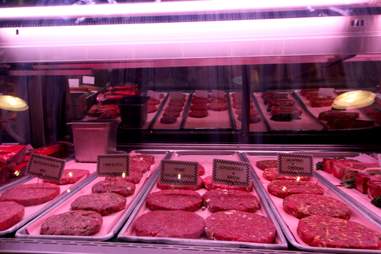 The Nizniks have their own recipes for everything, including their CAB specialty burgers mixed with stuff like jalapeño & cheddar, Gorgonzola & bacon, and lamb & feta.
Have them grill the lamb and feta burger and it'll look like this, complete with mint-jelly mayo.
Be smart, and don't skip their dry-aged prime steaks. And since they're the butchers, you're gonna pay about 2/3 what you would in a regular restaurant. Cutting out the middle-meat-man!!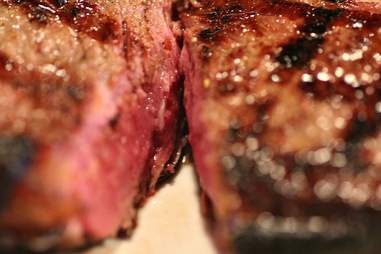 They'll grill any steak you choose any way you want, like this 14oz bone-in NY strip. Or if you wanna get your bone-in raw so you can take it home and do it yourself, it's even cheaper.
If sausage is more your thing, they've got 12 homemade blends in the case, including this cured Hungarian mettwurst that's so big you might feel the need to go out and buy a Porsche.
It comes out with 'kraut and caramelized onions.
Out back the beer garden seats about 125 people, or roughly twice the crowd at last night's Marlins game.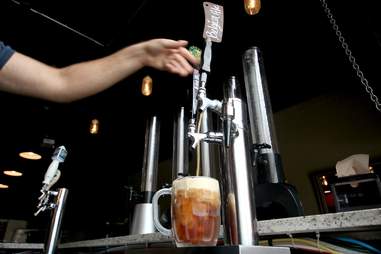 There're 10 craft beers on draft, including three custom-made ones from Organic Brewery in Hollywood, complete with custom taps, like this Belgian Ale.
Order them in a glass, stein, liter, or this mighty beer tower -- three liters of craft brew that you definitely wanna share. Unless you're the kinda person Dexter would come looking for.