Many students don't like to stray far from the warm embrace of the UW-Madison campus, but lucky for them, they don't have to in order to fuel up before finals. Madison has a booming restaurant and bar scene, especially on pedestrian-only State St. Here are the 13 best places to eat and drink that every student should get to.
1511 Monroe St
Mickies has been around since the '40s, as the throwback menu on one wall attests to. It's a small diner with a line out the door most mornings, and especially on Badger game days. It's a favorite of the football players, both because of its proximity to Camp Randall across the street, and its giant portions. Get a scrambler with eggs and meat or veg piled on top of chunky hash browns (called "yanks" here), crowned with cheddar. It comes with a side of gravy, though no one will bat an eyelash if you order a strawberry shake too.

203 W Gorham St
Pelmeni are juicy little Russian dumplings, stuffed with either beef or mashed potatos. You can get a whole boatload of them here for $6.50, which is almost enough to share. Get them topped with "the works," a crazy-good combination of melted butter, sweet chili sauce, yellow sweet curry powder, cilantro, and a side of sour cream for dipping.
Multiple locations
Ian's entire business model is built around serving the bar-time crowd a cheap, alcohol-soaking meal. Lines are long late night, but there's a ton of upbeat staff to keep things moving quickly. The best seller is the mac and cheese slice, which everyone should try once. Then move on to more adventurous slices like smoked brisket and tots, chipotle sweet potato, and gyro.
1605 Linden Dr
This is Wisconsin, so our university has a working dairy barn, naturally. The milk from the cows is made into dairy products by students and faculty, and Babcock Hall is where you can buy them. The big draw is the ice cream, of course. Get Blue Moon, a mysterious flavor only popular in parts of the Midwest, if you've never tried it before.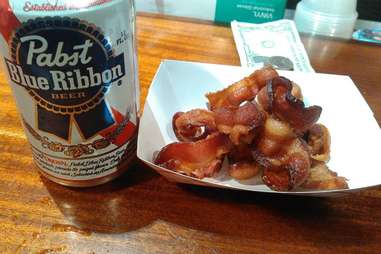 602 University Ave
FREE BACON. Baskets of bacon are free on Tuesdays, a tradition that's been going on for a long time. It's probably just a ploy to get you to order more fluorescent fishbowls, but that's OK. Free bacon = the best bacon.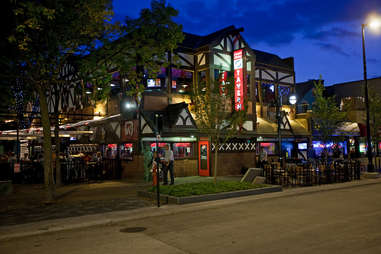 603 State St
If you're not actually at a Badgers game, this is the next best place to watch it (unless, of course, you're a fan of the opposing team, then good luck). It'll be loud, raucous, and crowded, with lines out the door before some games just to score a table. TV placement is primo for optimal viewing.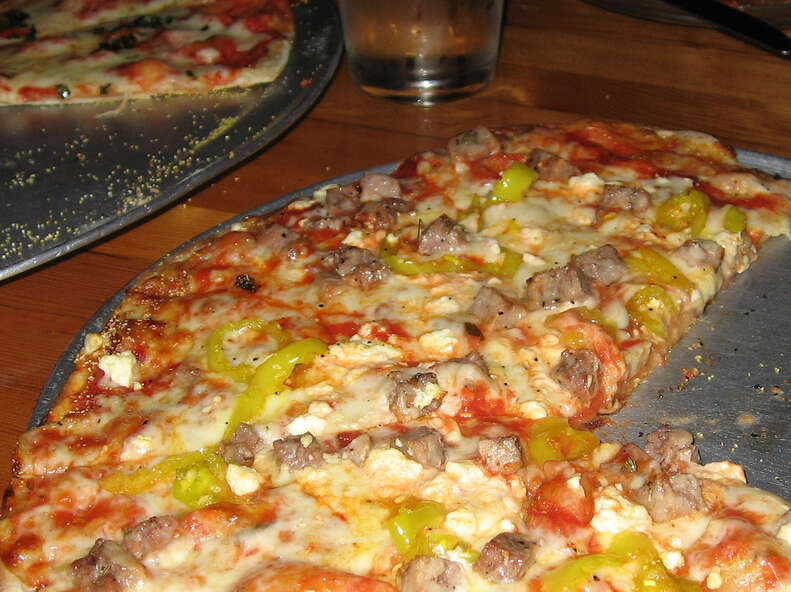 914 Regent St
You may feel like you're walking into Grandma's basement at this bar, especially if she loved year-round Christmas lights. She probably didn't make a pizza as good as Greenbush, though. A thin, cracker-y crust holds up just the right amount of toppings. The best pizza? Its signature pie topped with tomatoes, Gorgonzola, arugula, and bacon. Not wimpy bacon bits though, whole slices of Nueske's bacon, laid on top of the cheese to broil in the oven. Genius.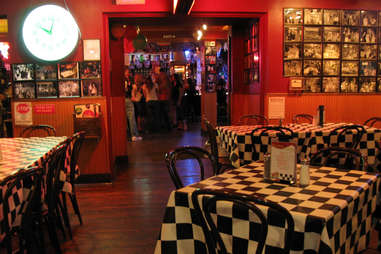 223 N Frances St
If you're a UW student, you will end up at the Gritty at some point during your college career. Hopefully, at least one of those times will be on your birthday. Birthday boys and girls famously drink free here, with a branded souvenir mug and balloon to boot. Some days can see 50+ birthdays, so things can get a little crazy. But do your duty and tag along for the birthday person, and hopefully they'll return the favor on yours.
Best if the parents are paying: Fresco
227 State St
Located on the top floor of MMoCa, Fresco has one of the best views in the city. (The fact that it's adjacent to the museum's rooftop sculpture garden doesn't hurt, either.) The food matches the modern art in the building: sophisticated, colorful, and pricey. That's why it's a great place to bring the 'rents and let them fall in love with Madison too.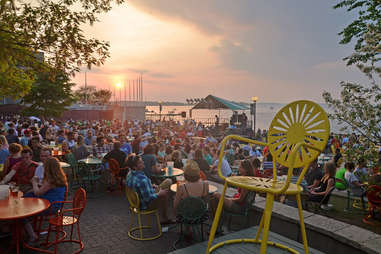 800 Langdon St
If you're a student and you're not already hanging at the Union Terrace, you need to reevaluate your life priorities. If you're not a student, you can still hang out on the patio in the iconic chairs, but you'll have to get a student or other member to buy your beer for you. That shouldn't be too difficult, and it's worth it for the best patio and sunset views in the city. This is the heart and soul of the university.

444 West Johnson St
If you're one of those people who loves brunch, but hates having to get up early for it, then this one's for you. True to its name, the Brunch Club serves brunch all day, every day. Breakfast nachos with chicken, guajillo chile sauce, avocado, a couple of fried eggs, and all the normal nacho stuff are a perfect breakfast-for-dinner item. Fluffy lemon ricotta pancakes with blueberry compote will satisfy the more traditional bruncher.
317 N Frances St
This isn't really a student hangout spot, even though it's across the street from campus buildings. It should be though, because these bar burgs are delicious, thanks in part to the killer homemade sauces. You can't go wrong with the Heart Throb Burger, with pepper jack, bacon, and creamy Heart Throb Sauce made with cilantro, garlic, and jalapeño. Fries and curds are great dipped in Boomerang Sauce, a mustard/mayo mix with lots of black pepper and anchovies for tang.
319 North Henry St
We're pretty sure that one requirement for a dive bar is an amazing history, and Plaza has one. Supposedly, it opened in true Wisconsin style: during Prohibition. Bowling lanes were added at some point, and over the years it's been visited by the likes of Johnny Cash and Bill Murray. Sometime in the '60s, Plaza Sauce was invented, and it still continues to sell tons of Plaza Burgers topped with said secret sauce.
Sign up here for our daily Milwaukee email and be the first to get all the food/drink/fun in the Brew City.
Lacey Muszynski is a Milwaukee food writer who would love to move to Madison so she could eat Mickies all the time. Follow her @worthhersalt.