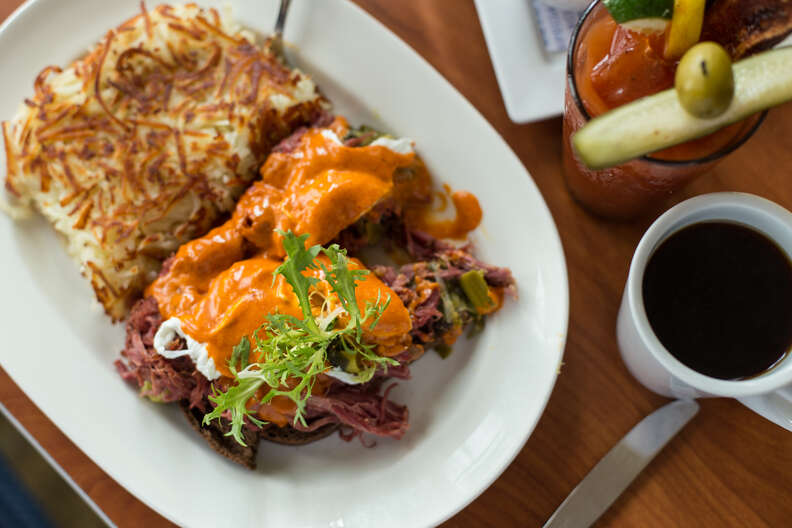 As much as Milwaukeeans love brunch, it's hard to resist the urge to spend weekend mornings lounging on the couch in pajamas. To achieve the ideal balance of time spent wearing actual pants, quality of pancakes, and quantity of mimosas, studying up on the best brunches near you is crucial, and we've broken down the best brunches in Milwaukee by neighborhood for that exact purpose. No matter where you wake up, these best-of-the-best restaurants will ensure leaving the house was worth it.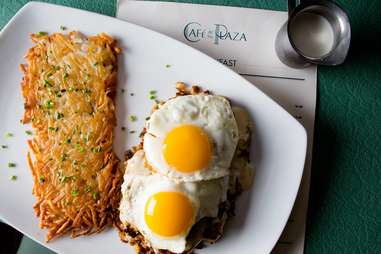 DOWNTOWN
Café at the Plaza
Upscale diner with a hidden garden patio
You can sit at the diner counter here, or feel all fancy at a tablecloth-covered table, but the best seat is on the idyllic garden courtyard in summer, when ivy vines cover the walls of the buildings next to you and flowers are everywhere. The chive-sprinkled hash browns are superbly browned and crisp, the hollandaise on the smoked salmon bene is thick and glossy, and you just can't go wrong with the Big Country Brunch Burger topped with sausage gravy, cheese, a fried egg, and pickled onions on a brioche bun.
Buckley's Restaurant & Bar
Chic spot with international flavors and a great Bloody Mary
The previously teeny Buckley's has expanded into a breezy, colorful, French-inspired space spread over two floors. While best known as a dinner or client-lunch spot, Buckley's four-hour Sunday brunch has must-trys like seasonally rotating, homemade pop tarts, steak & eggs with beef tenderloin, hollandaise, and truffled scrambled eggs, and a bacon- or habanero-infused Bloody Mary (that can also be ordered half-and-half).
EAST SIDE
Uncle Wolfie's Breakfast Tavern
Daytime-only tavern serving hearty breakfast
Milwaukeeans do everything in bars, from socialize to yoga, so when a tavern appeared that's only open until 3pm, everyone thought, "yeah, cool, I'm down." Uncle Wolfie's is in a beautiful former Miller tied house, so it just makes sense to keep its tavern history alive, whether it's open until bartime or not. The menu is half-breakfast and half-lunch, and you can put an egg on anything you want, like the Millee cheese steak with beer cheese sauce. A pulled pork tostada with coffee-rubbed pork shoulder counts as breakfast here, as do the cornmeal johnny cakes.
Birch + Butcher
Modern restaurant with adjoining butcher and cafe
The latest hipster hangout is in one of the new North End buildings along the river just north of downtown. Birch + Butcher is a restaurant, and as the name implies, a butcher shop/deli/cafe combo. On Sundays, the space becomes an inviting spot for a cozy, meat-heavy brunch; hot ham and rolls are a local tradition, but you can try something a little more hearty like the cassoulet with duck, pork, poached egg, and chicken liver mousse. Avocado toast gets a boost from red beets and caraway, while waffles go upscale with trout roe and crème fraîche.
Comet Cafe
Comfort food with lots of vegan options
It's hard to get more classic East Side than Comet Cafe, the place where everyone goes both late night and (sorta) early morning for hardcore comfort food. There's a bar/diner counter, but the cozy booths are always filled first. On Instagram, you'll find lots of pictures of the Stendler, a breakfast burrito that comes with a surprise Sriracha message written on top. But don't ignore the bacon strips cooked into pancakes or the fried chicken in a biscuit with collard greens, bacon, cheese, and sausage gravy. Many options are vegan, so even your hippy friend will be happy here.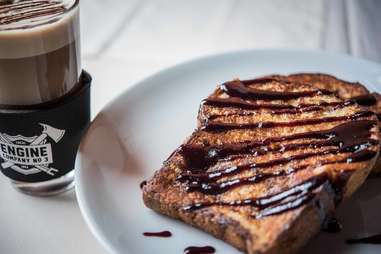 WALKER'S POINT
Engine Company 3
International breakfast and brunch flavors in an old firehouse
If it's good enough for Obama, it's good enough for you: The former President stopped here in 2016 with only 30 minutes notice to the staff. What'd he order from the globally inspired menu? Columbian patacon con huevo with smashed plantains, bright green cilantro rice, beans, and a fried egg. You can't go wrong by ordering the same, but if you're really lucky, you'll dine on a day when poutine is on special.
Don's Diner & Cocktails
A booze-fueled, update take on the old-school diner
The modern bar and dining area at Don's Diner gives way to a wood-paneled cabin throwback bar in the back -- and both vibes are represented on the menu, which is dominated by all-day breakfast. The baked French toast comes in both savory (with sausage, leeks, caramelized onions, and maple cream sauce) and sweet versions (bruleed bananas and peanut butter), and fermented blueberries even make an appearance. The shakes are boozed-up and topped with cheesecake slices, the old fashioneds come in crockpot size, and if you brunch during the week, you can get 10-cent martinis.
Fuel Cafe on 5th
Big, bright, no-nonsense restaurant with an electric menu
This bigger and brighter second location of Fuel Cafe is a great place to get some work done during brunch. The menu is eclectic with everything from beef chili omelets to a Nashville hot chicken and French toast pairing. The giant breakfast burrito is filled with scrambled eggs, hash browns, peppers, cheese, bacon, chorizo, salsa verde, and even more stuff that would make this list way too long. And don't sleep on Liquid Brunch: a mix of cold brew, brandy, and maple bourbon cream served with a strip of bacon.
BAY VIEW
Goodkind
Cozy new American with outstanding cocktails
This adorable & popular bohemian spot continues its small plate menu format for Sunday brunch. You'll find some of the most unique dishes around, like a croque madame made with polenta cakes instead of bread, falafel waffles, and bacon and cheddar risotto. Goodkind also creates some of the best cocktails in the city, so don't pass up its versions of a corpse reviver or gimlet.
Sabrosa
Artsy cafe with hearty breakfast and brunch
Sabrosa serves breakfast and brunch dishes as cheery as its artistic decor. Years ago, owner Frank Sanchez also owned Taqueria Azteca just down the street, and a few favorite dishes have made the jump to the new spot, like enchiladas verdes; other dishes run the gamut from a shrimp and grits scramble to Frankie's benediction, a Benedict-like stack of French toast, ham, eggs and dijon hollandaise. If you're lucky, you'll visit when Sanchez's partner, Florentine Opera pianist Ruben Piirainen, is playing on the baby grand.
SmallPie
Counter-service spot for sweet and savory baked goods
If you're craving brunch-y foods but don't want to do brunch, SmallPie is your chill spot. It's by the people at nearby Honeypie, so you know they know their way around a pie crust. Everything is baked day-of, including quiches, hand pies with both savory and sweet fillings, pot pies, bagels, and muffins. As brunch just wouldn't be brunch without alcohol, this counter-service bakery even has Bloody Marys and old fashioneds.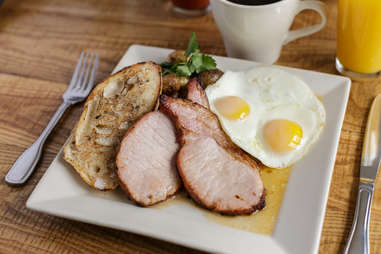 WEST SIDE
Story Hill BKC
All-day spot with eclectic American menu
BKC stands for bottle, kitchen, and cup, and it sells retail wine and beer while also operating a coffee bar and an all-day restaurant. Brunch is served every day and includes some unique options like Shakshouka, a Middle Eastern dish of eggs baked in a tomato and pepper sauce that includes lentils and goat cheese. To satisfy a sweet tooth, there's always the Chocolate Caramel Nut Roll.
Mad Rooster Cafe
Busy everyday brunch with barn-themed decor
Restaurants that are only open until early afternoon mean you can get brunch any day of the week, and that's a good thing when there's always a wait on Sundays. This relative newcomer to the brunch scene makes everything from scratch, including Greek yogurt and jams. Stuffed French Toast is heavy with Bavarian-custard filling and cream-cheese glaze. Luckily there's some fresh fruit added to offset the gazillion calories.
Blue's Egg
West side breakfast stalwart
Blue's has become the default "where should we go for brunch?" place in a city where the meal is taken very seriously, hence the long waits on weekends, and sometimes during the week, too. Try the Dubliner, a Benedict-like dish that combines salty corned beef with creamy leeks and paprika aioli on dark rye toast.
SOUTH SIDE
Mimosa
Breakfast classics with a Greek twist
Mimosa will be busy almost anytime you walk in, and that's a great sign, especially in this south suburban location. The restaurant's owners are Greek, so you'll see hints of that heritage on the menu in items like the huge shrimp, garlic, and lemon omelet. Instead of hash browns, diced potatoes are cooked in olive oil to a deep brown; get them topped with feta, lemon, and bacon, or a Greek yogurt and avocado sauce. You'll want to spread that on everything.
Explorium Brewpub
Brewery and restaurant with a large patio
If you'd rather drink your brunch than chew it, Explorium is your best bet on the South Side. The beers are legit, and a number of them could pass for breakfast beers, like the Livingstone's Porter with coffee notes, or any number of brews made with fruit. The house-made Bloody Mary is also excellent. If you need proper sustenance, though, try the deep-fried French toast with apple compote or the Hangover Calzone, baked in the wood-fired oven and served with curry ketchup.
Sign up here for our daily Milwaukee email and be the first to get all the food/drink/fun in the Brew City.
Lacey Muszynski is a Milwaukee food writer who would brunch more often if only she could get out of bed earlier. Follow her on Twitter @worthhersalt.