It's no secret that Milwaukeeans love carbs and meat and therefore love brunch. And it's a great excuse to spend Sunday morning (aka Sunday late afternoon) downing Bloody Marys and any food that can be doused in syrup. Here are the best 14 brunch options in Milwaukee worth marking down for Easter, Mother's Day, or any weekend you just feel the need to overindulge.
Stuffed French Toast, Mad Greek Yogurt in a pineapple half
Mad Rooster Cafe
Address and Info
West Milwaukee
Restaurants that are only open until early afternoon mean you can get brunch any day of the week, and that's a good thing when there's always a wait on Sundays. This relative newcomer to the brunch scene makes everything from scratch, including Greek yogurt and jams. Stuffed French Toast is heavy with Bavarian-custard filling and cream-cheese glaze. Luckily there's some fresh fruit added to offset the gazillion calories.
The buffet
Harbor House
Address and Info
Juneau Town
The Pfister Hotel is where you go to brunch when you want to impress someone who prefers a subdued, classy affair (read: your grandma). It's buffet-style, so you can load up your plate with cold peel-and-eat shrimp, a made-to-order omelette, carved roast beef, egg salad, and a brownie, artfully mixing dishes as you see fit.
Korean BBQ Breakfast Bowl or Turkey, Brussels Sprouts, & Butternut Squash Hash
Simple Cafe
Address and Info
Lower East Side
Korean for brunch? Yup, especially when you're digging into one of Simple's most popular items, the Korean BBQ Breakfast Bowl. Non-traditional brunch ingredients like Korean braised pork, tons of veggies, brown rice, and kimchi are topped with an over-easy egg, thus making it an acceptable breakfast food.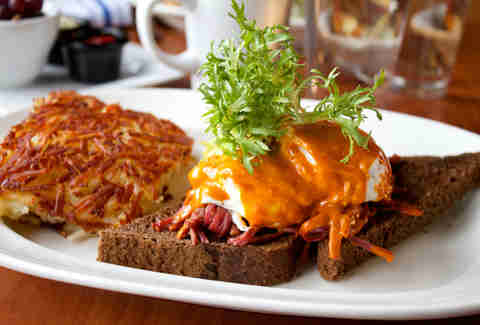 The Dubliner with Goat Cheese Stuffed Browns and a Bloody Mary
Blue's Egg
Address and Info
Honey Creek Parkway
Blue's has become the default "where should we go for brunch?" place in a city where the meal is taken very seriously, hence the long waits on weekends, and sometimes during the week, too. Try the Dubliner, a Benedict-like dish that combines salty corned beef with creamy leeks and paprika aioli on dark rye toast.
Country Fried Steak, Meat n' Eggs, Biscuits n' Gravy
Comet Cafe
Address and Info
Lower East Side
The hipsters are on to something here. Sure, you can get vegan "ribs" and something called a Veggie Cutlet, but you can also get a big Country Fried Steak with gravy, meatloaf & eggs, or corned beef topped with sriracha to satisfy your carnivorous tendencies.
Full English, The Hot Mess
The National
Address and Info
Walker's Point
Take a trip around the world in one spot. Start with a Croque Madame, then hop to Huevos Rancheros, and end across the pond with a full English breakfast of eggs, bacon, mushrooms, tomatoes, potatoes, beans, toast, and bangers. You gotta love that Brits refer to breakfast sausage with an Austin Powers-level sexual innuendo.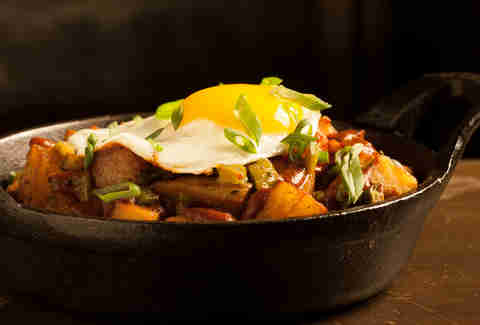 Tiramisu Pancakes, Collard Greens, Barbecued Ribs
Smyth
Address and Info
Walker's Point
Smyth is located in the Iron Horse, a surprisingly chic hotel catering to Harley-Davidson riders who visit the Harley-Davidson Museum just down the street. Like everything in the building, the brunch is biker-themed, in this case centering on historic Route 66. It's a little campy, but who cares because there's a buffet AND you get to order plated dishes from the kitchen. You get both! That's probably why big burly HOG members and their daintier wives alike dig this brunch.
Fried Chicken and Waffle, Breakfast Tacos with bacon, potatoes and cheddar
Palomino
Address and Info
Bayview
This Southern spot has a reputation as a fried-food enclave, so it only makes sense that its brunch rocks. Start your morning with a plate of Brown Sugar Baked House-Made Slab Bacon, then move on to the Fried Chicken & Waffle or Chicken Fried Steak. If those aren't filling enough, get a Breakfast Burger with Southern pimento cheese spread, bacon, fried egg, and a token lettuce leaf, for color.
Sweet Potato Pancakes Savory-style, Burnt Ends Benedict
Smoke Shack
Address and Info
Third Ward
BBQ & brunch: those two words don't go together nearly enough. While Smoke Shack doesn't have a large menu, all you really needs are carbs topped with smoked meat anyway. You can get that in the form of biscuits and gravy or eggs Benedict, both topped with your choice of pulled pork, burnt ends, or ham. For something with a semblance of nutrition, get Sweet Potato Pancakes Savory-style with pulled pork and Carolina mustard sauce.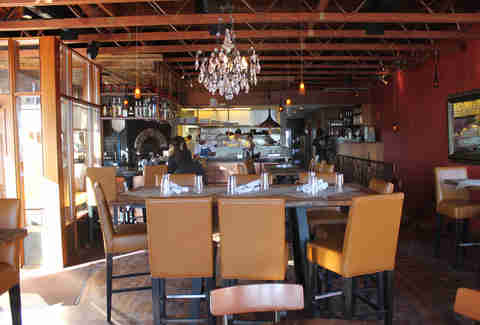 Denver Omelet Pizza, Smashburger Breakfast, Orange Cinnamon Roll
Wolf Peach
Address and Info
Brewer's Hill
This place is upscale for dinner, but down-to-earth for brunch. You get the same high-quality ingredients, just during daylight hours. Must-tries are the brunch pizzas; choose from Denver omelette-style with scrambled eggs, bacon, peppers, and cheese; a fancier pie with slow-poached egg, shaved Brussels sprouts, and guanciale; or the sausage-gravy pizza with roasted mushrooms, cheese, and a poached egg. If you haven't tried eggs on pizza, here's your chance.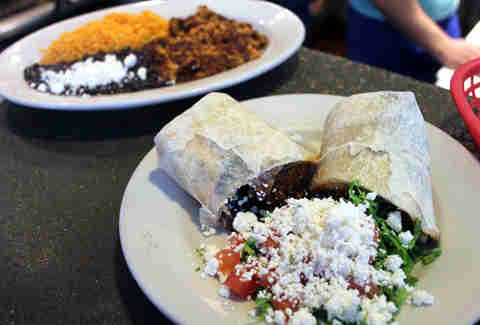 Breakfast Burrito, Chilaquiles, Tequila Sunrise
Cafe Corazon
Address and Info
Riverwest
This teeny, quirky Mexican spot has a super-popular brunch with a large menu. You can get chorizo in many glorious forms: in tacos, in burritos, with eggs, on breakfast tostadas, or in empanadas. If you don't like chorizo, how about carnitas in your chilaquiles or carne mechada in your empanadas? If you're still not on board, there's always Rumchata French Toast.
The buffet
Harbor House
Address and Info
Juneau Town
Harbor House should really just call its brunch buffet "Seafood Extravaganza." It goes all-out for brunch with piles of fresh fish and shellfish amongst the typical omelettes and bacon. Sure, you can fill yourself up on carved roast beef, but you should make a beeline for the Lobster Pot Pie and freshly shucked oysters instead.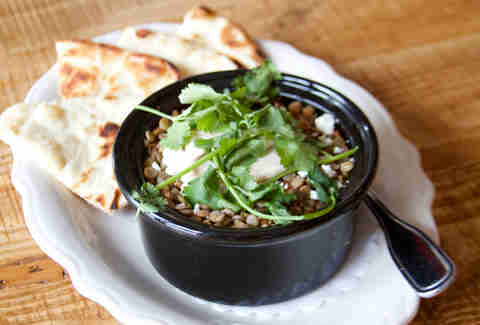 Shakshouka, Crêpe Monsieur
Story Hill BKC
Address and Info
Story Hill
BKC stands for bottle, kitchen, and cup, and it sells retail wine and beer while also operating a coffee bar and an all-day restaurant. Brunch is served every day and includes some unique options like Shakshouka, a Middle Eastern dish of eggs baked in a tomato and pepper sauce that includes lentils and goat cheese. To satisfy a sweet tooth, there's always the Chocolate Caramel Nut Roll.
Breakfast Pork Fries, Wisconsin Honeypie, Carrot Cupcakes
Honeypie
Address and Info
Bayview
If there's pie for brunch, do you really need anything else? Check out the pie (and cake) case as soon as you walk in. That way, you can decide whether you'll have Chocolate Chip Cheesecake for your main dish and Lemon Icebox Pie for dessert, or Breakfast Pork Fries followed by Black Bottom Banana. Then be sure to get some pie to go as well.
Sign up here for our daily Milwaukee email and be the first to get all the food/drink/fun in the Brew City.
Lacey Muszynski is a Milwaukee food writer who would brunch more often if only she could get out of bed earlier. Follow her on Twitter @worthhersalt.