No matter what type of burger you prefer -- crispy, smashed patties or juicy, half-pound monsters -- you'll find a burger you love in Milwaukee. From diners to steakhouses, most restaurants in this city serve up solidly good burgers, so figuring out which one to try next can be a challenge... not to mention determining which among the city's many options are honestly epic. Fortunately, we're selfless enough to have gone and tasted all of Milwaukee's best burgers, just to bring you the best of the best (yeah, it was a huge sacrifice).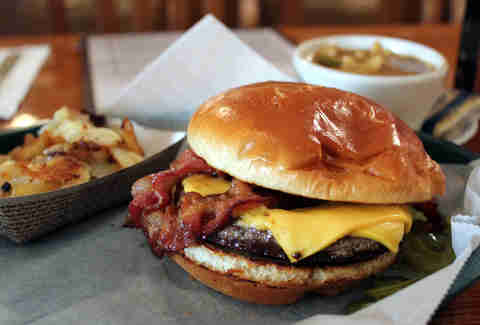 Southgate
This diner-style burger joint has been going strong since 1934, evidence that it does burgers right. It grinds its own beef every single day, plus every burger comes with two sides; the correct choices being golden-brown American fries topped with a pat of butter and a cup of homemade soup. This is the matriarch of all burgers in MKE… so go for the classic cheeseburger.
Inglewood Heights
Big half-pound burgers get a deep crust on the griddle at this modern diner in 'Tosa. You can get it topped your way, but we suggest the Peppercorn Horsey burger, which comes topped with thick-cut bacon, cheddar jack cheese, and a mound of onion strings, plus creamy, spicy horseradish sauce. The sound of the bright, crispy crunch as you smash this burger down is immensely satisfying in a destructive kind of way. Plus a recent expansion and complete remodel of the space means that you and your four friends won't have to squish into a tiny booth anymore.
Harbor View
Though Merriment Social has only been open for about a year, its burgers can already be considered among the best in MKE. The hefty little thing is made with two thin, well-seared patties, held together with American cheese, and topped with thick bacon, homemade pickles, and a creamy, mustard-heavy sauce. This thing is so juicy, it literally drips when you bite into it. They also run a burger special during happy hour each week, with versions inspired by local chefs... for only five bucks a pop.
Multiple locations
Kopp's serves up the ultimate local fast food burger, butter included. The patties are thin, but so is the bun, giving just the right meat-to-bun ratio. Add some thick slices of deli American cheese to hold everything together, and you have the double cheeseburger locals grew up on. Oh, and it's the size of your face, so, you know, come hungry.
Glendale
Among Milwaukee's essential restaurants, Solly's is known for the thick smear of butter that pools on the plate, like a reflecting pool for your bold dietary choices. The Cheesehead burger is beyond belief, with two-thirds of a pound of beef, mushrooms, and stewed onions, all topped by a glorious crown of cheddar, Swiss, and American. You'll need about five napkins for this one.
Third Ward
Every Wednesday that the weather cooperates, Bavette rolls the grill out for a little burger party right on the sidewalk. The beef is grass-fed and fresh -- this being a butcher shop and all -- and formed into half-pound patties. Toppings change weekly, but you can expect seasonal flavors from local purveyors. Bonus: if you love the burger, you can pick up the same ground beef at the counter for a DIY burger night, any day of the week.
Juneau Town
AJ Bombers mixes burgers with deep-fried foods because that's simply an excellent idea. In the case of the bomber burger, you can expect a breaded, whole portobello mushroom cap stuffed with cheese, cemented onto the burger... with more cheese, naturally. Just be careful of the hidden molten lava (aka cheese) when you bite into this one.
Mitchell Field
Nite Owl is only open spring through fall, and only sells burgers until it runs out each day, generally around 6:30pm. Make it a priority to get one, though, because these old-fashioned burgers are practically a religious experience. They're hand-formed, so there are bits that fall apart and brown deeply on the griddle, and crevices that cheese can ooze into. If you want to really amp up the gluttony, pair this with a Superman shake.
Juneau Town
This upscale restaurant tops its amazing, eponymous burger with honey-glazed onions and tangy homemade relish, plus the most underrated burger cheese ever: Muenster. And since MSG's specialty is steaks, you know they'll cook your burger to the requested temperature perfectly.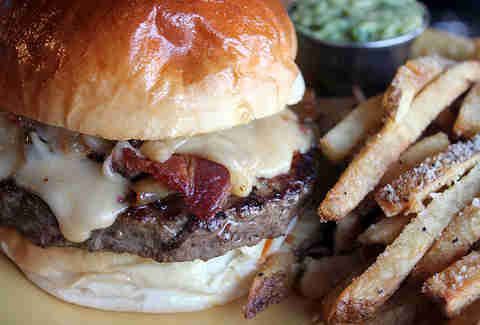 Mitchell Park
The Big O is named for the pub's owner, Oscar, and not the euphoria you will experience taking your first bite of this juicy behemoth. Chorizo, bacon, onions, jalapeños, chipotle jack, smoked Gouda, and a side of chunky guacamole… all these toppings would make this bad boy impossible to eat, if it wasn't for the pillowy, locally made bun keeping everything in check.
Multiple locations
Sobelman's is a Milwaukee institution, thanks in part to the Marquette students and alumni who fill both locations to capacity... and propel this joint's newest creations to viral status on Twitter. The namesake burger is a classic, topped with three cheeses, bacon, fried onions, and diced jalapeños. Add the spicy ketchup that's available on every table, and you'll be in pig (and beef) heaven.
Multiple locations
Even though this is a Chicago-style dog and Italian beef joint, you'd actually be remiss if you didn't order the burger. It's a fistful, cooked to whatever temperature you request, which is pretty uncommon for fast-food joints. Besides your standard rabbit-food toppings, try the Dawg Sauce, a creamy, buffalo-like concoction with a little bit of heat. Plus, this place offers free beer on Wednesdays. FREE BEER.
Bay View
Tuesdays at Goodkind are glorious, and for our favorite reason: it's burger night. One burger is available each week, with beef sourced from local farms. Topping combinations range from unique -- like bacon and fava bean relish -- to classic-with-a-twist, like homemade cheese sauce and ramp mayonnaise. So as long as you're not devoted exclusively to ultra-classic burgers, the weekly variations will knock your socks clean off.
Sign up here for our daily Milwaukee email and be the first to get all the food/drink/fun in the Brew City.