Sobelman's Milwaukee Burger

| David Szymanski/Thrillist
Sobelman's Milwaukee Burger

| David Szymanski/Thrillist
Editor's Note: This story is the 11th entry in Thrillist's Burger Quest, Kevin Alexander's yearlong mission to find America's best cheeseburger. Follow along @ThrillistBurgerQuest, and use #ThrillistBurgerQuest to let Kevin know places he needs to hit.
Milwaukee is a fantastic city. It's small, approachable, and filled with neighborhoods that have parks with beer gardens in them. I would consider moving there if I wasn't so scared of Midwestern winters. Despite loving the city, my trip to Milwaukee was brief -- I only had 24 hours or less to try burgers, but I did manage to hit eight of the best spots, as recommended by local food writers, chefs, and Thrillist's bastion of all Midwestern food knowledge: Chicago-based Executive Editor Matt Lynch, who accompanied me on my burger trip alongside the great local photographer David Szymanski.
In case you're new to my rankings, here are some guidelines: if the restaurant had multiple burgers, I tried to order its signature burger, or if that was too outlandish, the closest to a classic cheeseburger. If it came with options, I always picked American cheese and grilled onions. If you think I missed something, please yell at me in person, or say something dismissive in the comments, but until then, please enlighten yourself with my Milwaukee burger ranking: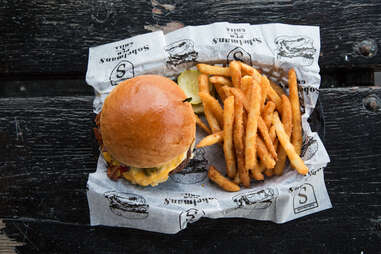 8. The Sobelman
Sobelman's is a great hang. Located in one of Milwaukee's original Schlitz taverns, it feels like a Milwaukee bar when you walk in. And judging by the crowd of people drinking on a Monday night, it's a popular one. As for the burger, rather than going for the standard cheeseburger, I opted for the signature option, which comes with American, Swiss, cheddar, bacon, fried onions, and diced jalapeños.

And maybe that was a mistake, because the sheer quantity of cheese, and the different tastes coming from the nutty Swiss, tangy cheddar, and salty American overwhelmed everything else. The meat was fine, if a bit snappy and overcooked, and the jalapeño gave a nice added kick, but it was hard to get around the cheese. And yes, I know I should've expected that in Wisconsin, I'm sorry.
7. Single Lotta burger with American, pickles, and grilled onions
This was a snap-decision burger. I read about NorthPoint Custard, sitting down by the lake, and talked to some locals about it, and everyone had good things to say, so when I saw one in the airport just as I was headed towards the exit, I just had to grab it. The bun is excellent. Soft and buttery and puffy, it holds up well. All of the rest of the burger was completely fine -- the burger itself was a bit soft and undercooked in the middle, and lacked a lot of char on the meat, and the grilled onions were also slightly underdone, but the blend of everything together worked well. The standard hamburger pickles gave some acid bite, and that great bun pulled it through. Also, the custard looked pretty damn delicious.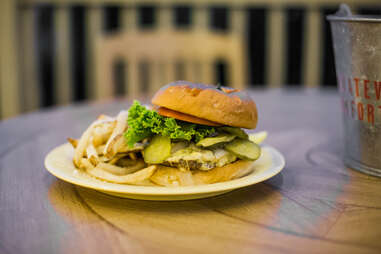 6. Cheeseburger with grilled onions
During the summer, the back patio at Oscar's is lovely. I don't have a lot more to offer about Oscar's, other than the fact that I enjoyed the mural on the side of the building and the cheeseburger. You almost feel like you're wimping out just getting a standard burger there, as they have many others with names like "The Big Gringo" or "The Big Hongo" or just "The Big O," each of which offers up five or six other accoutrements. But I stuck to my script, got a standard cheeseburger, and was rewarded with a perfectly good one: it was cooked well, a touch salty, with decent char on both sides. The onions were a bit underdone, but worked well, and the combination was quite lovely. One of the small issues, however, was the bun. It was fresh enough, but was just too big, frankly. Several times I got a mouthful of bread before I could taste anything else, and that was a pity, because the burger is tasty. But all in all, a solid pick.
5. Double cheeseburger with American
"The Burger Store Since 1934." That's what the note reads. And this is my kind of place. Open now for 82 years, it is a classic Milwaukee spot, still family-owned and beloved, judging by how many of the older regulars I saw in there using the waitstaff's name. As for the burger, the meat, which is ground daily, was extremely fresh-tasting, but could've used a bit more salt and pepper, but the entire thing held together extremely well. If I did it again, I might opt for the single cheeseburger because -- like most places in Milwaukee -- they generously overload the cheese, but the hamburger dill pickles on the side added some nice acid balance. Go here, friends. The Mazos family deserves some new regulars.
4. Mason Street Grill Burger
Because I don't own as many penny loafers as I'd like, I don't frequent fancy places that often. So in many ways it was nice to see the old-school luxury of the Mason Street Grill inside the Pfister Hotel, which -- as we were told by the concierge when we went to gawk at the ceiling mural in the lobby -- was the most costly hotel in America when it was built in the 1890s. Mason Street is all old-school luxury -- dark leather and wood and people playing live jazz music on a Monday night.

As for the burger, it's large: 10oz of Black Angus chuck and sirloin, honey-glazed onions, Muenster, and a house burger relish. In other words, it, too, is old-school and clubby. And yet it worked well for me. The honey-glazed onions tasted like they were pulled directly from a bowl of French onion soup and then kissed with honey for a little sweetness. The peppery relish has a kick to it and gives the necessary acid component. The Muenster is strange, but I'm into it; and the meat is cooked to a perfect medium. If I had any criticisms, it's that the meat itself seemed slightly under-seasoned, and the bun is not toasted enough, so it gets a touch soggy from all the different ingredients in the mix. But make no mistake, it is a good burger.
3. Cheeseburger
Solly's essentially invented Milwaukee's beloved butter burger and -- as such -- should have a special place in any burger-lover's heart. I'll admit that when the burger came to me and the butter was trickling out of it onto the plate, I was intimidated, and maybe even a bit queasy. But when I bit in the burger, and tasted those fragrant fried onions (the best in Milwaukee), and the buttery beef, and that perfectly griddled bun that somehow doesn't get soggy even though it soaks with butter, I began to understand why this restaurant is a national landmark. Just try not to touch anything with your butter-greased hands afterwards.
2. Jumbo cheeseburger
On the wall in Nite Owl is a sign advocating "Hoover for President." There's also one offering "Zeidler for Mayor." Rickety wooden booths sit on either side of the room. Up on the board, a clown sundae will cost you $2.75. There are signs for three different brands of ice cream (Oak Brand, Borden's, and Session's) all next to each other. Bananas hang behind the counter. These may all seem like random details, but these small things are the type of things that make me fall in love with a burger place. And I'm in love with Nite Owl.

The restaurant sits very close to the airport, next to a gas station. The burger is large -- a thin patty, but nonetheless pretty large thanks to a wide diameter. Usually I'm not into the large burgers, but this is a special burger, friends. Great griddle and seasoning on the meat, and a stack of cheese that would normally make me wince in pain, but somehow worked well with the griddled onions and meat. A soft bun that stays out of the way. It reminded me a lot of the burger I've named No. 1, and that's the highest compliment I can pay it. I want to eat here every day.
1. Double cheeseburger with the works
Started in the 1950s, Kopp's is one of the O.G.'s in the butter-burger game, and has since become a staple in the decidedly non-diet diet of most people in Milwaukee. As we pulled up to the strange UFO/army bunker that is actually a Kopp's, my colleague Matt regaled me with tales of people eating inordinate amounts of Kopp's after weddings, including a girl who may or may not have tried to eat 10 grilled cheeses. And though I told Matt to shut up because that sort of made me sick to think about, I still managed to order the double cheeseburger with the works (again, I'm INTENSELY professional).

This sandwich, friends, is a revelation. It is wide, almost Whataburger-shaped, with thin patties and thick layers of much-more-tasty-than-normal Wisconsin American cheese. It has a great acidic relish in lieu of pickles, the char on the patties was exceptional, and the bun tastes fresh, is well-toasted, and, like any good second fiddle, knows how to stay out of the way. Sticking with the fast-food theme: take all the best things you love about your favorite fast-food burger and think about them. Well, Kopp's tastes like you owned a fast-food franchise and made a deal with the devil to ensure that all your burgers cherry-picked the best elements of most other fast, recognizable burgers. But it goes beyond that: Kopp's just might be the best fast burger joint in the country. And hell, I didn't even try the custard.
Sign up here for our daily Milwaukee email and be the first to get all the food/drink/fun in the Brew City.
Kevin Alexander is Thrillist's national writer-at-large, burger critic, and biggest
Pelican Brief
advocate. Attach yourself to him emotionally @KAlexander03.