Maybe it's the end of the month, maybe you're saving for a vacation, or maybe your ex stole your rainy-day fund. We've all got perfectly valid reasons to eat on the cheap sometimes, but fast food and snacks just can't cut it in the long run. So here are 13 amazing meals you can get for $10 or less at Milwaukee restaurants that are available all the time -- because wing night can't be every night, and taco trucks don't generally park outside your apartment.
Recommended Video
Ghost Kitchen: How This NYC Restaurant Is Responding to Coronavirus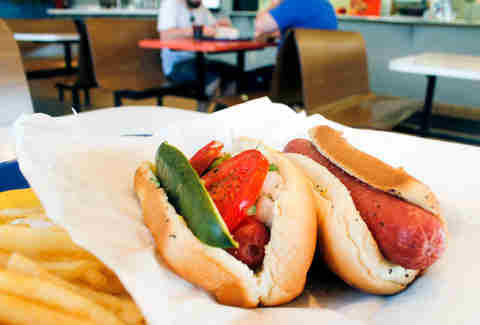 Chicago-style hot dog, $3.89
Martino's
Address and Info
Mitchell West
You can't get much cheaper than a hot dog, and one of the most choice dogs in the land is from Martino's. Get a regular Chicago-style with a handful of fries for $3.89, or if you're really hungry, make it a footlong for $7.49 and still stay way within budget. An Italian beef -- this is a Chicago dog joint, after all -- will only set you back $5.99, including cheese and peppers.
Tacos, $6
La Casa de Alberto
Address and Info
Walker's Point
Former Conejito's employees opened this little restaurant, which is probably why the prices are so low. Unlike Conejito's, though, you get food on actual plates, and it tastes good sober. For the best value, stick with the taco plate. You'll get four tacos mounded with fresh toppings, plus the free chips and salsa if you dine in. It's a steal for six bucks in a sit-down restaurant.
Chicken Caesar panini, $7.50
Nessun Dorma
Address and Info
Riverwest
Though it's the apps and daily specials like pasta and salmon that tend to get the most attention, the panini menu shouldn't be overlooked for its value. The chicken Caesar panini takes a filling generally made into a wimpy, cold wrap and turns it into a substantial hot sandwich with two cheeses. For $10, go all out for the puccini panini, with sliced beef tenderloin, capicola, and tapenade. All come with a side salad so you'll be full.
Thali platter, $7.95
Bombay Sweets
Address and Info
Morgandale
There is nothing on the menu at Bombay Sweets above $7.95, which is a thali platter that comes with two curries, daal, rice, raita, pappadum, dessert, and a drink. What more could you want at a vegetarian Indian spot? Oh, right, samosa. That's fine, because they're only 75 cents each. You'll even have change to spare for some sweets from the case to go.
Classic cheeseburger, $5.50
Oscar's Pub & Grill
Address and Info
Mitchell Park
You'd think that for $5.50 you're getting a baby-sized burg, but it's a massive 1/2lb monster, and it even comes with a side of homemade Parmesan fries. For just another buck or two, you can get your burger loaded with toppings, from mushrooms and Swiss to the signature Big O with multiple cheeses, bacon, chorizo, and even a side of guacamole.
Banh mi thit nuong, $7.95
Pho Cali
Address and Info
Castle Manor
Banh mi are somehow always a good deal, and the grilled pork version at Pho Cali is no exception. A footlong loaf of crispy bread is stuffed with pork, mild pickles, cucumber, cilantro, and a savory mayo. Jalapeños come on the side, so if you like it hot, go ahead and stuff those in there too. You can get a chicken or beef version for the same price.
Chicken and waffles, $6.99
Daddy's Soul Food & Grille
Address and Info
Avenues West
If you can tear yourself away from the buffet line of Southern classics, get yourself an order of chicken and waffles. Four pillowy waffle squares and a mound of fried chicken will arrive, with sides of butter and syrup. Choose chicken strips if you want to eat it as sandwiches, but the better option is the traditional bone-in, skin-on stuff. Just try not to get some peach cobbler for dessert, I dare you.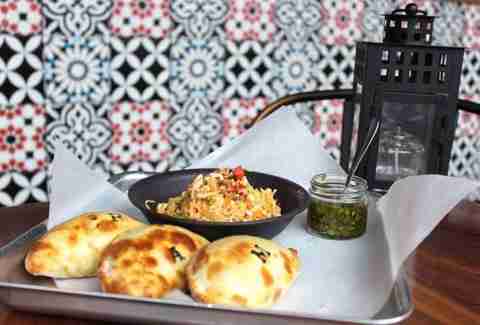 La Masa Trio, $9
La Masa Empanada Bar
Address and Info
Brady St
Most of the empanadas at La Masa are just $3, so select three for your trio and get a side of refreshing jicama slaw thrown in for free. And don't think for a minute that the $3 ones must only be vegetarian; Argentinian beef, black bean, chorizo, and Cheddar and the ever-popular cheese curd and bacon all fit the bill. You may just want to throw in another $3 for the banana Nutella empanada with ice cream at the end of your meal.
Corned beef hash, two eggs, and toast, $5.29
Ted's Ice Cream & Restaurant
Address and Info
East Tosa
Everyone needs a diner breakfast now and then, and no one beats Ted's prices. The little morning-and-afternoon-only Tosa spot has mostly counter seating, but that means you'll get your coffee refills quickly. Corned beef hash with eggs and toast is a steal at just over five bucks. If you're more into lunch, there's always the diner classic turkey club and chips for $5.99, or a grilled cheese for $1.89.
Falafel sandwich, $4.99 and hummus, $3.99
Jerusalem Pastries
Address and Info
Greenfield
Most people think gyros when they think of cheap eats, but why not go for something a little less greasy and a little more tasty? The falafel sandwich at Jerusalem Pastries is made with homemade pita and can be topped with 13 delicious things, including pomegranate molasses. A side of incredibly smooth hummus (and more delicious homemade bread) will fill even the most avowed carnivore right up.
Fried chicken dinner, $8.50
TomKen's
Address and Info
West Allis
The best fried chicken around also happens to be one of the best deals around. You get four pieces of chicken, fried with a golden crispy crust just like grandma used to make, plus fries, cole slaw, and Italian bread for $8.50. You can also get eight of their fantastic chicken wings for $7.50, but the old-fashioned chicken dinner will always be the best value.
Beef pho, $7.99
Bamboo
Address and Info
Silver City
Sure, the $7.99 bowl of pho is the "small" size, but even those are as big as your head. For a buck more, you can get enough rich broth, springy meatballs, and thin-sliced beef to last for another two meals. If pho's not your thing, they also serve Thai and Laotian cuisine, so try the Thai red curry with chicken, long beans, eggplant, and Thai basil for $8.99.
Cheeseburger combo, $6.70
Mazos
Address and Info
Southgate
A cheeseburger with fried onions and two sides for less than seven bucks? And the beef is ground fresh every day? And you can pick from sides like buttery, crunchy American fries and homemade soup? And you can add a huge malt for only $3.55 more, only going over budget by a quarter? And you get to eat it all at a counter that's been there since 1934? Sign us up.
Sign up here for our daily Milwaukee email and be the first to get all the food/drink/fun in the Brew City.