Milwaukee has a sizable Italian community, which means we're blessed with a wealth of authentic, excellent Italian restaurants to choose from. And although Milwaukee has some amazing pizzas, we're not talking about just those. We mean beautiful, fresh Italian food from all up and down the boot, from Northern gnocchis and polentas all the way down to Sicilian veal marsala.
Recommended Video
This Restaurant Sells 20+ Types of Poutine
Downer Woods
Carini's chef and owner Peter Carini came to the US from Palermo in the '60s, so it only makes sense that the restaurant specializes in Sicilian food. Seafood is the name of the game here -- Sicily is an island, after all. Start with octopus salad or clams, then move on to their signature dish of spaghetti with mixed seafood in marinara sauce.
Wauwatosa
Chef and owner Michael Feker has a big personality, which is reflected in his menu. Bold flavors and colors dominate his dishes, like fresh horseradish on braised short ribs, a roasted radish and feta salad, and "Fekerized lasagna" filled with short ribs and topped with a roasted mushroom bechamel. Can I Fekerize my vegetables too?
Riverwest
The cozy, dimly lit dining room of Centro makes it one of the most romantic restaurants in Milwaukee -- especially if you can score the secluded table in the front window nook. If you're looking for something more lively, sit at the bar and watch your seafood risotto being made right in front of your eyes.
Kilbourn Town
White tablecloths, murals of Tuscan villages, and a copper Italian espresso machine all point to the fact that you're in a fancy pants dining establishment at Calderone Club. The menu is large, and includes all the best Italian-American favorites, like fried calamari, Neapolitan-style pizza, homemade pasta, and chicken marsala.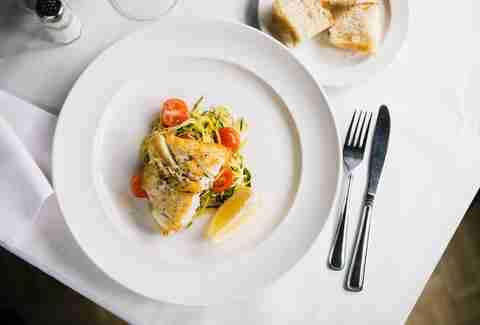 Bay View
Located in the middle of a residential neighborhood, the folks at this little corner restaurant makes you feel at home. The owners came to the US from Italy in 1961, and brought their knowledge of food and wine with them. We definitely recommend pairing your pizza, scallops, or butternut squash ravioli with a wine from the lengthy list.
Juneau Town
Always acclaimed by local critics, Zarletti is where you take a first date if you really want to impress them. Traditional Italian dishes from all over Italy are represented: osso buco with risotto Milanese, pasta bolognese, and panzanella salad. Pro tip: go for the daily homemade ravioli special.
Third Ward
Though the menu is trendy, with categories like "jars" and "boards," the flavors at Onesto are classic Italian. A mussels starter with white wine, herbs, and tomato is good enough to be your entree, but good luck not ordering the wild mushroom ragu with homemade gnocchi anyway.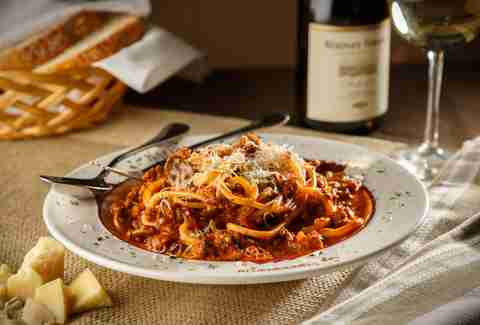 Wauwatosa (& Bluemound Heights)
Of the two Balistreri's, the Wauwatosa location has the longest history, having opened in 1968. Plus, it's got an Italian-American red sauce-joint menu and does a lot of great pizza. But Balistreri's Bluemound Inn ups the ante with dishes like melon carpaccio and braised rabbit... try them both, but we think the large pergola-covered patio gives the edge to Bluemound Inn.
Kilbourn Town
Giovanni's revives a beloved restaurant of the same name that closed about 10 years ago. It's more upscale now, with a smaller menu focused on meat and seafood. Besides spiedini and veal picatta, this is one of the only places in Milwaukee you can get chicken Vesuvio, a baked dish with potatoes and lemon sauce that's popular in Chicago.
West Allis
Capri has been around for decades -- I went here as a child growing up. It closed in 2012, and was purchased by a couple who lovingly remodeled it, giving the space a much needed facelift. The menu is classic Italian-American red sauce. We recommend ordering the lasagna special on Mondays and Tuesdays -- it comes with a thick layer of sauce and mozzarella broiled on top.
Third Ward
A Mediterranean restaurant with heavy Italian influence, Tre Rivali has just recently opened in the posh new Kimpton Journeyman Hotel. Woodfire pizzas might catch your eye, but it's interesting seafood preps like olive oil braised octopus and shrimp bagna cauda with radishes that stand out. Whoever thought to make arancini out of paella is a genius.
Riverwest
Think of Nessun Dorma as a neighborhood tavern that just happens to serve Italian food instead of mini tacos. The emphasis here is on bruschetta, antipasti, and panini, with some soup and salad for good measure. Daily and weekly specials bulk up the menu with pastas, salmon, and chicken.
Downer Woods
Sala is a family affair for the brother and sister owners of this casual spot across from UW-Milwaukee. A portrait of their great-grandmother even hangs on the wall, and her recipes provide the basis of dishes like their sugo angel hair. Go for the classic pasta with meatballs for the ultimate in grandma's comfort food.
Sign up here for our daily Milwaukee email and be the first to get all the food/drink/fun in the Brew City.