When most folks think of Wisconsin, they think of beer and cheese -- and rightfully so. However, those aren't the only items on the menu in the restaurant-heavy tourist mecca that is Lake Geneva (although there's still plenty of beer and cheese), and given how much stuff there is to do here, you'll need lots of refueling along the way. While the best restaurants in town run the gamut from dive and pizza joints to upscale steakhouses, sprawled out from downtown Lake Geneva to more out-of-the-way hole-in-the-walls, one thing is clear: you won't go home hungry.
Recommended Video
Ghost Kitchen: How This NYC Restaurant Is Responding to Coronavirus
Old-school vibes, and the best charbroiled chicken in town
While the food is excellent (the BBQ ribs are famous and the charbroiled chicken is quite possibly the finest ever known to man), what makes this place so great is the ambiance. Cultivating an old-school supper club vibe after decades shacked up on the shores of the smaller Lake Como located north of Lake Geneva, Mars offers vacation experiences that simply can't be replicated -- like boozy piano sing-alongs with friendly locals and sunny dance parties on its beachside outdoor patio. As if that wasn't enough, the sunsets here are ridiculous.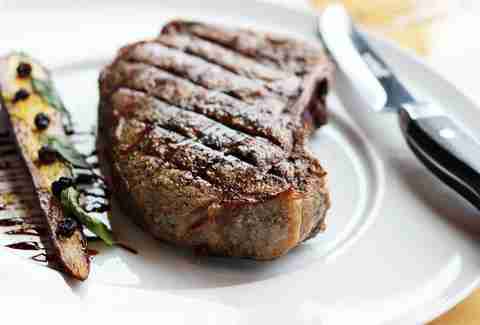 Award-winning steak in a historic farmhouse
Located in a 100-year-old farmhouse on the grounds of Grand Geneva National Resort & Club, Hunt Club Steakhouse is no stranger to accolades, garnering Wine Spectator awards for 12 consecutive years while receiving TripAdvisor's "Certificate of Excellence" four years running. There's not a bad meal to be had on the menu, and while the Berkshire pork tenderloin and New Zealand Ora King salmon are tempting, you've gotta go with the steak at this chic spot frequented by a well-dressed clientele. Featuring grain-fed Midwest-raised beef aged 21-45 days, the 20-ounce prime bone-in rib-eye and 8-ounce center-cut filet are the stars of this all-star menu.
Fresh sandwiches from a local mainstay
When the urge for a simple sandwich strikes, there's no better place than the laid-back Green Grocer located in the equally laid-back little town of Williams Bay. Featuring a few rows of health-conscious natural products and a recently expanded section for in-room dining, the main action here is with the handmade sandwiches ordered from the counter. Just tell them what you want (the turkey and Swiss can't be beat) and they'll make it to your specifications using the freshest ingredients you're likely to taste in quite some time. Grab yours and walk down a short path to the lake for a picnic in the park.
Romantic Italian spot with lake views
This long-standing favorite is another example of Williams Bay doing everything right with understated elegance and friendly laid-back charm. Grab a table on the romantic outdoor patio overlooking the lake and uncork a bottle of wine with your travel companion before diving into the menu of Italian delights, like the seafood diavolo with mussels, shrimp, and king crab served over linguine, or the make-your-own pasta with your choice of pasta, sauce, and meat toppings (chicken and shrimp Alfredo is a solid option).
Lobster mac & cheese beside your own personal sandbar
This new-ish spot (opened in 2012) has a spectacular location on the shores of Williams Bay, enhanced by its own small sandy beach just off the Lake Geneva Shore Path and fire pits for once the sun goes down. Pier 290's a popular hangout for those looking to have a drink (or seven) while watching the sunset -- and, if you find yourself getting hungry, there's also a menu stacked with fish tacos, lobster mac & cheese, and the hangover-crushing brunch burger with sunny side egg and smoked Gouda cheese. If you feel like ordering more drinks after dinner, no one could blame you.
Simple breakfast and lunch dishes done exceptionally well
At this beloved local hangout, breakfast is served all day in a cheerfully bright space with a health-conscious menu that leans heavily on the produce of local farmers. The smoked trout BLT makes an excellent lunch option, while breakfast staples like blueberry pancakes and made-to-order omelets are sure to please everyone in your group (even the fussy ones).
Stone hearth-fired pizza and friendly conversation
Overlooked by most tourists to the area, everyone seems to know each other at this bustling restaurant with a deep menu known for its pizza. Preparing its own dough from scratch daily, Lake Geneva's original stone hearth-fired pizza comes in all shapes and sizes. The most popular offerings are the garbage pizza with sausage, mushrooms, green peppers and onions, and the Wisconsin mac & cheese 'za with Cheddar cheese sauce, mozzarella, and shredded Cheddar -- remember this is Wisconsin, where three kinds of cheese isn't really that out of the ordinary.
A Germanic local chain you'll want to know better
With six locations in Wisconsin (including a buzzing spot in downtown Lake Geneva), this local chain never fails to disappoint with hearty servings of Midwestern staples like burgers and beer brats paired with more Germanic-themed offerings like pork schnitzel sandwiches and Jagerschnitzel breaded pork. More importantly, Sprecher's brews its own (damn good) local beer, so grab a hearty Black Bavarian or a more Mexican-styled Acapulco Gold and sip it out on the sunny outdoor patio while you work on your tan. Sprecher's also makes its own sodas, if you're driving. Or hungover. Or both.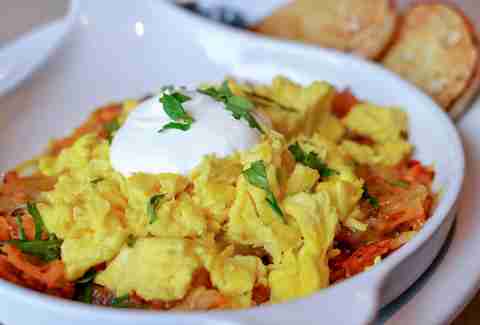 Popular hang for inventive breakfast offerings
With Intelligentsia coffee brought to your table in a carafe, and authentic stone-ground grits sourced from a seasonable menu heavy on local organic ingredients, this downtown Lake Geneva hotspot is the perfect way to start your morning. Fuel up for your big day's adventures with inventive offerings like a lobster scrambler, pot roast skillet, or pumpkin pancakes, and head back for lunch for a club sandwich or tuna melt. Don't be disappointed if you end up coming back here every morning for the duration of your trip -- you wouldn't be the first to do so.
Adventurous Mediterranean joint for an intimate date night
Featuring just 12 tables and 10 bar chairs, this cozy restaurant located five blocks north of Lake Geneva's Main Street sports an intimate vibe with a deep wine list and craft cocktails to match. While the menu changes often, you can count on staples like hand-cut steaks and chops and fresh seafood daily, as well as a few more out-there epicurean creations from the chef that blends Mediterranean and American cuisine seamlessly. Be sure to try the lobster Alfredo (featuring 8 ounces of Canadian lobster meat poached in cream and finished with Parmigiano-Reggiano cheese and egg yolk) or pork Milanese, before capping the evening with made-from-scratch gelato or white chocolate creme brulee.
Upscale spot for wagyu rib-eye by the fire
With white tablecloths and plush booths, plus a buzzy outdoor fire pit overlooking the golf course, this place (located at Grand Geneva Resort & Spa) is everything you think of when you think of a fancy dinner out. Start with some crabcakes or pan-seared foie gras with duck fat fries as you clink glasses and gaze out through the wall of windows, before moving on to main course offerings like wagyu rib-eye and prime New York strip. Non-steak offerings like lamb shank and lobster tails are also seriously delicious, but as is usually the case when visiting a steakhouse, you can't go wrong sticking to the house specialty.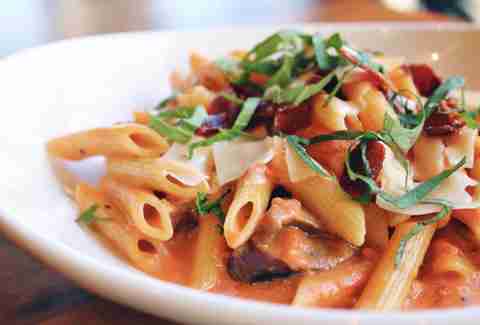 Napoletana-style pizza in sleek urban surroundings
Opened in 2015, this relatively new restaurant in downtown Lake Geneva has quickly risen through the ranks of the local food scene, thanks in large part to its glorious upstairs patio deck overlooking the lake. While you can get a meatball sandwich and burger topped with prosciutto and white truffle oil, the joint is most famous for its pizzas, like sausage and giardiniera (or spinach and artichoke flatbreads, served during lunch). Even if you don't stay for dinner, you're likely to start drinking early once you get a look at that view from the patio.
Sign up here for our daily Milwaukee email and be the first to get all the food/drink/fun in the Brew City.