If you're reading this, then you've survived another Milwaukee polar vortex. Congratulations! Your prize? These 10 new restaurants and bars -- from warm, cozy pubs to technicolor dance clubs -- that have all seen rave reviews despite opening in the endless freezer that is winter.
Recommended Video
This Pizza Dip Lets You Throw a New Kind of Pizza Party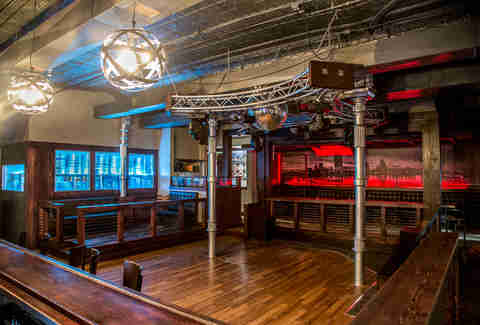 Kilbourn Town
The Pub Club leads a double life, pub by day and club by night. Even though the name hits you over the head with literalism, the atmosphere actually works as it transforms from brunch spot to late night dance club. Giant-windowed keg coolers and a bar made from Jack Daniels whiskey barrels are interesting, but the fun really starts when the LEDs start going psychedelic.
Juneau Town
When a restaurant features "street tacos," it usually means it happens to use corn tortillas (it's hard to get kung pow shrimp tacos on a Mexican street corner). But as long as they're tasty, their street cred won't matter. Banh mi short rib, duck carnitas, and chipotle salmon are just a few of the tons of other tacos offered that will make even the most stubborn food lover swear off authenticity for creativity.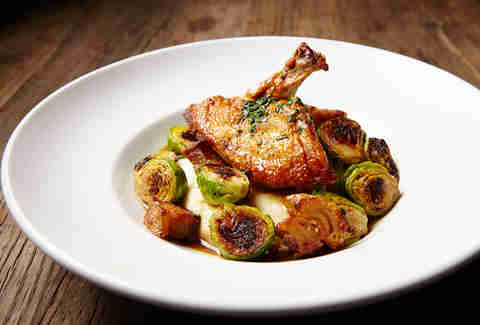 Schlitz Park
Technically a reopening of the original tavern that Schlitz opened in 1938, The Brown Bottle was recently closed for two years while undergoing a major rehaul. It's still got a cave-like, old-world feel, but is now hipstered up with vintage light bulbs and sleek chairs that look like they came off the set of The Rocketeer. Most importantly, for a pub of its longevity, it's inviting and serves hearty food like roasted skin-on chicken breast with caramelized Brussel sprouts, and plenty of Schlitz.
Lower East Side
MKE has exactly 3,472 Irish-themed pubs. That's why the owners of Red Lion decided to revamp the space that had been an Irish pub into... a British pub! There's more of a focus on soccer (or footy, for you ex-pats), and the food is slightly more British with things like bangers and mash, Cornish pasties, and donner kebab sandwiches, all of which are great when you're drinking and/or hungover.
Lower East Side
Sushi and Thai food come together in this Asian spot with a lengthy menu featuring everything from maki rolls, pad thai, to Caribbean fried rice. In a display of local pride, rolls are colloquially named: the East Town Monster with shrimp, cilantro, avocado and jalapeno, and Lake Front, which hopefully doesn't describe the origins of the ingredients.
Juneau Town
If you had stock in the LED company Lucid bought from, you'd be rich. It can make the entire bar and hookah lounge any color it wants (which means it has a civic duty to recreate the boat scene from Willy Wonka). Mediterranean small plates are served through dinner, then it turns into a dance lounge with DJs, bottle service, and flavored hookah smoke wafting through the air. Specialty cocktails are just as varied as the lights, served with blackberries, pineapple, blood orange, and guava.
Walker's Point
Meraki is a Greek word that means putting something of yourself into your work (like love and creativity), which is what the owners-- a former Blue Jacket chef and his wife-- hope to do. The fine-dining-meets-casual restaurant serves a constantly changing menu of small and large plates from an open kitchen. Expect to see lots of pickles, charcuterie, and seasonal vegetables in the retro-chic space.

Kilbourn Town
Weirdly enough, Ale Asylum Riverhouse isn't actually affiliated with Ale Asylum Brewery in Madison, though it does feature the brewery's taps almost exclusively. The menu has upscale twists on classic pub food plus daily specials. The standout dish so far has been the crab rangoon nachos: fried wontons topped with quark cheese, lump crabmeat, jicama slaw, and an Asian-orange vinaigrette.
Halyard Park
For a town that loves its sports, we don't actually have that many dedicated sports bars. So the owners of SkyBox, including a popular neighborhood barber, are filling that niche on the North Side. The two-story space is slick and filled with games like Pop-a-Shot basketball, framed jerseys, and TVs galore. In true sports bar fashion, there are wing specials, throwback sports trivia, and attractive servers in tastefully skimpy attire.
Lower East Side
In a city dominated by beer drinkers, whiskey drinkers will have a new spot to haunt. Van Buren's will carry whiskey of all nationalities, plus bourbon, gin, and scotch, and incorporate them into mixed drinks like mint juleps and bourbon apple ciders. Lots of burgers will be available to soak up the alcohol, including some with exotic meats like elk and ostrich. If that's a little too strange for you, pair your whiskey with some aged tobacco from its cigar bar instead.
Sign up here for our daily Milwaukee email and be the first to get all the food/drink/fun in the Brew City.
Lacey Muszynski is a Milwaukee-based food writer that really wants to try those crab rangoon nachos. Follow her on Twitter @worthhersalt.