third coast provisions

| Kailley Lindman
third coast provisions

| Kailley Lindman
Milwaukee's booming -- some might say oversaturated -- restaurant scene churned a lot of changes in its wake over the last year. Some stalwart restaurants closed their doors, and we mourn the passing of classics like Karl Ratzsch, Cempazuchi, and Hinterland, while other much-loved local spots like Cubanitas and Fuel Cafe expanded their reach with new locations. But most importantly, fantastic new restaurants of all types and cuisines opened to replace those we lost, from a dog-friendly pizza joint to a restaurant's side room that only serves a tasting menu twice a week. So next time you're sick of all your usual haunts, hit up one of these new dining gems that graced Milwaukee in 2017.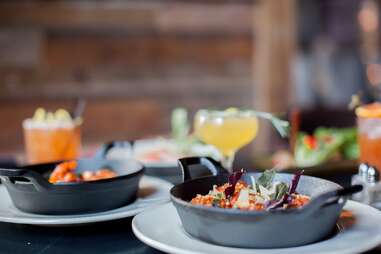 Bay View
Reimagined hotel restaurant looking to bring diners together
Located in the tiny Kinn Guesthouse, this place is redefining what a hotel restaurant can be. Just as a boutique hotel with the name guesthouse implies, the goal is to bring people together, and in Kindred, that's done by utilizing community tables. Most dishes are meant to be shared, to the point where that section of the menu is called "gather," and includes small plates like coffee citrus-rubbed wild boar sliders and scallops with sweet potatoes and speck. Large plates that are harder to share like pasta and burgers are available, but where's the fun in that?
Hawthorne Glen
Cozy French bistro that replaced an esteemed classic
All of Milwaukee sighed when our beloved Meritage closed down, but the restaurant that has taken its place is a more than worthy replacement, filling a hole in a neighborhood that's always embraced upscale casual dining. Maison is French for home (as the restaurant is fond of reminding you), and the atmosphere is similarly inviting, with warm lighting and dark wood; all the classic French dishes are represented on the menu as well, including salade nicoise with oil-cured tuna, escargots, steak frites, and coq au vin. It's basically like visiting the home in France you never had -- provided your home in France charged you for its signature cocktails.
Brady Street
Regional American small plates from a Milwaukee restaurant veteran
Formerly of restaurant group powerhouses SURG and Bartolotta, chef Dane Baldwin opened The Diplomat on busy Brady Street in August. He serves a menu of small plates meant for sharing that changes regularly, including a selection of sweet desserts, and you're likely to find influences from many regions on the menu, like Southern pork rinds with tomato salt and Carolina mustard sauce. Even if you're not looking for another small plate spot, The Diplomat's got some heartier dishes as well, like beef short ribs with broccolini, which are available in larger, more traditional entree sizes if you're feeling selfish. Don't skip past the innocuous sounding Diplomat fries: This unusual version is more akin to crispy fried baked potato wedges and could easily become a Milwaukee classic.
East Village
A new dog-friendly option serving Roman-style pizza and pasta
DiModa moved into the former spot of Trocadero and has proven itself a worthy successor to the popular gastropub. They bake up Roman-style, wood-fired oven pizza, which has a thicker crust than Neapolitan-style and isn't common in MKE. There's the classic margherita, but also versions with Underground Meats 'nduja sausage, caramelized cipollini onions, and roasted figs. In addition to the dog-friendly patio outside, there's also a custom pooch menu with treats like beef-flavored doggie beer and puparoni pizzas, so be sure to bring little Bowser along.
Juneau Town
Italian steakhouse with a refreshingly bright, non-steakhouse vibe
You wouldn't think downtown needed another steakhouse, but Stella brings a fresh twist with its added focus on Italian cuisine. The unconventional steakhouse is located on the third floor of the brand new Westin Hotel -- this was a good year for hotel restaurants, if you couldn't tell already -- and unlike what you'd expect from most other steakhouses, its atmosphere is bright and airy thanks to the open dining room, high ceilings, and huge windows. This place's legit Italian influences mean the pastas are all made in-house -- including an elevated version of spaghetti and meatballs (if you're feeling ultra-basic) -- or go the classic steakhouse route with a 22-ounce dry-aged bone-in ribeye if you're really hungry and on your company's dime.
Avenues West
Retro classics from a husband/wife team in an art deco hotel
Also a hotel restaurant, The Fitz is the brainchild of Jason Gorman and his wife and pastry chef, Jennifer, and replaces the Ambassador Hotel's previous restaurant, Envoy (which was in dire need of reworking and remodel). The name is an obvious reference to F. Scott (it's located in an art deco hotel, after all), and it's quite easy to imagine you're in the roaring '20s (or at least a decade before you were born) when the menu is full of chic classics like crab louis salad and a twist on rumaki, as well as luxurious entrees like duck breast with green curry dumplings.
Bay View
Vibrant lounge with authentic Neapolitan pizza and East Coast vibes
The owners of Santino's had to go through a lot to get the vintage building that houses it up to code, including redoing the foundation and basement. What they ended up with, though, is a modern, sleek pizza bar with hot pink lighting and industrial touches that's been getting rave reviews since it opened. Pizzas are cooked in a wood-fired oven and are big enough to serve one extremely hungry person (or two normal people). And while simple preparations like margherita are offered, it's toppings like Italian beef and giardiniera, or chicken and Spanish fried potatoes, that steal the show. For starters, you'll want to share a giant 10-ounce meatball called The Bocce Ball.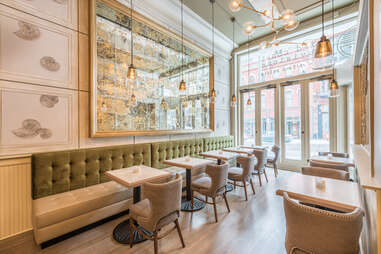 Juneau Town
The opulent seafood restaurant Milwaukee's been waiting for
Wisconsin isn't exactly known for being a bastion of seafood restaurants, but we got one this past year that's putting a lot of others to shame. Third Coast is a swanky, upscale seafood restaurant that surrounds you with glitz and mirrors, and it's the kind of place where you can order a giant chilled seafood tower, oysters Rockefeller, and something magical called lobster potholes that combines crab, lobster, and copious amounts of garlic butter. Head downstairs to the Oak & Oyster bar for cocktails, seafood tacos, and unbeatable happy hour specials.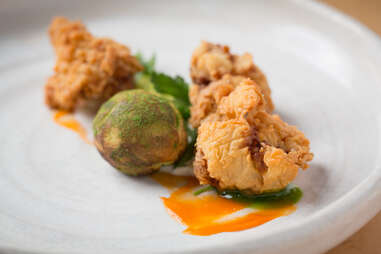 Third Ward
Intimate tasting menu spot inside another classic MKE restaurant
Located inside DanDan, this Inception-style restaurant is the pet project of chefs Dan Jacobs and Dan Van Rite. EsterEv, named after the chefs' great grandmothers, operates every Friday and Saturday night for one seating of 10 courses, and while the menu changes monthly, it's nothing like what you'll find at DanDan, even though the two spaces share a kitchen. Each course will be well thought out and exquisitely plated, matching some of the best restaurants in the state, with dishes like steak tartare with mozzarella, celery, parsley, and crackers. It's an intimate dining experience, and at only $80 for the meal, it's a steal.
Kilbourn Town
Southern-style barbecue with a focus on hickory-smoked meats
In a city that loves meat and potatoes, you can never have too many barbecue restaurants. Doc's Commerce Smokehouse has a massive open space for dining with a large bar and a few TVs for optimal sports viewing. Here, platters of smoked meats with plenty of char (especially the chicken and ribs) are served; there are also five sauces to choose from, if you're so inclined, including a rare-around-here Alabama white sauce. Between fried pickles, burnt ends, 60 beers on tap, and peanut butter pie, there's really no reason to leave this place.
Sign up here for our daily Milwaukee email and be the first to get all the food/drink/fun in the Brew City.