Nostalgia was the trend of the year in Milwaukee restaurants in 2019. Whether it was eating biscuits and gravy among kitschy, vintage diner decor or enjoying a meal at one of the many restaurants that remodeled or reopened this year, we were in throwback mode. This year also brought our city a wider variety of cuisines, lots of noodles, and still more brunch (you can never have too much brunch). Next time you're in the mood to try something new, head to one of these standouts. These are the best restaurants that opened in Milwaukee in 2019.
MORE: Check out the 12 new restaurants we named best in the nation this year
Recommended Video
These Tacos Are Made for Dunking
Walker's Point
Wood-fired, rustic chic American fare from well-known chefs
Replacing Smyth as the main restaurant in the Iron Horse Hotel, Ash's open, wood-fired hearth fits right into the testosterone-heavy Harley Davidson Americana theme of the hotel. It's headed up by chefs Dan Jacobs and Dan Van Rite, who come as a package duo, and run other acclaimed restaurants in the city. At dinner, try the head-on prawns in chili butter with toast, or the whole Pekin duck with Spotted Cow glaze for two. Brunch features stick-to-your-ribs stuff like cheddar biscuits with sausage gravy, smoked trout toast, and five bloody mary variations.
Riverwest
Whimsical, all-day diner with plenty of vegan options
Named after a long-forgotten amusement park in the area, Wonderland is a charming, colorful diner from the people behind the other laid back Riverwest staple, Art*Bar, next door. Chef Matt Mudler has a pedigree of cooking at similar, popular spots in the city, and makes everything on the menu from scratch. Cornbread waffles are topped with fried chicken thighs, onion jam, and sausage gravy during brunch, while meatloaf and lentil loaf get a bath of mushroom gravy at supper. Save plenty of room for homemade pie.
Lower East Side
Trendy food hall with a couple standout vendors
Try not to let the cringeworthy tagline of "Milwaukee's foodiest food hall" get to you because there are two great reasons to head to this swanky spot. Heaven's Table BBQ serves Texas-inspired brisket with fat that melts in your mouth, sausage, chicken, shoulder and ribs, plus fantastic sides like grits and fried corn. Egg & Flour Pasta Bar has a small menu of decadent made-by-hand Italian pasta, like bucatini tossed with cream in a Grana Padano wheel, or a popular Friday lobster pasta special. Watch for their standalone location to open next year.
Wauwatosa
Modern, upscale Italian restaurant with handmade pasta
Comforting Italian food has been big in Milwaukee this year, and Ca'Lucchenzo in 'Tosa is the best new iteration. Sit at the pasta bar and watch it being made behind the glass -- it's a little zoo like, yes, but it'll get your mouth watering. The puffy house focaccia goes well with a giant beef and veal meatball for starters, followed by perhaps the best pasta on the menu, the ravioli della casa, filled with goat cheese, ricotta, and chard and bathed in brown butter and walnut pesto. Sure, there are non-pasta dishes on the menu, like braised rabbit, but most people don't stray.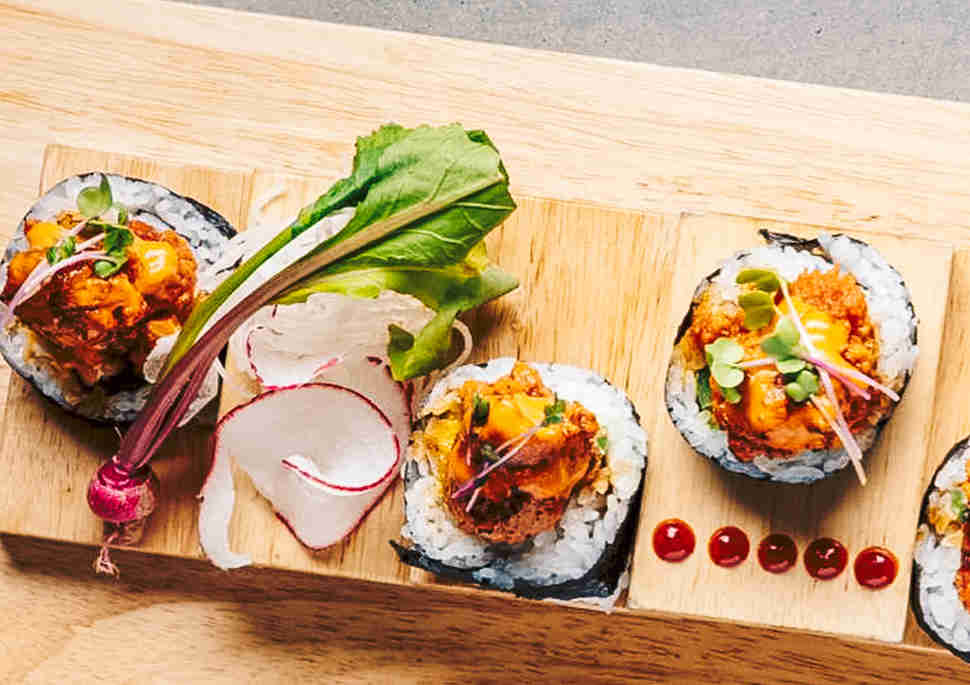 Wauwatosa
Sushi and Asian fusion from Rice 'n Roll Bistro
The industrial, bright setting of Kin matches well with the trays of modern, carefully arranged and beautifully presented sushi that the bar sends to your table. Like its sister restaurant, Kin's sushi is high-quality and ranges from traditional nigiri to out-there maki with bacon jam or pepitas. The rest of the menu blends Thai and Japanese flavors into playful dishes like truffle parmesan fries with togarashi, pad Thai made with fried wonton strips instead of rice noodles, and poke donburi. There are traditional items too, like creamy tonkotsu ramen, panang curry, and khao soi.
Historic Mitchell Street
Casual Middle Eastern restaurant run by Syrian immigrants
Damascus Gate rocketed on the scene in Milwaukee because it's owned and run by Syrian immigrants and refugees, and we were all quick to embrace it. The food was so good, though, that it was clear a visit in goodwill and support would turn into future cravings. The fried kibbeh are exceptionally good, as are the fatayer, small cheese or spinach filled pies. You could easily make a meal out of the appetizers, but a mixed grill platter with a skewer of grilled chicken and a ground beef kefta kabob is hard to pass up.
Harbor View
Handmade noodles and dumplings from a veteran chef
Hong Kong-born Tony Ho used to run the Asian restaurant in Potawatomi, but left to open his own spot, Momo Mee. The restaurant makes all its own dumplings and noodles, including xiao long bao, the famous pork and broth-filled Chinese dumpling. It's one of only two places in the city to get them, and the steaming broth is great for Wisconsin winters. Spicy Sichuan wontons and Korean beef and kimchi mandu are also dumpling standouts, while the yakisoba noodles are hard to beat. Garlic-heavy salt and pepper shrimp is a dish I dream about regularly.
Brewer's Hill
Daytime bar for creative takes on breakfast and lunch
Milwaukeeans can't get enough brunch, and Uncle Wolfie's Breakfast Tavern is one of the newest and best places to get brunch every day. It mixes a daytime breakfast and lunch concept with a corner tavern -- something else MKEans love -- so it really does feel like a daytime bar. The food is hearty and unpretentious, with some interesting flavor combinations, like the coffee-rubbed chuck in the Millee cheese steak. A tostada topped with chile-braised pork and sunny side up egg is popular, as is the beet-cured salmon benedict.
West Allis
Rebirth of an energetic, beloved local Cajun spot
Not to be confused with the Crawdaddy's on Greenfield nearby (it's a long story), Crawdaddy's Roadhouse is the latest try by owner and chef Jonathon Klug, who also operated the much beloved Crawdaddy's that closed about six years ago. This iteration has the same laid back, party vibe to it, with a menu that's almost a carbon copy. Stuffed, deep fried bread balls are filled with sausage and cheese and served with garlic butter as a filling appetizer, while the barbecue shrimp will remind you of NOLA. A fried eggplant half stuffed with shrimp, crawfish, and red gravy is good enough to lick the plate clean.
Sign up here for our daily Milwaukee email and be the first to get all the food/drink/fun in the Brew City.