Lower East Side
The Zaffiro family, who are Sicilian immigrants, started making pizzas in the early '50s, and their pies have become a quintessential Milwaukee treat. There's no reason to stray from the most popular topping combination around these parts: the sausage, mushroom, and onion remains a stand-out. While every local pizza place in America offers this combo, Zaffiro's doesn't have to have invented this wheel to have perfected it.
Murray Hill & Wauwatosa
Though Pizza Man has been around for a long time (minus a temporary hiatus from a devastating fire), the pizzas have evolved with the times, and include newfangled toppings like arugula, lamb sausage, and the one topping that divides people most, cream cheese. Try it on the Artichoke a la Mode, their most popular pizza. Or go green with pesto-sauced pizza topped with fresh arugula for a fresh, bitter kick.
West Allis
Alphonso's is a little take-out and delivery-only spot that is named after the owners' mentor, Alphonso. He willed his beloved 1969 Camaro and his family's recipes to owners Tim Szuta and Corey Washington when he passed in 2005. The Heavy Chevy is dedicated to him and his beloved drag racer, and includes just about every topping on the menu. Like all Alphonso's pizzas, the bake time is long, which ensures the middle of the pizza isn't soggy under all that meat, veg, and cheese. If you're not a kitchen-sink-pizza type of guy, the standard sausage and pepperoni is perfection on a crunchy crust.
Bay View
There's a ton of pizzas to choose from at this sleek spot, which also offers lots of live music and an extensive bar. All the options come on a pillowy, fluffy crust with lots of charred bubbles. You can get a range of topics, from classics like prosciutto to, uh, the less-common salmon or shrimp. Many of the options come with a creamy garlic sauce in place of tomato, in case you want to ward off any vampires... Try it with the roasted chicken breast and pan fried potatoes.
Lower East Side & Juneau Town
Ian's brunch is here, which means that it's now possible to start your Sunday with a Brisket Hash brunch slice, or if you have a sweet tooth, there's a yogurt, fruit, and granola concoction called Jamberry Jam, which comes topped with berries and honey pistachio ricotta cream. There's a pizza for everyone here, from a very solid, greasy NY-style pepperoni, to the ultra carb heaven mac & cheese -- which you should always, always order with bacon. Despite the range of atypical toppings, none of the pizzas are a gimmick: everything at Ian's is made from scratch.
Bay View
There are a lot of vegan options to choose from at this slice (and whole pie) shop, including the Mediterranean with olive tapenade, soy sausage, and sun-dried tomatoes. If you're more of a meatatarian, then go for the Meatallica, with meatballs, sausage, pepperoni, and bacon. It's the preferred choice of Lars Ulrich fans everywhere.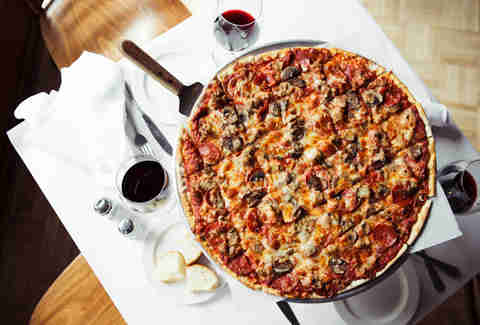 Bay View
This romantic Italian restaurant, known for pasta and an extensive wine list, also serves up a seriously tasty pie. The Diavola is an interesting mix of toppings with pepperoni, giardiniera peppers, cream cheese, and pineapple, for a sweet/hot combination. It's creamy, a little meaty, and definitely wakes up your taste buds.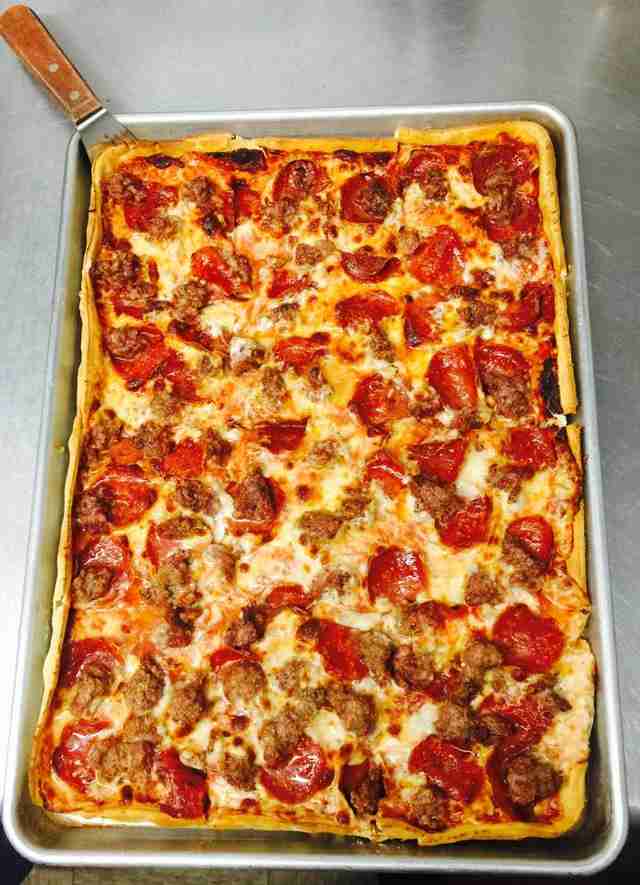 Bay View
The latest incarnation of pizza restaurants run by the DeMarini family since the 1950s, Little DeMarinis is run by the granddaughter of the original location owners, using their classic recipes. Large pizzas come in a rectangular pan with a distinctive crust that rolls up the sides of the pan. A serious throwback-joint, you can choose canned or fresh mushrooms... in case you don't despise canned 'shrooms, or you're 60+ years old. Get 'em on a sausage, mushroom, and onion for a perfect, old-school combination.
West View
Scotty's makes a number of different kinds of pizza, from thin and crispy, to stuffed pizza with sauce on the top. The sweet spot seems to be in the middle, though, with the pan pizza. It's a thick, doughy crust that's got a nice crunch on the bottom, topped with a double helping of cheese. It's not exactly like the deep dish you can get in Chicago, but it's how we do it north of the border, and it's just as delicious.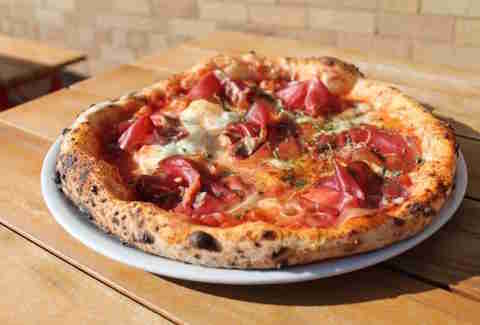 Bay View
A coffee shop that serves pizza? It's not that weird once you see the huge Ferrara wood-burning pizza oven that was imported from Italy. Thanks to that bad boy, pizzas cook in just a minute or two, in true southern Italian style. Try the classic margherita pizza first because it's just beautiful in its simplicity. Wash it down with a glass of wine or a beer -- yep, this coffee shop has booze too.
Southgate
A south-side staple for just about as long as anyone can remember (1969 in fact), Ned's serves up the thin crust, square cut pies that Milwaukeeans love. They're heavy on the pizza sauce -- no dry pies here -- and cheese, making for a pizza that's almost gooey as you pull off a slice. The dining area is small and in need of a makeover, but hey, at least they have one.
Hampton Heights
This tiny shack, painted bright red and green, pumps out some of the best pizza in the city. The total customer area is about 5ft square, so either wait at the bar across the street or call in your order ahead of time. The menu is small and you won't find any fancy toppings here; Hup's serves up hearty, simple pie that's been sustaining the neighborhood for decades. The Italian sausage is bold with fennel, and makes a perfect pizza topper.
Hawthorne Glen
The owners of Wy'east moved to Milwaukee from Portland where they operated a popular pizza truck. Those same pizzas have found a permanent home here in a renovated spot with a small dining room on Vliet St, where pizzas are cooked quickly, in a super-hot, wood-fired oven on dough that's had an extra-long fermentation time, which leads to better flavor and texture. Toppings and pizza names are influenced by the Pacific Northwest, like the Hot Marmot topped with pepperoni and hot peppers pickled in a maple syrup brine.
Lyons Park
The pizzas at Maria's are shaped by the sheeter, which means that they come in shapes that can't be described by geometry, and they will always overflow on the pan. Get pepperoni, as it's the kind that gently cups into a delicious grease reservoir, ready for Parmesan. The Christmas lights, paint by numbers on the walls, and the bouffant hairdos of the senior wait staff are all just amazing bonuses that add to the charm of this neighborhood spot.
Goldman Park
There's so much cheese -- and so many toppings -- on the pizzas at Marco's, the middle slices can barely stand up to the weight. The thin-crust style is a bit thicker and more substantial than you'll find at most places, but there's also just so, so much cheese. You don't hear anyone complaining though. Go for the special, which (as usual) is the standard sausage/mushroom/onion... we really can't get enough of this classic.
Sign up here for our daily Milwaukee email and be the first to get all the food/drink/fun in the Brew City.
Lacey Muszynski is a Milwaukee food writer who could probably eat an entire 20" pep from Ian's if left to her own devices. Follow her @worthhersalt.