Home to two lakes, over 260 parks, and the vibrant campus life of The University of Wisconsin, Madison is a Midwestern oasis. Couple that environment with a constantly growing food and drink scene -- complete with the Dane County Farmers' Market, the largest producers-only market in the country -- and it's no wonder the city sees more than 17 million visitors each year. Count on those numbers increasing soon enough, thanks to several recently opened restaurants adding to a dining scene that's been ahead of the farm-to-table curve for years. From James Beard Award-winning dining to a Jazz Age-inspired cocktail joint, here's where you should be eating and drinking in Madison.
Recommended Video
This Restaurant Reinvented the McGriddle
James Beard semifinalist chef Dan Fox helms this modern-day tavern, where he and his team emphasize seasonality and total product utilization (after all, he raises his own heritage breed hogs). Thankfully, that approach carries into the wee hours, when you can slip into any of the antique bar's 19 seats for a glimpse of the open kitchen and a taste of tempura-fried bacon-wrapped cheese curds or a dry-aged beef burger stuffed with Hook's white Cheddar. Don't sleep on the cocktails either -- The Ancho & Leftie, with chili liqueur and black pepper-infused mezcal, is a perfectly spicy and smoky take on the traditional margarita.
A native of Bologna, Italy, chef Francesco Mangano spent his summers on the Tuscany Coast, where he learned the fundamentals of Italian cooking from a team of pros (i.e., his grandmother and uncles). That nonna know-how has earned his spot a loyal following over the years, but its from-scratch mentality, dedication to high-quality ingredients, and knack for honing in on hyper-authentic flavors and technique haven't hurt either. Taste those practices for yourself in plates like corn tagliatelle with house-made Calabrian sausage and San Marzano tomatoes, beef and pork Bolognese ragout, and wild mushroom risotto.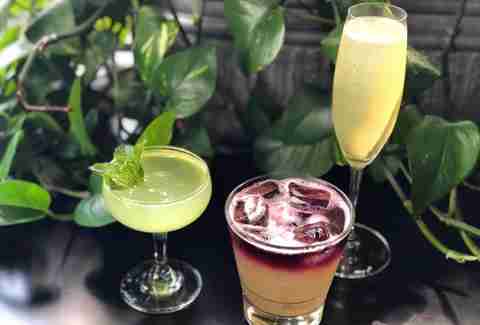 Best happy hour: Merchant
Inspired by the American Craft Movement, the team at this restaurant calls upon those who take theirs seriously, from local farmers and bakers to cheese makers and distillers. This bounty is worth experiencing at any time of day, but especially at happy hour on weekdays from 3 to 6pm -- when all drinks are 20 percent off. That's great news for cocktail lovers as there are over 100 on the menu. It also leaves money leftover for pairings like the Merchant steak burger, Ploughman's board, and the venue's notorious cheese curds (beer battered and served either classic or buffalo-style).
Perched on the 10th floor of the recently opened AC Hotel Madison Downtown, this restaurant draws well-heeled crowds on the nightly for show-stopping views of the Capitol Building alongside one of the city's best wine lists. Over 40 wines by the glass and 350 by the bottle are available and span the globe from France, Spain, Italy, and beyond. The crowd-pleasing small plates are just as internationally inspired: Lamb meatballs are accompanied by romesco sauce and toasted ciabatta, tuna poke meets pineapple sweet & sour sauce and wonton, and foie gras two ways shares a plate with blackberry coulis and cranberries.
Best fine dining: L'Etoile
There's no shortage of dining options from James Beard-winning chef Tory Miller (who also owns Spanish gem Estrellon and farm-to-table gastropub Graze), but you'll find the chef's most meticulous work at L'Etoile, his debut restaurant located in the heart of Downtown. Miller has spent nearly 15 years cultivating a dedicated practice to all things fresh and local (as evidenced by his early morning Saturday market trips), an approach observed in a daily changing tasting menu of nine courses. If the views of the white tableclothed, candlelit dining room get old, pivot toward the floor-to-ceiling windows, where the Capitol Building glows come evening hours.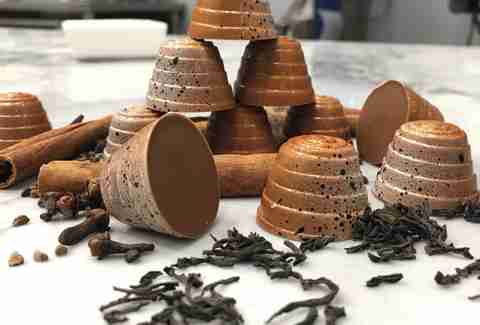 Best chocolate: CocoVaa
After 15 years as a trial lawyer, Syovata Edari packed up her bags to pursue her passion for the chocolate arts. That interest evolved into CocoVaa, a microbatch chocolate company on Madison's East Side that prides itself on using whole, local, and ethically sourced ingredients for a collection of artisanal bonbons and caramels. Edari calls upon her cultural ties to Kenya, Russia, India, and Ireland to inform the truffle flavors like Persian Saffron, Sayari Cocoa, Chai Tea, and Moroccan Mint -- just a taste of the kinds of combinations that have earned her 29 Academy of Chocolate Awards in the three years she's been open.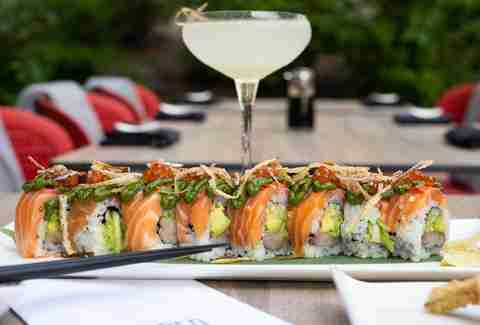 Sushi fans are in good hands at this always abuzz restaurant, where chefs Jack Yip and Jed Spink showcase contemporary Japanese cuisine alongside cocktails from beverage director Rob Johnson. While every dish here is brimming with flavor (from wagyu tartare to cedar plank salmon), save ample room for the sushi itself: More than 10 signature rolls are on offer, as well as a handful of vegan and traditional options. Don't miss the seasonal rolls, which rotate frequently and feature of-the-moment ingredients like fresh figs, micro beets, and butternut squash -- each one as market-driven as the drams, which incorporate everything from pear to pink peppercorn.
You'll feel transported stepping into this neighborhood newcomer, which greets guests with vibrant palm wallpaper, lush greenery, and a long emerald bar. Fried fish banh mi, cauliflower dan dan, and sweet potato triangoli all make it to chef Sean Pharr's ultra-seasonal menu (which changes so frequently that you better be on Instagram for updates). The cocktails are just as kitchen-forward -- case in point, the Dakota (with Japanese whisky sage vermouth and pineapple shrub) or the Abrico'Dabra (with celery-infused vermouth and apricot liqueur). 
Come to this Downtown restaurant for sustainably sourced seafood in nautically classed-up environs (banquette seating within a giant scallop shell, vintage sailing prints, a reclaimed hemlock plank bar). Open a bottle of Champagne for the oysters here, which are an event in and of themselves: The team offers upwards of 10 daily changing varieties hailing from both coasts, including favorites like Fanny Bay, Duxbury, and Capitol Cove. Post-mollusk, dive into some heartier options; this is also the place for all things lobster and crab.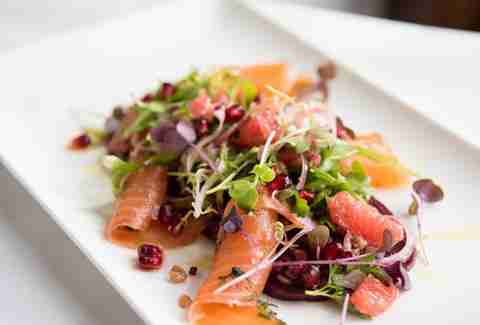 John Gadau and Phillip Hurley opened this bistro nearly 15 years ago in the city's Williamson-Marquette neighborhood, and since then, it's been gathering food-loving crowds around the clock for French fare, an impressive wine list, and front-row Lake Monona views. While dinner is top-notch (can't miss the cassoulet), it's brunch that draws the biggest interest, thanks to precisely executed French omelets, daily changing pastries, and an array of oysters. Pair them with any of the bar's daytime drinking options -- especially the gin- and marmalade-laced breakfast martini (because here, you can).
This pizza haven has spent nearly a decade doling out New Jersey-style pies to the devotees who frequently congregate at this East Side establishment. Settle in with a group and grab a few of the house favorites -- like the Fig and Bacon (with wine poached mission figs and gorgonzola cheese), El Santo (with chorizo and sweet corn), and Woodsman (with leeks, truffle oil, and three kinds of mushrooms). Traditional pies are taken just as seriously here and pair nicely with any of the locally sourced on-tap beers.
This summer, after 23 years in Madison's Italian immigrant Greenbush neighborhood, this third generation, family-run donut shop relocated just a block away from its original outpost, while also opening up a second location on the city's East Side. It's double the excuse to find a way to more than 40 different kinds of daily donuts that they produce -- namely the old fashioned, buttercream-filled oreo, or maple-blueberry cake varieties -- all of which lure lines on the regular.
Sign up here for our daily Milwaukee email and be the first to get all the food/drink/fun in the Brew City.