Milwaukee is historically a blue-collar town with blue-collar tastes: burger joints thrive, steakhouses abound, and there's never a shortage of bar food since we've got more bars than... well, anything else. Next to the classic spots, there's also a welcome crop of newer restaurants that'll add bone marrow or foie gras to your diet. Here, we're outlining the 15 key must-hit restaurants around Milwaukee right now.
Lower East Side
Arguably the best restaurant in Milwaukee, at least if the culinary equivalent of the Super Bowl -- the James Beard Awards -- are any indication. There was a recent regime change when Justin Aprahamian and his wife Sarah bought the restaurant from Sanford himself, but they've been able to breathe new life -- and more award-winning food -- into an old standby. The menu changes seasonally, or you can spring for the tasting menu and put all your trust in the chef.
Wauwatosa
You'd think the hardest restaurant to get into would be some fancy-schmancy place Downtown, but you'd think wrong. On any given day, there's a wait for a table at this breakfast-and-lunch-only spot, with waits on busy weekends pushing a couple hours. It's worth the delayed gratification for the crispy pulled ham-stuffed hash browns and Bloody Marys.
Glendale
The stereotypes are true: we Milwaukeeans love our butter. We slather it on everything, especially burgers. Family-run mainstay Solly's goes through 30-plus pounds of butter PER DAY in order to keep its signature butter burgers on the menu. You see that white stuff that looks like mayo spread on the underside of the top bun? That's butter. Enough said.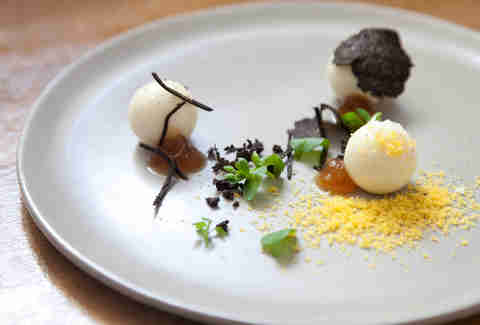 Lower East Side
A relative new kid on the block, cozy Ardent makes some fascinating molecular-gastronomy menu choices. Expect lots of foams and gels and crunchy things and ingredients you've never heard of before, but that are all the more intriguing for it. If that's too much for you, no worries -- just head over after 11:30pm on Saturday nights when it changes into Red Light Ramen, serving homemade ramen, PBR, and booze slushies. The slightly schizophrenic dichotomy totally works in this town.
Southgate
There's some debate as to whether Leon's was the model for Arnold's Drive-In on Happy Days. Regardless, it's the best place to get frozen custard in Milwaukee. And yes, it's open in the winter, because there's no reason to stop eating custard, especially when it's in the cinnamon and raspberry flavors.
Murray Hill
The city had a collective heart attack a few years ago when beloved Pizza Man burnt down; people lost their minds. There was no escaping the heartfelt tributes on your Facebook feed. So now that it's back up and running (and with a second Wauwatosa location on the way), people are ODing on its pizza, just in case. The popular Artichoke A La Mode pizza tops artichoke hearts, basil, and fresh tomatoes with dollops of cream cheese, reminiscent of artichoke dip.
East Side
One of the best views of the city is from the patio of this trendy small-plate, new American haven. Luckily it does everything really well, though, like making broccoli delicious by roasting it in a wood-fired oven and topping it with apricots, almonds, and pickled red chiles. "Trendy" is not a problem when the food is delicious.
Riverwest
Putting your thoughts about Bud Selig's tenure as MLB Commish aside, the man knows his delis. That's why he invested in Jake's for a time to keep the deli -- which has been operating since 1955 -- going. The corned beef is made fresh every day, cut by hand, and it's quality enough to woo any New Yorker.
West Allis
The Friday Fish Fry is a big deal here in MKE, and not just during Lent (though it does get even bigger then). Almost every restaurant, including the chains, offers fish fry. There's the option of German potato pancakes instead of fries at the best restaurants, like Kegel's Inn in 'Stallis. Cod and perch fried in crumb coating are the norm here, but you can get a respectable baked fish too.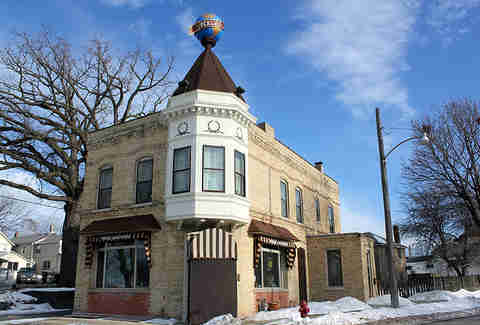 Bay View
Another throwback to the '50s, this family-run Serbian restaurant hasn't changed much. It still only takes cash or personal check, the historic Schlitz tavern is still dark and kind of creepy, and the specialty burek still takes 40 minutes to make (it's worth it). Offset your heavy meal with Serbian Salad, a refreshing mix of crunchy vegetables and cheese.
Glendale (& Other Locations)
Kopp's is firing on all cylinders, making the favorite custard and butter burgers of many a local. Custard comes in four flavors each day, including two specialties with all kinds of good stuff mixed in, like the chocolate peanut-butter concoction pictured. Mint green Grasshopper Fudge shouldn't be missed. And butter burgers are the size of your head, which is exactly the way we like them.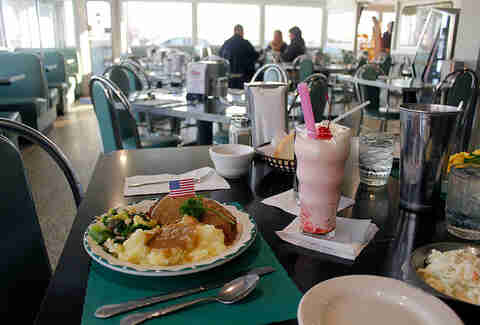 Marquette
So many politicians and celebrities have eaten here that there are cardboard signs above tables to let you know which famous person sat there. Have lunch at the same table Michelle Obama ate at in 2010! Pretend you have Michelle Obama arms! If that doesn't get you in the door, come for the classic blue-plate specials like meatloaf or the all-day, just-greasy-enough breakfast.
Jackson Park
Nowhere else can you eat pizza surrounded by paint-by-number religious posters, plastic flowers, and Christmas lights, served by a lovely woman in her 70s in a short red dress and heels with a massive beehive hairdo. It's an experience that may make you feel like you're hallucinating. Luckily the thin, oversized pizza that comically tries to fit onto a small pan keeps you grounded.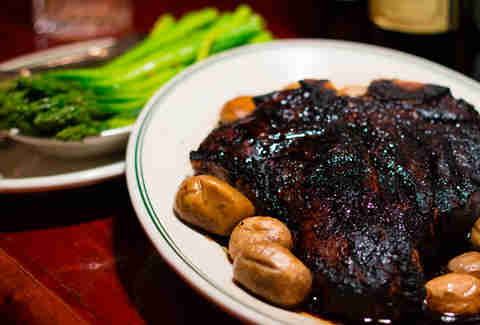 Avenues West
This supper-club steakhouse serves up meat and potatoes in giant portions. Start your meal off with a brandy Old Fashioned; cold Shrimp Cocktail; and complimentary Relish Tray, iceberg-lettuce salad, and dressing caddy before you polish off that porterhouse. It's quintessential Wisconsin.
Downtown
What do a $3-million collection of medieval suits of armor, the largest collection of Hummel knickknacks in America, and hundreds of beer steins have in common? You can see them all at German restaurant Mader's. It's all up on the second floor above the bar and dining room in this oldest restaurant in Milwaukee, so take a stroll up there after you finish your sauerbraten and strudel.

Sign up here for our daily Milwaukee email and be the first to get all the food/drink/fun in the Brew City.

Lacey Muszynski is a Milwaukee native and food writer who cannot live on butter burgers alone. Follow her on Twitter at @worthhersalt.