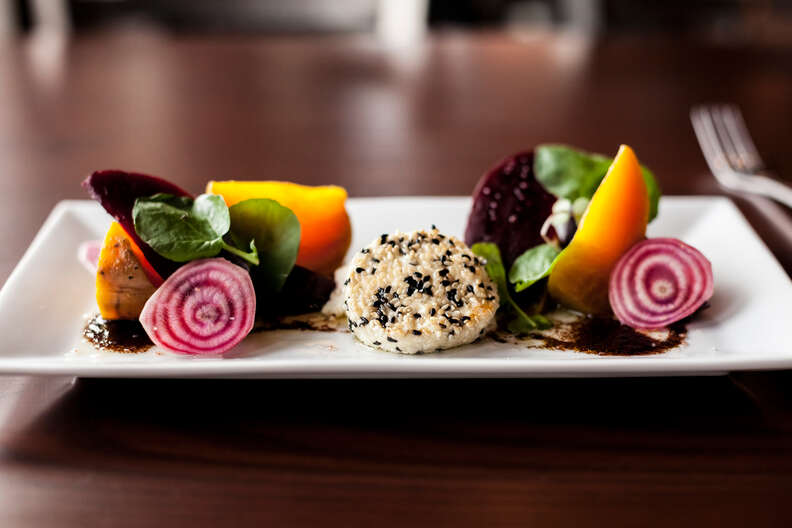 Courtesy of Ale Asylum Riverhouse
Courtesy of Ale Asylum Riverhouse
Milwaukee's Riverwalk extends from Humboldt Avenue in the north to the mouth of the Milwaukee and Kinnickinnic Rivers at Lake Michigan in the south. Along those few miles of river, you'll find a continuous walkway down both sides of the shore, plus some interesting sights like Gertie and her ducklings and good old Fonz -- but as you wander from statue to statue, make sure to stop at any of these bars and restaurants for a break from all the selfie-taking.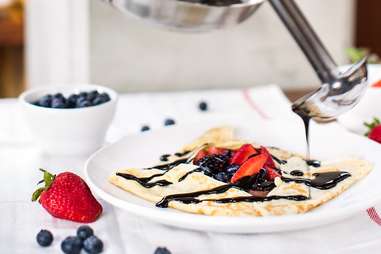 Vegetarian cafe in bright and airy surrounds
Beerline Cafe's name comes from the history of its neighborhood, not because it's a beer bar (though they do serve the stuff); it's located in Beerline B, named for the railroad spur that used to serve the many breweries in the neighborhood. The area's seen loads of new condos go up, and those new inhabitants need someplace to eat. Score some plant-based sweet and savory brunch crepes, omelets, sandwiches of all kinds, and freshly squeezed juices.
53 tap beers with an upscale pub menu
The northernmost spot on the Riverwalk also happens to be the best place to start your journey, thanks to a massive selection of well-curated beer. The beer list is organized by categories like "light, white and crisp" and "for the hopheads," so you won't get too confused trying to pick a single one. If the weather's nice, head to the patio that soars high above the riverbank. Just don't spend too much time here, or you might not make it to the other end of the Riverwalk.
Popular brewery with fun tours and raucous beer hall
If you have time on your Riverwalk jaunt, take a brewery tour at Lakefront. It's cheap, it's ridiculously fun, thanks to the comedy stylings of the entertaining tour guides, and you get to drink beer while you learn. If you're not into a tour, then hang out in the huge beer hall, where you can get some of the best fried cheese curds around or any number of sausages. If you go on Friday, expect to have to wait for a table, since the fish fry (and live polka music) is amazing.
Upscale pub food in a casual setting
Affiliated with Ale Asylum (the Madison brewery), in name only, Ale Asylum Riverhouse might nevertheless be the only place in Milwaukee where you can get most of Ale Asylum's beers. Grab a tasting flight to figure out which ones you like best, then fix your gaze on the food menu full of hearty, creative versions of pub food, like sesame ginger deviled eggs, steak-loaded poutine, and fried chicken and waffles. As a bonus, the Riverwalk is connected directly to the riverside patio, so you can sun yourself while you nosh.
Classic seafood dishes in dim dinner lighting
Milwaukee doesn't have a ton of seafood restaurants -- what with being in the middle of the country and all -- so stop at this tastefully nautical-themed spot for a martini and a couple of crabcakes. All the usual aquatic favorites are represented -- seared ahi, shrimp scampi, lobster mac & cheese -- but between the burgers, steak, and braised short ribs, landlubbers will find plenty to choose from as well.
Intimate cocktail bar hidden in plain sight
You know that little corner bar you duck into when you're waiting in line on the Riverwalk to get into a general admission show at the Riverside? That's Stir. (There's even a back entrance to the theater by the bathrooms, but shhh.) The places does steady business for a bar that no one seems to know about, thanks to the theater and the fact that the bartenders are friendly and knowledgeable. The back of the bar is filled with bottles of homemade bitters, tinctures, and other cocktail accoutrements, so don't be afraid to let the bartender surprise you.
Classy bar with a New American menu
Water Buffalo is the first in a line of Riverwalk spots in the Third Ward that are all about the riverfront patios. On any given summer -- or spring, or fall -- night, people will line the Riverwalk, sipping on cocktails like the fruit-filled sangria. The eclectic food menu has influences from Italy to NOLA, and this is one of the best spots on the Riverwalk to brunch alfresco, too.
Lively bar with live music and a bi-level patio
The Milwaukee Ale House is the restaurant and bar outpost of Milwaukee Brewing Company, which doesn't have either of those things onsite at the brewery. You can get most of Milwaukee's brews here, along with typical bar food like wings, burgers, sandwiches, and plates of meatloaf... that's a bar food, right? The bar area is large and hosts live music, trivia, and karaoke on a regular basis. Head outside to the Riverwalk for some great views on the two-story patio.
Dual-themed sports bar catering to Wisconsin and Illinois fans
As a sports bar, Rivalry has quite the concept. One floor is dedicated to Wisconsin sports teams, as it should be, and a second (smaller) level is dedicated to Illinois sports. That could make for some pretty tense moments during Cubs vs. Brewers games when opposing fans run into each other in the restroom, but it seems to be working out OK so far. There's plenty of TVs, drinks, and Chicago-style pizza to go around.
Various Asian cuisines in a modern, upscale space
You can go to Lucky Ginger for the usual Asian favorites like pad Thai, pho, and Thai red curry, but there's a lot more happening in this modern space that seems to be run primarily by young, creative employees. Trendy sushi burritos have made multiple appearances on the menu, Taco Tuesday is celebrated with Asian tacos like Lao ground pork, and the Bloody Mary comes pho-style with meatballs and crispy rice noodles for one of the most unique versions in the city.
Tiki bar with Polynesian-inspired small plates
In the summer there's nothing better than sipping on a tropical drink and pretending you're somewhere that doesn't smell like dead alewives. The Love Shack's classic tiki drinks come in various kitschy containers, from pirate heads to hollowed out pineapples, which match the inside decor of surf boards and an LED-lit volcano on one wall. If you're still not feeling tropical enough, snack on some Spam musubi or tuna tartar.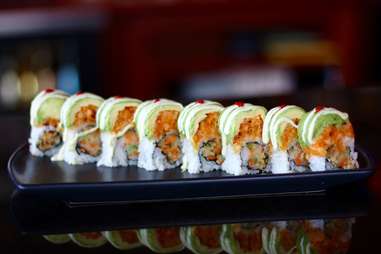 Sushi and pan-Asian seafood with a lively river patio
If you can get to Screaming Tuna during any of the 50 weeks when the aforementioned alewives aren't stinking up Downtown, then you're in for the best sushi-and-patio combo in the city. As with most sushi-heavy spots, the appetizer menu is long with things like edamame, tempura, sashimi, and nigiri, but maki entrees are all available as well. Try the signature nigiri like basil oil albacore or blackened octopus.
Sign up here for our daily Milwaukee email and be the first to get all the food/drink/fun in the Brew City.
Lacey Muszynski is a Milwaukee writer who has never taken a selfie with the Fonz, but would rather take one with Gertie anyway. Follow her on Twitter @worthhersalt.