Vegetarian and Vegan Restaurants in Milwaukee We Actually Love
Just because Milwaukee has a reputation for being a meat-and-potatoes town doesn't mean vegetarians are destined to feel left out. There are a lot of options for vegetarian-friendly dining here that include everything from comfort food to chic small plates. Here are the best spots to try eating meatless.
Lower East Side
Hip, vinyl-spinning plant-based bistro
Strange Town was one of the first vegan spots in MKE to be worthy of a date-night stop. It's vintage chic with a bold geometric floor, plants that have clearly been around for years, and a great record collection spinning. Lunch sandwiches are fine, but dinner is best with options like sherried mushroom bruschetta, Peruvian tacu tacu, and sweet potato and kale chaat with pickled mango coconut yogurt. It's also a great place to grab a drink with a well curated spirits list with plenty of amaro.
Lower East Side
Tiny, modern, globally minded vegan restaurant
Don't plan on bringing a large group to Celesta, because there's no way you'd all fit at the tiny six-seat bar or in the handful of tables. But what they may lack in square footage, they make up for in posh style and bold flavors. Crisp arancini made with lemon risotto and roasted za'atar cauliflower are popular starters, while seitan sausage lasagna and coconut yellow curry are some of the mains. Sip their version of the old fashioned with Rishi tea-infused brandy.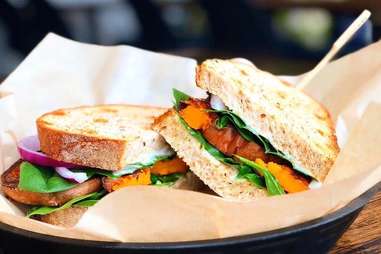 Haymarket and Wauwatosa
Raw-focused juice bar and cafe with two locations
Health food lovers will feel very at home at Urban Beets, a comfortable cafe offering breakfast and lunch fare that serves as much raw food as possible. Lots of items are gluten free or soy free, or can be made that way. Smoothie bowls filled with acai, turmeric, and chia are the norm for breakfast, while corned beets make up a Reuben and a housemade walnut, oat, and black bean burger puts Impossible to shame.
Sherman Park
Vegan counter service restaurant inside Sherman Phoenix
Located inside Sherman Phoenix, a food hall and mixed-use space to support the surrounding community of color affected by the riots a few years ago, The Next Level Vegans offers some well, next level vegan shit. Have you ever craved a vegan seafood boil? Watch their specials. How about vegan versions of peppersteak, gyros, or crab cakes? They got you covered. It doesn't hurt that their prices are reasonable and they make their fries from scratch, too.
Bay View
Emporium of encased meats and bourbon
Vegetarians and vegans generally don't get a lot of sausage options, but that's a real travesty here in Milwaukee, land of the brat. So Vanguard made it a mission to make both carnivores and veggie heads happy. There are four vegan sausage options, including red curry and chorizo, and they get styled with toppings like chimichurri, sweet potato puree, and vegan cheese whiz. Baked potato balls, kimchi loaded fries, and a long list of bourbons make everyone happy.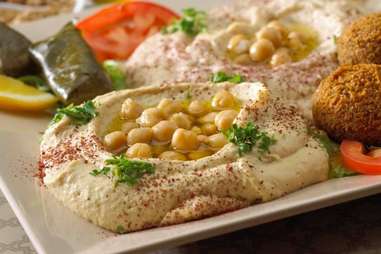 Greenfield
Middle Eastern favorites inside an imports grocer
Hummus, falafel, and baba ghanoush are practically an entire food group for some vegetarians, and loved by diehard carnivores as well. Some of the best of all of those things can be found at the little counter kitchen inside Holy Land Grocery & Bakery. Falafel is cheap, studded with sesame seeds, and they usually throw an extra ball or two in your order. Pita bread is made fresh (buy a bag on the way out) and other items like foul and Jerusalem salad are good too. Pick up some various baklava-like pastries and cheese knafeh at the attached sweet shop.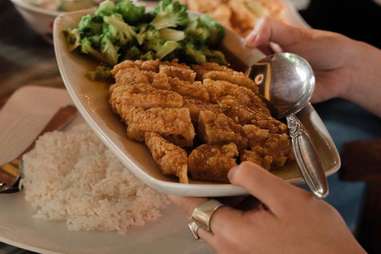 Bay View
Homey, whimsical restaurant that caters to special diets
Lazy Susan isn't a vegetarian restaurant, it's a restaurant that just happens to serve a lot of vegetarian food, adding to its welcoming feel. You'll find adorable little touches everywhere, including kitschy salt and pepper shakers on every table and knick-knacks on the walls. Comfort food like deviled eggs in rotating flavors are always on the menu, along with "crab" cakes, cauliflower bolognese, and black walnut-glazed trumpet mushroom "scallops." Sunday brunch brings items like homemade donuts and biscuits with white pepper gravy.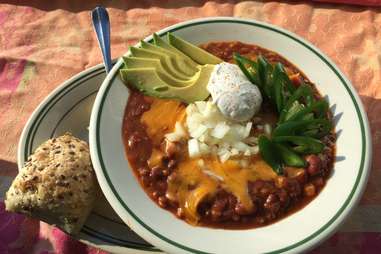 Lower East Side
Bright, health-conscious cafe and market
Ask 100 people to name a vegetarian-friendly restaurant in MKE, and 99 of them will say Beans & Barley. It's an institution in the city, located on a prime spot of North Ave since 1979. You can eat in, grab a vegetable curry to go from the deli case, or even do a little grocery shopping while you're there. Homemade soups, vegetarian chili, and the sweet potato & black bean burrito are perennial favorites.
Riverwest
Volunteer-run corner natural food store and cafe
The co-op serves as a corner store that's full of local, natural, and fair-trade goods, and doubles as a really rad little cafe that's open for breakfast, lunch, and dinner. All food on the menu is vegetarian, and it can all be made vegan, too. Seitan, tempeh, and tofu are staples here, but you can get them in non-boring preps like crispy "chicken"-fried tofu, tempeh Reubens, and Korean barbecued tofu topping off a bibimbap bowl.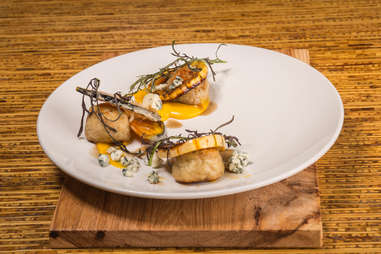 Bay View
Eclectic, ever-changing global small plates
Attention vegetarians looking for a more upscale, trendy experience: Odd Duck has your back. The menu will always have just about the same amount of vegetarian small plates as carnivorous -- and don't forget about the cheese selections. Each plate is a little work of art, and dishes change constantly with product that's fresh and available. On any given night, you may find sweet corn fritters with chow chow, watermelon, and tomato gazpacho, or Sichuan cauliflower.
Lower East Side
Colorful comfort food diner for late night and hangovers
The comfort food haven of Comet Cafe is always willing to cradle vegetarians in its warm embrace. Vegan "ribs" might be a little mysterious, but they're beer-battered and deep-fried, so who cares? The Buttafuoco sandwich is a classic melt, with tomato, onion, herbs, cheese, and hot giardiniera for kick. It helps that breakfast is served until mid-afternoon, so you can still cure that hangover at 2pm.
Beerline B
Plant-based all-day cafe
This all-vegetarian cafe offers sandwiches, panini, some tacos, and a couple of pasta dishes, but the focus is on crepes, filled with everything from sweets like fruit and Nutella to savory options like a Mexican breakfast crepe made with chickpea-based chorizo and eggs. Like all good cafes, Beerline lets you wash it all down with coffees, smoothies, and juices, all in a calm setting complete with plant walls.
Juneau Town
Casual, family-style traditional Ethiopian cuisine
Ethiopian food is known as an especially vegetarian-friendly cuisine. While Alem serves meat, the vegetarian portion of the menu is long and varied. If you're new to Ethiopian food, try a sampler platter (for one or two people) that includes 10 vegetarian options, all served on and with injera, a spongy flatbread made from teff. There's also a vegetarian lunch buffet during the week, so you can sample even more options and pick your favorites.
Morgandale
Low-key strip mall Indian sweet shop and restaurant
Don't be fooled by the Styrofoam plates and dirt-cheap prices at this veg-only Indian spot: the spice blends in the curries are sophisticated and perfectly balanced. The menu here is huge, especially considering it's just a small counter service restaurant, with everything from masala dosa to aloo saag. We dare you to walk out without getting at least three of the desserts from the refrigerated sweets case.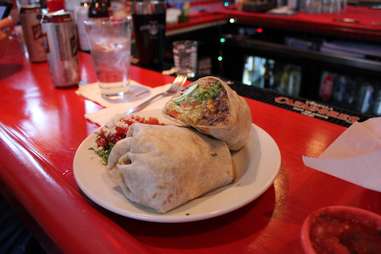 Multiple locations
Vibrant Mexican restaurant with plant-based options
The vegetarian options at Cafe Corazon go way beyond the typical, boring cheese quesadilla (OK, you can get one, but come on, live a little). Of course there's guac and chips & salsa, but there's also soy chorizo wet burritos, vegan mushroom ragout, and tofu fajitas. Not to mention the margaritas and micheladas that also happen to be meat-free...
Sign up here for our daily Milwaukee email and be the first to get all the food/drink/fun in the Brew City.