Lacey Muszynski/Thrillist
If you're one of the people who enjoys a Wisconsin fish fry every Friday night, thank Catholicism. Good Catholics know to refrain from eating meat -- which, seafood is apparently not considered meat -- on Fridays during Lent, though the tradition has even stuck around for Friday's since. You don't have to be religious to appreciate a killer cod fry, you just have to visit one of these 10 MKE spots.
Polonia
This Serbian tavern has been around forever, thanks in large part to the fantastic food it serves. Almost everything on the plate of fish fry is homemade (potato wedges are the only exception), including the soft buttered rye bread and tangy secret recipe tartar sauce. The sibling owners are semi-retired now, so the tavern is only open on Friday and Saturday, allowing fans to still get their fix of one of the best fries in the city.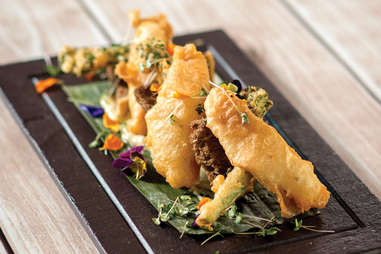 Menomonee River Valley
Locavore riffs on the fish fry tradition with its frito misto, a composed plate of tempura perch and broccolini, the slender, tender cousin of broccoli. Rye bread, cole slaw and remoulade are tucked in between the crisp tempura, just in case you might have forgotten that this is a Wisconsin fish fry.
Riverwest
There's a lot of fish fry options to choose from at this Riverwest sports bar. Battered cod, baked cod, perch and shrimp are all available in any combination, along with tilapia or shrimp Asian-inspired tacos with wasabi aioli and sweet chili sauce. They're all available on Wednesdays, too.
Whitefish Bay
The usual fried cod and perch are offered at this 100-year-old German pub and restaurant, but you should order the whitefish. It's available broiled or fried, but broiled is the house speciality because it leaves the fish is tender and delicate. The lush patio makes this a great spot for summer fish fries.
Town of Lake
Fish fry is so popular at this supper club that they built a drive-up window just to dole out fish fries to the hungry masses on Fridays. That often leads to a backup of cars in a line on Layton Ave, but no one really seems to mind. Cod is breaded in a crunchy bread crumb crust and is served with the usual fixins, fries or potato pancakes and clam chowder.
Beerline B
What better place to enjoy a fish fry than a raucous beer hall, especially after a brewery tour? As large as it is, Lakefront gets crowded, so go early or be prepared to wait (live Polka helps with that). This is one of the few places around that still offers a smelt fry, so if you haven't tried those crunchy little fish, do it here.
Juneau Town
This cozy pub in the heart of downtown serves up an incredible fish fry, giving you choice of cod, perch, shrimp, and bluegill, a small fish that's easy to catch and cook while camping but isn't seen on restaurant menus too often. Try the thinly sliced, lightly charred spicy vermouth carrots as your side.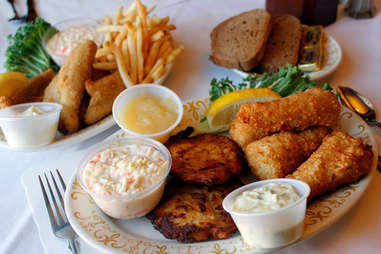 West Allis
Opened originally as a speakeasy during prohibition, Kegel's Inn used to offer fish fries free with a beer purchase once they turned into a full fledged bar. Of course they're not free anymore, but the hand breaded cod, perch, bluegill and pike are just as popular as ever. Though you get to choose your potato, don't even consider anything other than the dense potato pancakes.
Kilbourn Town
The cod at Old German Beer Hall is beer battered, naturally. You get a half pound of it with fries, slaw, and rye, which makes a wonderful base in your stomach for that liter of beer. Plus there's a free keg tapped every Friday at 6pm, giving you even more incentive to get there early and start drinking.
Harbor View
Those with large appetites, take note: all you can eat cod is available at this pub on 1st St. if the four-piece dinner just isn't enough. If cod and perch aren't your thing, there's always the hand breaded fried shrimp, which are some of the best around.
Sign up here for our daily Milwaukee email and be the first to get all the food/drink/fun in the Brew City.
Lacey Muszynski is a Milwaukee native who grew up eating fish fries from Rupena's and Serb Hall. Follow her on Twitter @worthhersalt.