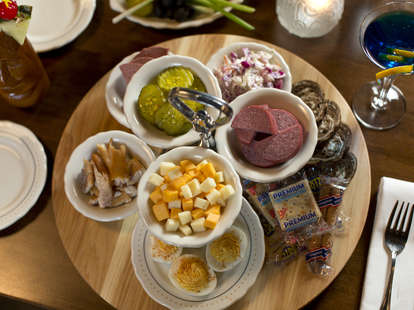 Courtesy of The Bartolotta Group
Courtesy of The Bartolotta Group
Wisconsinites take supper clubs for granted: you probably stole your first sip of alcohol from your mom's grasshopper at her favorite supper club when you were a kid, and now, you're almost certainly going to celebrate your anniversary at one -- and would you have it any other way? The differences between a supper club and a restaurant are subtle; much of it has to do with the feeling of comforting nostalgia that washes over you the moment you walk inside. Of course, there's also the requisite relish trays, prime rib and fish fry specials, and those amazing ice cream cocktails.
Many supper clubs date back to the Prohibition era and opened as speakeasies up until the alcohol flowed freely again when clubs added music and dancing. Nowadays, most supper clubs offer dinner and drinks, and people still utilize them to have a long leisurely night out. Check out these classic supper clubs where you can mingle with fellow Sconies over surf and turf.
Madison
The Tornado Room has only been around for 20 years, but it feels much older, thanks to its dark, cave-like atmosphere. The signature cut is a 20oz bone-in tenderloin, and like all of Tornado's steaks, this one comes topped with a massive onion ring -- but order up the hash browns on the side, too. Given this supper club's proximity to Madison's nightlife hot spots, it's convenient that the kitchen stays open until 1am. So a late-night breakfast of escargot is wholly appropriate.
New Holstein
Things are run a little differently at this extremely busy supper club. A host takes your name when you walk in, hands you a menu, and offers you a seat in the huge bar area, where you order your full meal. Appetizers are delivered to the bar, and then you get escorted to your table once your order is up. While this may sound chaotic, it's actually great: this gives you plenty of time for snacking on homemade onion rings, sipping brandy Old Fashioneds, and soaking in the familial atmosphere before your meal. When you're done with your prime rib, head back to the bar for a grasshopper... or three.
Manitowish Waters
Little Bohemia gained some notoriety as the location of the FBI's botched Dillinger gang raid where a bunch of people died, and the entire gang got away. Some scenes in Public Enemies were filmed here, so now besides the original Dillinger bullet holes in the walls, you also get to check out Johnny Depp memorabilia. After a tour of the property, check out the old-school menu, which includes Eastern European dishes like pork shanks with kraut and schnitzel.
Beloit
In operation since 1924, Butterfly Club is one of the oldest supper clubs in the state. You'll be treated to decor that hasn't changed in 30 years, sassy service, and lounge lizard-style entertainment, so it's the perfect place to treat your grandma to a blast from her past. Don't be alarmed when you find cinnamon rolls hidden in your bread basket: that's a common occurrence at a lot of these old-school clubs. Embrace your inner diabetic and go for it.
Greendale & Mequon
Though it hasn't been around for decades like some of these classics, Bartolotta's foray into supper clubs is holding its own against the competition. The Joey Gerard's modern interpretation includes all the usual favorites, like relish trays with green goddess dip, brandy alexanders, and steaks of all sizes. But they also offer up tiki cocktails, multitiered spinning lazy Susan appetizers, and veal piccata -- just in case you're looking for a little something different.
South Range
Dreamland's claim to fame is their french fried turkey: a thick slab of roasted turkey breast, fried in sweet batter, and served with melted butter and jam. Like a monte cristo sandwich but without all the boring bread. The relish tray is a whole course to itself, with three salads, pickles, and the famous smoked herring.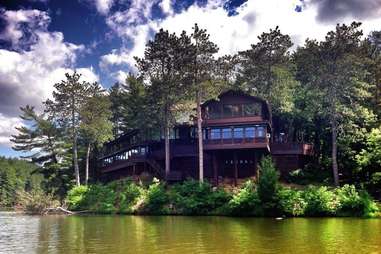 Lake Delton
Unsurprisingly -- given its perfect situation for views of Mirror Lake -- the corner table of this club has seen a lot of marriage proposals in its day. Ishnala, which opened in the 1950s, is perched on the lakeshore like a punchbowl filled with Korbel. Sinatra tunes serenade you on the elegant path to the entrance, just in case you didn't realize this was the most romantic spot for steak and lobster near the Dells.
Fish Creek
Originally known as the Slipper Inn when it opened in 1929, Greenwood was a regular stop for John Dillinger. They sold gasoline and ice cream back then, then turned into a saloon for a few years, adding a dance floor, stage, and movie screen. All those features are long gone, but in its place, a classic meat-potatoes-and-seafood supper club remains. The speciality is worth checking out: broiled local whitefish from the waters around Door County.
Milwaukee
Since 1948, Five O'Clock has been serving up some of the best steaks in MKE. The signature cut is nothing less grand than a giant slab of a porterhouse,and it comes with the classic supper club additions of tossed salad (with multiple dressings served on the table, naturally), warm bread you slice yourself, and a relish tray. You can't beat the atmosphere, which feels super cozy, thanks to the drop ceiling and sparkling Christmas lights.
Racine
The HobNob is built on a bluff overlooking Lake Michigan, which provides patrons with the significant benefit of fantastic views right at the bar. But it's the inside that steals the show: the club is divided into smaller rooms, all of which are filled with eclectic decor, including Persian rugs, deep purple wallpaper, and a Moroccan-themed private dining area. Don't skip the after-dinner drink here. These ice cream-based cocktails are so thick, they're served in a 6-inch mound above a shallow glass.
Milwaukee
This club is actually located inside a former family home, hidden away in a residential neighborhood, so it seriously couldn't feel more like you were invited to your neighbor's for dinner. Of course, this neighbor's family would have to include sports stars and local celebrities, if the autographed walls in their bar are to be believed. Come for the charred steaks topped with portobello mushrooms and garlic, seared scallops on saffron risotto, and that amazingly retro hot bacon salad dressing. Mmm, bacon.
Milton
Door County is known for fish boils, but in Milton, it's all about the pyrotechnic lobster boil at Buckhorn. They place a cauldron (yes, cauldron is the correct term here) on top of a bonfire, and once the lobsters are fully cooked, a healthy squirt of fuel transforms the lobster bath into a raging inferno -- causing the whole thing to boil over. It all takes place on the shore of Lake Koshkonong, which is almost as fun to say as watching a lobsterpocalypse is to see.
Sign up here for our daily Milwaukee email and be the first to get all the food/drink/fun in the Brew City.
Lacey Muszynski is a Milwaukee writer who didn't get to a ton of supper clubs growing up in MKE, but needs to go on a club tour of Wisconsin now. Follow her on Twitter @worthhersalt.