By now everyone knows about cream puffs and pork chops at the fair, but every year vendors create crazy new concoctions to vie for the coveted Golden Spork Award. Aiming for creativity and ingenuity, some dishes appear to be created from a cook's darkest nightmare or a Homer Simpson fever dream. We tried all eight Sporkies finalists at this year's fair and lived to tell about it.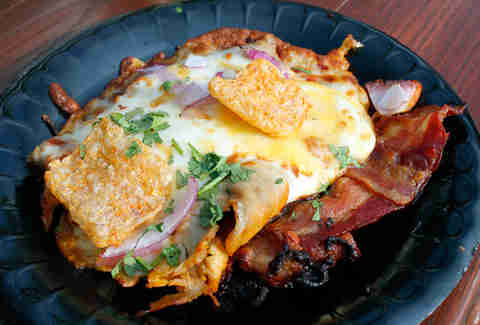 Brew City's Bacon Bottom Porker Pizza
I already have an unhealthy aversion to anything involving "porker," as it was my mom's nickname for me as a chubby baby (when does the baby-shaming end?!?). This only reinforces my opinion. The bacon weave, which kinda serves as a crust, leaves a puddle of grease on the plate. There's some sliced, stringy BBQ pork under there somewhere. Aside from it having cheese, I don't know what makes this a pizza. Perhaps it was born as a low-carb trend monstrosity? The best part is the chicharron on top.
Saz's deep-fried pretzel-crusted brownies on a stick
This one clearly has so much potential, but don't get your hopes too high. The brownie is really more like a chocolate-less Little Debbie cake instead of a fudgey, gooey brownie. The pretzel crust seems like a great idea too, but it just has the texture of stale pretzels, without the salt. The best part was actually the little cup of caramel sauce for drizzling.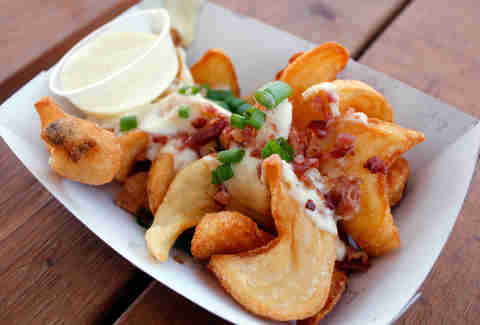 Tropics at the Fair's cheesy smoked Gouda Sidewinder fries
Probably one of the best things on the list. Crazy moon-shaped fries had the perfect texture of crisp on the outside and fluffy in the middle, without grease. The smoked Gouda sauce was homemade and went well with the also-smoky bacon bits. A very solid potato offering.
Apollo's Gyro's gyro meatballs
Is this cat food? Are they serving us cat food? Because it looks like cat food. Another contender that's great in concept, but then they added bits and pieces of tomatoes and other chunks which just makes it look vomit-y instead of a nice little sausage ball of gyro meat. It tastes like a pre-chewed gyro but good luck getting past the visual.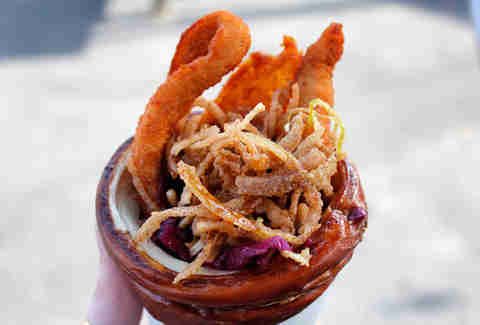 Water Street Brewery's Wis-Cone-Sin
Harking back to Wisconsin's German heritage, this soft-pretzel cone is filled with surprisingly tasty pieces of chicken schnitzel, a homemade potato pancake chunk, tangy braised red cabbage, and crispy fried cinnamon apple whisps. It's crunchy, tangy, a little sweet, and it all works. Except the superfluous cone; just give me everything else on a platter.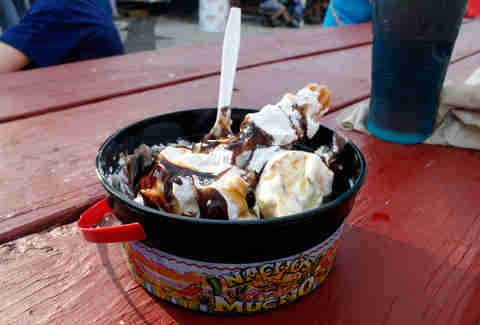 Mexican Grill's churro sundae
This poor sundae might have an identity crisis from being served in a nacho bucket. But like nachos, it's a mess, and it's delicious. There's a churro under there, placed in a cut-open iced long john donut like a hot dog in a bun. Then there's ice cream, tons of whipped cream, chocolate, and caramel.
Tropics at the Fair's beer-battered, pretzel-coated, deep-fried cheese curds
Again with the pretzel coating; it must be a trend right now. I wouldn't know these were pretzeled anything unless someone told me, though. They're pretty standard cheese curds, though there was some weird rye-like flavor going on. The "zesty Caribbean sauce" has too many flavors to really put a finger on, making it just confusing.
Sprecher Landing's Party Hard dessert flight
A flight of mini desserts? Slightly pretentious, but good thing there's booze in them. They each feature a different Sprecher hard beverage: root beer, ginger ale, and cider. The best one is the cider apple pie, with lots of real apple chunks layered with the vanilla sponge cake and whipped cream. I've always wanted to figure out how to add booze to my apple pie, and now I know.
Sign up here for our daily Milwaukee email and be the first to get all the food/drink/fun in the Brew City.  
Lacey Muszynski is a Milwaukee native who loves the fair but gets a stomachache doing these first-day food binges every time. Follow her: @worthhersalt.