Armed with a nifty avian name generally reserved for pirate ship captains with fantastic eyeliner, Sparrow Cafe's bravely stepping into the former Adagio space, keen on bringing actually drinkable Joe back to Lynnhurst

So that's what a sparrow looks like... before it crashes into a clock. Thank you, room-spanning mural by local artists Broken Crow

SC's using a globally-sourced, mainly fair trade organic cache of beans to craft classic caffienaters like this espresso, plus a selection of caps or lattes that they promise not to top with "art". Phew

They're daily-importing crates of clever confections (like candied bacon-topped maple Long Johns, or these vanilla lime-glazed donuts) all from downtown's Angel Food, or what David Boreanaz called the craft service table on the Buffy set

Plus, they've also got buyable croissants and the like from Patisserie Margo and scones with flavors like carrot cake or cheese & bacon. You might wanna get both, assuming you have some extra change to spare... oh!
Recommended Video
This Has to Be The Most Magical Place on Earth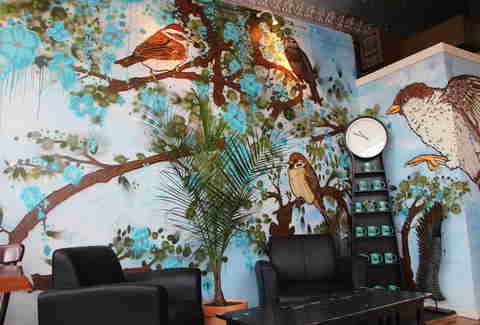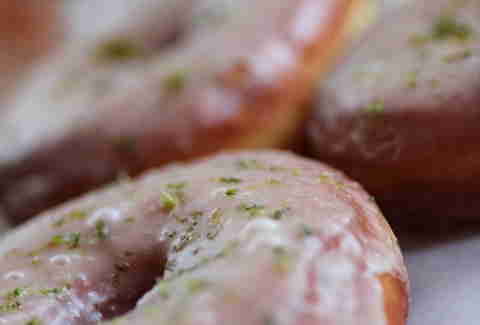 Previous Venue
Next Venue
Venue Description
1. Sparrow Cafe
5001 Penn Ave S, Minneapolis, MN 55419
This quiet corner coffeeshop has a whimsical name and the decor to go with it, with walls covered in expansive bird murals and a sparrow printed on every cup. Quiet and inviting, the Sparrow encourages patrons to sit and stay awhile with its calming atmosphere and creamy coffee drinks. This isn't your normal commuter's cafe serving annoyed and undercaffeinated travelers—this cafe is for the loungers, the students, the people who want to read a book with their latte and pastry. Sparrow offers warm, flaky, house-made croissants, morning buns, danishes, and more to go with your espresso beverage—and it's all certified bird-friendly.