A food truck born from the most epic burger in America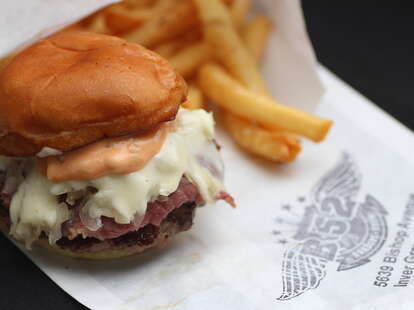 Not just the name of a cover band that opens every show with a "Rock Lobster"/"Electric Boogie" mash-up, B-52 Slider Squad is the brand new miniburger food truck counterpart of a Mendota Heights brick and mortar that slings possibly America's gnarliest hamburger. Here's a brief chronicle of the glories of both.
That's the B-52 Slider Squad truck (er, trailer)... It spends its time making its food taste really, really good, and not making its truck look fancy.
The uber-fluffy corn fritters served with a subtle chipotle dip taste like a savory donut.
Lest you think all sliders are created scrawny, B-52's are all 1/4lb patties. Behold The Bavarian, so-named because it's slathered in sweet Bavarian mustard and sits upon a fresh-baked pretzel bun.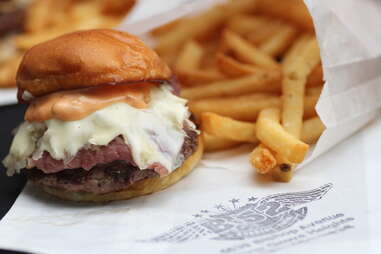 Sooooo, that's a Reuben... ON TOP OF A SLIDER.
Even the plain ol' cheeseburger slider is euphorically juicy and flavorful.
That's no ordinary veggie burger, as it's made with protein-packed quinoa (not lame-o beans).
Speaking of packed, it's time you turn your attention to the monster they're serving at the actual resto.
This is the truck's other half: B-52 Burgers & Brew. And THAT is the "Mother Of All Burgers", aka M.O.A.B.
Four 1/2lb patties are topped with four slices of cheese, four fried eggs, a 1/2lb of BBQ pulled pork, 12 slices of bacon, and onion rings, and stuffed in an Italian loaf branded with the B-52 logo. Just, wow.