The 9 Best Breakfast Spots in the Twin Cities
Don't get us wrong, brunch in MSP is great, but you can never seem to get it on, like, a Wednesday... because then it's just called breakfast, so we decided to round up the nine sweetest old-school AM-eat spots -- we're talking straight forward greasy spoons, here -- in the Twin Cities. Feast your eyes:
 
Downtown St. Paul
What you're getting: America's All Day Favorite Meal
If you're like us, you often feel like eating breakfast in a place that's good enough for the Mighty Ducks. Fortunately for all involved parties, we've got the legendary diner from one of the best films of the 1990s right here in our own backyard, and they server a platter of farm fresh eggs fried in butter, a generous portion of your favorite breakfast meat, hash browns, and toast.
 
Uptown
What you're getting: Chocolate Chip Cookie Dough Pancakes (?!)
This converted Burger King boasts everything from big ass breakfast burritos to spicy, Cajun-style breakfast scrambles, meaning that you're certain to find something greasy enough to help you combat the hangover you're likely sporting because hey, you are in Uptown after all.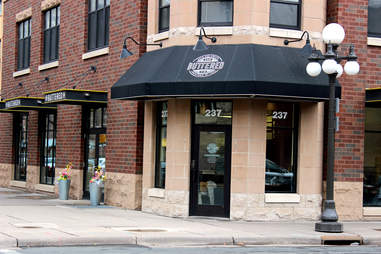 Keane Amdahl/Thrillist
Lowertown
What you're getting: Breakfast Hot Dish
Nothing is overly complicated, but everything is overly delicious. These folks are making one of the finest biscuits and gravy on the market today and their daily soft scramble or hot dish with a nice side salad is a perfect way to jump start your morning.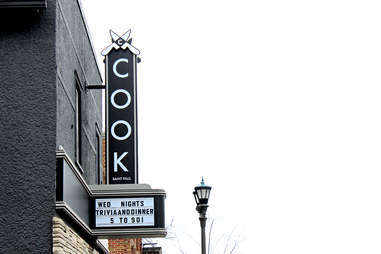 Keane Amdahl/Thrillist
Payne-Phalen
What you're getting: Short Rib Eggs Benedict
A new-ish addition to this exploding area of St. Paul, the folks at Cook are serving classic "American-style" breakfasts featuring locally sourced or scratch-made specialties like a bread pudding French toast with a caramel banana sauce, a short rib Benedict, and a good solid plate of eggs, toast, and hash browns.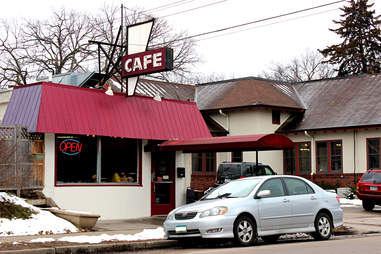 Keane Amdahl/Thrillist
Nokomis/St. Anthony Park
What you're getting: Apple Walnut and Brie Flappers (pancakes)
Don't let the name fool you because this place is about as small as they come (at least the original Nokomis location is), but the breakfasts do serve up some mighty big flavors. Offerings include a list of different breakfast sandwiches, a biscuits and gravy that uses both pork and bison sausage, and pancakes topped with apples, walnuts, and brie drizzled with a honey-brown sugar syrup.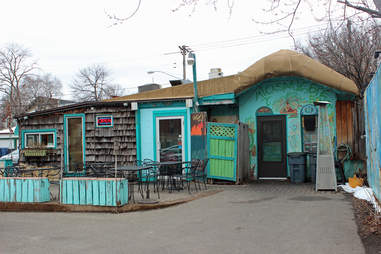 Keane Amdahl/Thrillist
Southwest
What you're getting: Cuban Scrambler
Did someone say, "Cuban breakfast?" This South Minneapolis staple has been spicing things up since 1999. The banana pancakes easily rank among the best in the city and a simple plate of eggs and beans with a side of fried plantains will redefine the way you think about breakfast.
Keane Amdahl/Thrillist
Powderhorn
What you're getting: The Breakfast of Champions
Sure, you can get a simple brûléed grapefruit drizzled with local honey and a bit of mint, but you can go bigger with The Breakfast of Champions which features three eggs, a short stack, hash browns, sausage, and toast. Also, they have scrapple.
KEANE AMDAHL/THRILLIST
Uptown
What you're getting: The Kitchen Special (two eggs, sausage, hash browns, toast & coffee)
Simple breakfast just doesn't come any better than this. We're talking about all of your favorite diner staples like steak and eggs, eggs and cakes, eggs and bacon, and eggs and whatever else it is that you generally like to order with eggs. We would also argue that these guys have the best hash browns ever. EVER. The trick with this place, like any good breakfast place, is timing. Seating is incredibly limited, so you should probably expect a wait.
Dinkytown
What you're getting: Buttermilk Pancakes
People start getting here early and the line generally doesn't die off until some time in the early afternoon (basically around the time they close) because their pancakes are legendary and their eggs are... well, eggs, but they're really, really good eggs.
Sign up here for our daily MSP email and be the first to get all the food/drink/fun the Twin Cities have to offer.