You already know where to find MSP's best Boozy Brunch deals, but do you know where to find the plain best brunch? Of course not! There's no way you can answer that question... not without reading our list of the 12 best brunch spots in the Twin Cities first, obviously.
Downtown St. Paul
This relatively new addition to the St. Paul food scene is straight-up murdering brunch thanks to crazy delicious baked goods; their daily preparations of loaded hash browns; plus heavier eats like biscuits and gravy and a beef short rib Reuben.
Uptown
Ever since these guys opened their doors, people haven't been able to get enough, which is why it's a good thing they do brunch and offer items like yogurt panna cotta; biscuits and gravy w/ smoked butter; and something they're calling the Croque Heyday, which comes with pastrami and Gruyère on brioche.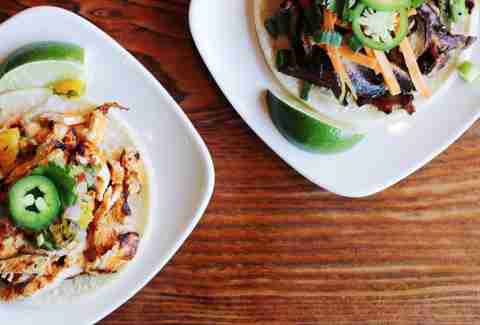 Powderhorn
These guys started their distinctly South-of-the-border brunch service at the beginning of the summer and basically use it as another excuse to pile flavor on your plate. Pro tip: you need to get the chilaquiles. Don't ask questions, just do it.
Uptown
The staff here have been proving that huge flavor can be served on the fly (but not on, like, an actually fly since those things are not-huge. And pretty gross) for a while now, so head on down for biscuits with miso gravy, or a plate of caramelized lamb belly w/ cheesy hash browns & "secret sauce", or if you feel like keeping it real, some PB&J French toast.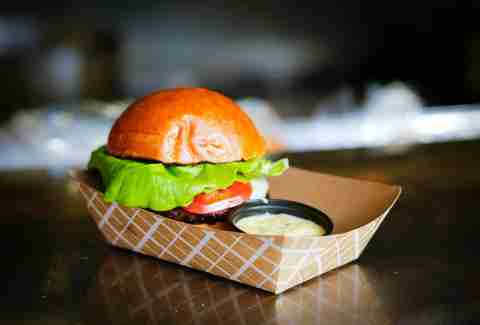 Downtown St. Paul
Regarded as one of the top French restaurants in the Twin Cities, the folks here are kicking it classic-style when it comes to brunch. You can go for the omelet du jour, eggs Benedict, or the super classy eggs en cocotte, but whatever you do, don't forget that it is completely acceptable to order a giant platter of oysters for brunch. No one will judge you.
Whittier
Like everything at this rustic-ly chic hipster hangout, the brunch menu's array of breakfast sandwiches, savory hand pies, and homemade yogurt & granola are totally adorbs. And simple. And delicious.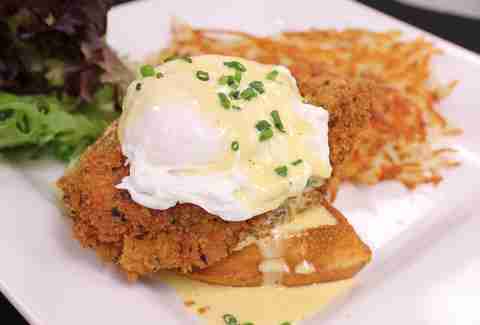 Downtown Minneapolis
It's a Minneapolis institution for a variety of reasons, but mostly so you can gather up a posse of out-of-towners and stuff 'em with updated classics like the Mahnomin porridge or the lemon-ricotta hotcakes. Pro-tip: make reservations in advance.
Downtown Minneapolis
Got something going on in Downtown Minneapolis? Swing through the Hen House and hook yourself up with some of the tasty morsels this classic diner is cooking up with as many locally grown, ethically harvested ingredients as possible, which means you should feel totally fine about that extra order of hash browns that you were thinking about getting.
Southwest
Your usual brunch probably doesn't include banana pancakes, fried plantains, yucca, black beans, and all the other Cuban dishes '59 is slinging, but once you try 'em you'll be rethinking your usual brunch... and the current status of trade relations with a certain island off Florida.
Southwest
This place is simple, elegant, and a near perfect Sunday brunch spot. The dishes are all interpretations of classics, featuring omelets made using a variety of seasonal vegetables; corned beef hash; and eggs Benedict made with ham or their own house-cured gravlax.
Payne-Phalen
They claim to be serving up American classics along with a variety of house-made baked goods, but that doesn't mean that you won't find a surprise or two on their menu. Along with their classic egg combo breakfasts and traditional-style omelets, they're also firing off short rib eggs Benedict, pancakes that has hash browns cooked into them, and savory Korean-style pancakes.
North Loop
Pardon their French (!), but HauteDish's goal is to bring high-cuisine caché to fun small plates, shareables, and stick-to-your-ribs AM-eats (chicken & waffles, anyone?), all of which are even better when you get one of their specialty brunch cocktails to go with 'em.
Sign up here for our daily MSP email and be the first to get all the food/drink/fun the Twin Cities have to offer.