Blue Door Pub, Haute Dish, Meritage, and The Strip Club are all awesome places that didn't crack our rankings of the top five burgers in town. You might think, "Are they on crack?" That's none of your business; lay off, man. But since we didn't include any burgers from that otherworldly good line-up, just think of how fantastically good the burgers are that did make our list.
Recommended Video
Go Camping in the Comfort of Your Own Home With S'mores Dip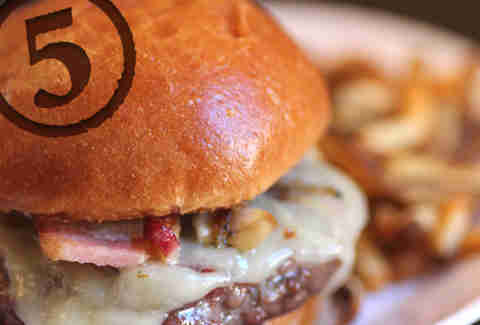 No. 5: The Hill Burger
The Harriet Brasserie
2724 W 43rd St; 612.354.2197
The Harriet Brasserie in Linden Hills cracks the list at #5 by transcending whatever objection haters have with grass-fed beef by dishing a lean, yet tasty patty topped with cheddar, pork belly-like bacon, oyster mushrooms, and an ungodly good, super-subtle truffle aioli.
No. 4: The Vincent Burger
Vincent: A Restaurant
1100 Nicollet Mall; 612.630.1189
Better iron those fancy pants before going to eat the 4th best burger in town, as it's at one of Mpls's premiere fancy restos, Vincent. Seemingly simple from the outside, what appears to be just a top ground sirloin atop an egg bun is hiding a stuffing of smoked Gouda and slow-cooked braised short rib.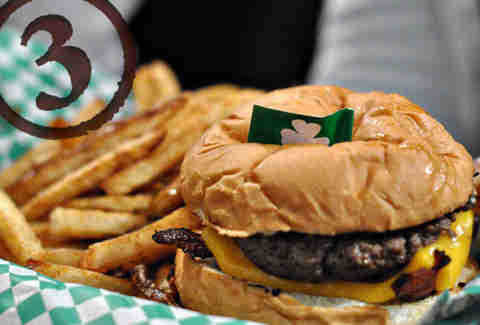 No. 3: The Juicy Nookie
The Nook
492 S Hamline Ave; St. Paul; 651.698.4347
Casper and Runyon's Nook in St. Paul has more than 30 burgers on their menu, but no MSP burger ranking is complete without at least one Juicy Lucy, and their cheddar-stuffed Juicy Nookie is the one that takes the crown. It's a simple, classic, two-handed Juicy.
No. 2: The Burger
Borough
730 N Washington Ave; 612.387.1613
When the chef super duo of Tyler Shipton and Nick O'Leary opened B&P, they did so with a crazy-tasty burger made from sirloin, NY strip, and beef fat topped with thick-cut bacon, caramelized onions, and an American cheese-based frothed cream... and then they took it off the menu. Its replacement, The Burger, is even better. Two ribeye/strip/brisket/garlic/shallot/thyme patties are married with American cheese and surrounded by a buttery bun.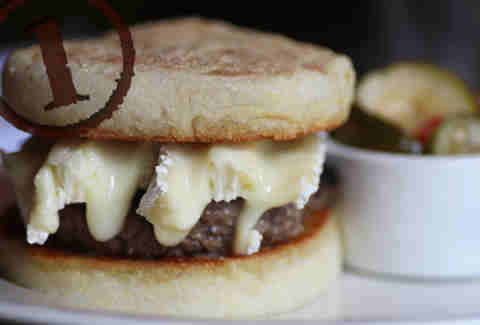 No. 1: The 112 Cheeseburger
112 Eatery
112 N 3rd St; 612.343.7696
Slathered in Brie and sandwiched by English muffins, the 112 Cheeseburger's perfectly fatty/juicy patty basically melts in your mouth, and is exactly what you'd hope for from a James Beard Award-winning chef known for technical simplicity. Oh, and it's only $10.