Whether they're stuffed with cheese, or just seriously underrated, burgers are one of the world's best foods, which is why you never want to be to far from a great one. Don't worry, thanks to our list of the best burgers in 14 different Mpls 'hoods, you never will be again...
North
Victory 44 (address and info)
They call this the Perfect Burger for a reason. This masterfully crafted burger brings it big time with a soft, buttery bun, gooey cheese, crispy bacon, plus house-made pickles. And no, you don't get to pick a temperature, nor should you be allowed to. It's perfect just the way it is.
Northeast
The Bulldog (address and info)
There are several burgers to choose from that're made from their blend of juicy brisket, chuck roll, and sirloin, but you can also get a burger made from short ribs and 100% black Angus beef blend that's been flown in directly from well-known meat purveyor Pat LaFrieda.
University
The Hole Sports Lounge (address and info)
While burger menus aren't typically viewed as "melting pots", the diversity shown by the burgers on this campus sports bar's menu might make you think that they should be. Offerings include a taco burger, a BBQ burger, and a Euro burger that comes with prosciutto, piquillo peppers, green olives, and mozzarella cheese.
North Loop
Parlour (address and info)
This burger is as simple as simple gets: patty, cheese, bun, and a side of pickles, that's it. The end. But it's in its simplicity and execution that this burger reigns supreme. If you've got a juicy, well-crafted patty, on a buttery bun that's oozing with American cheese, exactly what else could you possibly want in a burger? Except, of course, the side of pickles.
Downtown
HauteDish (address and info)
This is another burger that's only served exactly the way the chef intended, which is perfectly medium rare, studded with caramelized onions on top of a tomato slice, shredded iceberg lettuce, raw yellow onions, and house-made pickles. It's then topped with not one, but two slices of American cheese, a smear of roasted garlic aioli, bacon, marinated mushrooms, and a touch of locally made horseradish mustard, all of which somehow fits on a brioche bun.
Loring Park
La Belle Vie (address and info)
These less-than-full-size burgers are full of flavor, thanks to rich lamb that is beautifully accented by a smear of mint yogurt tinged with a little bit of hot pepper, all of which combine to make these the best sliders since that one where Jerry O'Connell gets super jealous when Rembrandt gets treated like Elvis.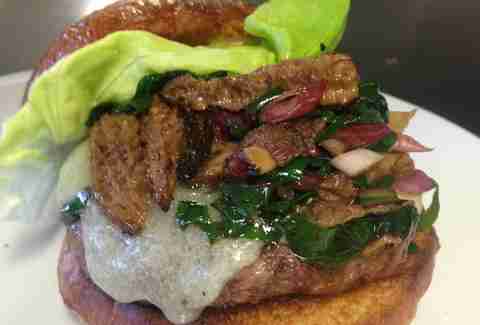 Kenwood
The Kenwood Restaurant (address and info)
Found deep in the heart of the Kenwood, this eponymous burger is worth the trip... multiple trips actually because it changes with the seasons. Pictured above, it's smothered in fresh ramps and decedent morels. In its most current iteration, it comes topped with pork belly, Gruyère cheese, and a lush fried egg.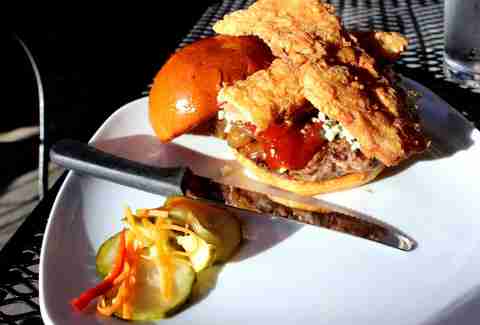 Lyn-Lake
Muddy Waters (address and info)
Not only does it come smothered in house-made BBQ sauce, bleu cheese crumbles, and grilled onions, but it's also topped with two giant pieces of chicken-fried bacon and a side of house-made pickles. With a burger this intense, any other side would be completely unnecessary.
Uptown
Libertine (address and info)
Topped with white cheddar and sweet & salty bacon jam, it's another simple yet delicious winner. Also, look at the size of those jojos!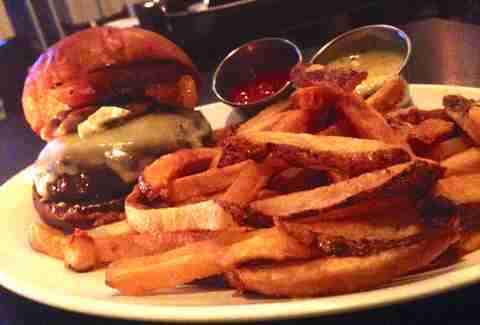 Linden Hills
Harriet Brasserie (address and info)
This little neighborhood gem is putting down some serious food, including a 100% grass-fed beef burger topped with cheddar, sautéed oyster-mushrooms, and crispy bacon served on a buttery, grilled bun.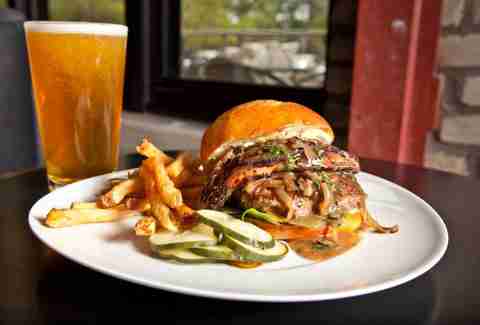 Whittier
Icehouse (address and info)
The burger at this Whittier restaurant packs a wallop as it is (it's topped with sweet onion confit, triple cream, and truffled bordelaise), but for an additional $10 you can get it topped with decadently seared pieces of foie gras. Seriously, it's worth the splurge.
Powderhorn
Matt's Bar (address and info)
This friends, is the burger that started it all (allegedly anyway). The Jucy Lucy at Matt's Bar in the Powderhorn neighborhood of South Minneapolis is an iconic Twin Cities mainstay. Often imitated, but never duplicated, this simple burger, stuffed to the hilt with gooey American cheese, is truly something special. But seriously, be careful with that cheese; it's like delicious napalm all up in there.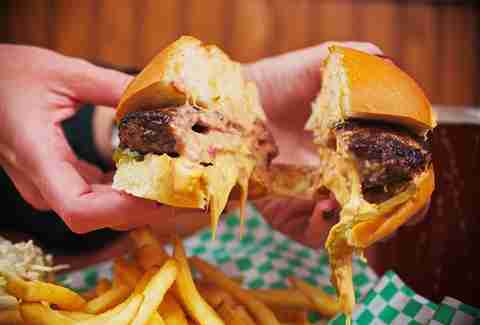 Nokomis
5-8 Club (address and info)
Just a hop, skip, and a jump away from Matt's Bar, this Juicy Lucy (notice the difference in spelling) is the other burger that claims to have started it all. While it's fun to fight over which came first, this is also one damn good burger.
Longfellow
Blue Door Pub (address and info)
While this one isn't necessarily vying for the title of first Juicy Lucy, it's definitely one of the best. The "Blucy" as it's lovingly referred to, may have started over in St. Paul, but with the opening of their newest location on this side of the river, we can now enjoy their many delicious takes on these cheese-filled meat bombs.
Sign up here for our daily MSP email and be the first to get all the food/drink/fun the Twin Cities have to offer.