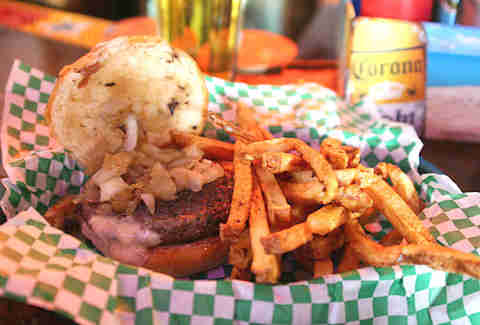 8. The Juicy Nookie
The Nook (address and info)
Highland
You can't ever go wrong with a Juicy Nookie, and if that sounds like it might be outside of your comfort zone, you're probably be right, 'cause the melted napalm in the middle that they call cheese is nothing shy of dangerous, so approach with caution. Delicious, delicious, caution.
7. The Blucy
Blue Door Pub (address and info)
St. Paul/Minneapolis
This is another one the city's premier cheese-filled meat-bombs, and whether you're on the St. Paul or Minneapolis side of the river, you're never too far away from a Blucy.
6. The Angus Cheeseburger
The Happy Gnome (address and info)
Cathedral Hill
This little beef bomb bleeds decadence. Cooked to order and topped with slow braised short ribs and cheddar cheese, this burger is the one to beat in St. Paul.
5. The Steak Burger
Libertine (address and info)
Uptown
For just opening this summer, the burger at this joint is already starting to establish a pretty big fan base. Simplicity is the key here as it's topped with nothing more than white cheddar cheese and a sweet, sticky bacon jam.
4. The Jucy Lucy
Matt's Bar (address and info)
Powderhorn
If there were one Jucy Lucy to rule them all, it's got to be the one at Matt's Bar. After all, they are the ones that taught us to "fear the cheese". There's just something about these cheesy little meat pucks that always leave us wanting to come back for more.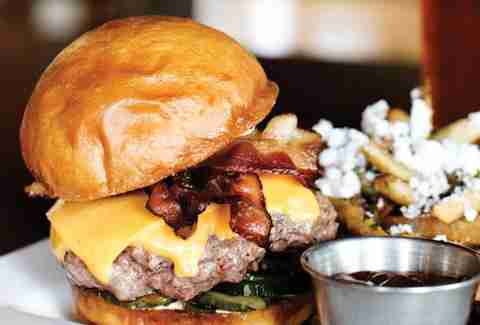 3. The Perfect Burger
Victory 44 (address and info)
North Minneapolis
To deem your own burger "perfect" might be a stretch for some, but this North Minneapolis spot delivers a nearly flawless bacon-/cheese-topped meat-wich that may not be "perfect", but it's very, very, close.
2. (The Parlour) Burger
Parlour (address and info)
North Loop
The simply titled "burger" is not to be underestimated. It's made using freshly ground sirloin, ribeye, and brisket and served with basic American cheese. It's the kind of burger that has you on the edge of your seat until it's gone, and then you'll relax back into your seat and consider ordering another one for dessert.
1. Burger (+ Beer)
HauteDish (address and info)
North Loop
Our number one pick not only comes with a perfectly cooked burger, but it also comes topped with the perfect accoutrement. It's got with lettuce, onions, tomatoes, mushrooms, bacon, homemade pickles, and horseradish mustard, but wait there's more... you get get this beast, fries, and a beer all for $10 bucks at the bar. Seriously, how could this not be #1?!
Sign up here for our daily MSP email and be the first to get all the food/drink/fun the Twin Cities have to offer.