Never leave home again: these are MSP's best delivery spots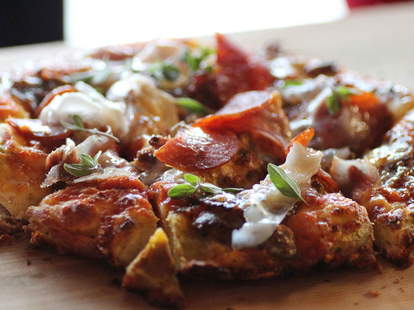 Ever since Johan Santana left, people haven't really associated Minnesota with great delivery (sorry, Kevin Correia!). But in a city where leaving the house -- let alone going to a restaurant or bar -- is a bad decision between November and, like, April, what you really need is the Twins to sign someone who'll get more than nine wins someone to bring badass eats to your door. That's why we rounded up MSP's very best delivery joints:
World Street Kitchen
Uptown
This former food truck-gone-brick-and-mortar just started delivering things like their signature Moroccan Fried Chicken and Korean BBQ short ribs? AND they're open 'til midnight on weekends? Why ever cook again?!

Carl Brenden
Galactic Pizza
Uptown
No one would care about their fleet of electric-powered green vehicles, their environmentally responsible ingredients, or their commitment to philanthropy if they didn't make what is without question the city's best pizza...  that's delivered by a dude in a super hero costume. Seriously!
Caffrey's Deli & Subs
Uptown
It's hard to decide what's best about Caffrey's Deli & Subs. It could be the #8 Three Pepper Chicken Sandwich... or it could be the fact that Caffrey's has Twinkies on their menu... but both of those pale in comparison to the fact that Caffrey's delivers until 3am!

Lotus
Downtown
This family-owned joint makes Vietnamese noodles that're so good, you'll be wondering how the Pho-k they deliver stuff this delicious/affordable.

Burrito Loco
Dinkytown
This place has everything: beer pong, Karaoke, sex trivia, free food specials, and badass Buffalo chicken burritos. Unfortunately, they've also got shloads of Sigma Chi members there for the beer pong, Karaoke, sex trivia, free food specials, and badass Buffalo chicken burritos, the last of which you should probably just get delivered instead.

Cali's Vietnamese
Northeast
Forgot to pack a sandwich for lunch? Cali's lunch special's are practically free (if by practically you mean $6.25), and the lemongrass chicken and the spring rolls will practically make you forget you're at work (if by practically you mean not at all).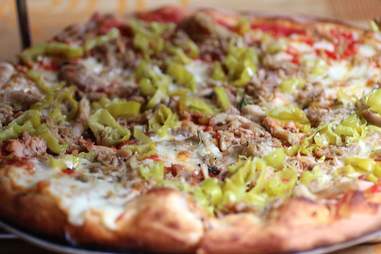 Black Sheep Coal Fired Pizza
Downtown
You can get with this... place that serves up fennel-sausage or hot salami pies, and a sweet warm-it-up-yourself-style Sicilian pizza you cook at home. Or you can get with that... place that doesn't. The choice is yours.
Malabari Kitchen
West Bank
If staying in the house isn't enough to keep you warm, you should probably pay your electric bill, or order up some of Malabari's deliciously spicy curry-style eats. If that doesn't work for you, try a blanket, or one of their more unusual delivery options, aka oysters.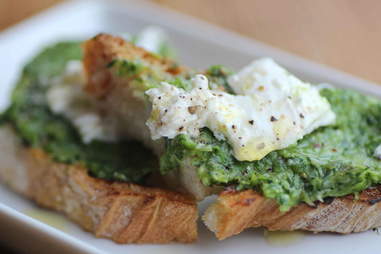 Broder's Cucina Italiana
South Minneapolis
This delivery mainstay has been plying you with pasta entrees with, like, a million calories for, like, a million years (since 1982), but you should avoid those since you won't be leaving the house to go to the gym for the next few months. Instead, try one their signature sandwiches on a fresh baguette, which only have, like, half a million calories.