The 15 Best Local Fast-Casual Eats in MSP
The Twin Cities have quite a bit going on when it comes to the recent trend of fast-casual dining -- inexpensive counter-service food that takes slightly longer to prepare than your traditional fast food, but generally tastes way better. While we like national chains such as Five Guys and the recently opened Shake Shack, MSP has a host of locally owned restaurants that put the big chains to shame when you need a quick dose of delicious.
Hot Indian Foods
Midtown
While Midtown Global Market hosts a variety of what could be considered fast-casual vendors, Hot Indian Foods is easily one of our favorites. Serving up custom-made Indurritoes (basically an Indian burrito that uses a fresh roti instead of a tortilla) and very craveable Indi frites (Indian-spiced French fries that use both sweet and russet potatoes), this spot is great when you want something just a little bit different for less than $10.
OneTwoThree Sushi
Multiple locations
We were plenty excited when the local sushi gurus behind one of our favorite Northeast eateries, Masu, decided to go fast-casual. That excitement hasn't been quelled, since we can get quick bowls of delicious ramen and custom-made sushi rolls to-go. Now with multiple locations, including Dinkytown, Downtown Minneapolis, and St. Paul, you can design your own bowl, get a good roll, and still have lunch time (and a few bucks) to spare.
World Street Kitchen
Lyndale
This place specializes in hybrid Asian, Mediterranean, and Middle Eastern street foods, and is one of our favorite spots for a quick meal. Stop in for one of the Yum Yum rice bowls, which come in a few varieties, but be sure to try the lamb belly. If a rice bowl isn't your speed, order the Bangkok burrito with Korean BBQ beef short ribs, or the Moroccan fried chicken sandwich (which is served on a delicious buttery biscuit). World Street Kitchen is open until 11pm, and while slightly more expensive (with dishes over $10_, two separate happy hours (3-6pm and 9-11pm) make it that much more worth it.
Pimento Jamaican Kitchen
Whittier
These folks have been rocking fast-casual and flavorful since they moved from the Burnsville Center to Nicollet Ave not too long ago. The jerk pork is tender and juicy, and the spicy beef patty (the Jamaican version of an empanada or pierogi) is a thing of beauty. Don't fear some of the hotter homemade sauces because, while they do deliver on the heat, they don't sacrifice on flavor.
Taco Libre
West St. Paul
This newish spot in St. Paul is working hard to up the taco game in the Twin Cities, with 13 different types of meat-based fillings and four different veggie fillings for your tacos, bowls, plates, and Machetes (really). Bring your appetite to order a "machete-sized masa tortilla, fried, and filled with lettuce, sour cream, Oaxaca cheese, salsa" and add one of those tasty fillings. Taco Libre says its food is so fresh that our ancestors would be proud -- at less than $10 for a heaping amount of food, we think they'd be proud of the price point, too.
Hello Pizza
Southwest
Chef Ann Kim is the undisputed pizza queen of Minneapolis, and Hello Pizza is her crazy-delicious, drop-in, New York-style slice shop. You'll find a small variety of by-the-slice options (including a slice of the day) along with a selection of full-sized pies. You'll never go wrong with the Holy Trinity -- a pie with Hello Pizza's incredible house-made fennel sausage, natural-casing pepperoni, and crimini mushrooms.
Sassy Spoon
Nokomis
This unique South Minneapolis restaurant deals specifically in the world of gluten-free fare, and the food is delicious without sacrificing creativity. Try the bacon-wrapped, goat cheese-stuffed dates, or the yucca patties with jalapeño cilantro sauce. You can also get a unique take on pad Thai, which uses zucchini noodles instead of the traditional rice noodles, or a decadent miso-braised pork with pickled onions. Everything on the menu is less than $15, including Sunday brunch specials like the samosa potato patty.
Moroccan Flavors
Midtown
This newer spot in the Midtown Global Market delivers big, fresh flavors that bring a taste of North Africa right to your own backyard. Moroccan Flavors has a variety of salads made with different marinated vegetables, along with Moroccan sandwiches, couscous, and tagines. Order a sampler of salads -- you can taste up to four kinds -- along with a baguette for under $9.
Afro Deli
West Bank/Downtown St. Paul
When you're looking for big, bold, and potentially new-to-you flavors, you've got to check out this hot spot over on the West Bank (or Downtown St. Paul). It features a variety of African-inspired dishes, including the beef, chicken, or veggie sambusas, an African noodle dish known as keke, or the Somali steak sandwich made with thinly sliced beef and seasoned with African spices on focaccia bread. No matter what you order, you're going to find something truly tasty.
Ramen Kazama
Nicollet
There's no shortage of places to nab a big bowl of ramen noodles in the Twin Cities, but this efficient place allows you to walk in, order, and stuff your face all within a matter of minutes (assuming the line isn't backed out the door). While the basic tonkotsu ramen is a good way to go, we gravitate towards the karamiso ramen in a rich and fiery red broth, along with the classic ramen garnishes for $12.50. You can even custom-craft a bowl of ramen.
Holy Land
Northeast
Holy Land has long been one of the Twin Cities go-to spots for Mediterranean and Middle Eastern cuisine. Featuring a full deli menu that utilizes wood-fired grills, tandoor clay ovens, and rotisserie-style spits, it's a place where you're bound to find something that suits your style. The rotisserie chicken, Arabic-style shawarma, a delicious gyro, and even a simple burger are all excellent choices, but let's not forget that the hummus is easily among the best.
Unideli
Seward
When it comes to dishing out top-quality ramen in town, these folks are among the best. It's a perfect spot to swing through for an incredibly satisfying lunch, which includes a variety of noodle dishes, rice bowls, and curries. It's all about the delicious kimchee ramen ($12), but the tonkotsu ramen with pork bone broth and BBQ pork is also incredibly satisfying. Unideli also has some of our favorite wings, so make sure you grab a side of those for some serious snacking.
Spitz
Northeast
Originally a Los Angeles-based enterprise, Spitz has expanded into a handful of locations around the country. Its co-founder (and St. Cloud native) Robert Wicklund couldn't pass up the opportunity to open up a shop in the Twin Cities that offered a variety of Mediterranean-inspired street foods. Some highlights include the classic donor kebabs and a more modern invention, the doquito -- a mashup between a kebab and a taquito. Spitz is guaranteed to squash all of those gyro cravings you've been having.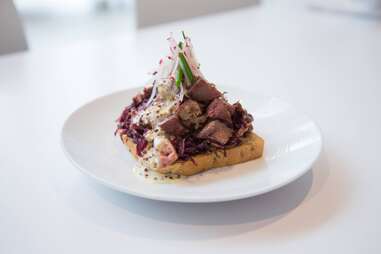 FIKA
Phillips
Sadly, we don't get a lot of fast and delicious Swedish cuisine in the Twin Cities (unless you want to count the cafeteria at IKEA), but this little café inside the American Swedish Institute has got it going on. Dine on a variety of smorgasar (Swedish open-faced sandwiches), salads, or small plates, which include delectable Swedish meatballs, gravlax, or country pate. Fika translates to "daily break," so a quick bite is practically in the name.
Brasa
Northeast/Summit Hill
Quite possibly the king of Twin Cities fast-casual, chef Alex Roberts' Southern-, Caribbean-, and Mexican-inspired brasserie is a true local gem. The rotisserie chicken is unrivaled, and all of the slow-smoked meats are top-notch. Order those alongside any of the delicious sides -- try the mac & cheese, red beans & brisket, cheddar grits, sweet corn cornbread, or succulent collard greens -- with smoked chicken, and you're definitely set up for success. Or just grab a simple mac & cheese; we don't know how they do it, but it's one of the best places to get cheesy goodness in MSP.
Sign up here for our daily MSP email and be the first to get all the food/drink/fun the Twin Cities have to offer.
Keane Amdahl is a veteran Twin Cities food writer who sometimes likes to get straight to the down-and-dirty. Follow him on Twitter as he eats his way through the TC @FoodStoned.