The 5 Most Epic Food Challenges in MSP
Psst, here's a secret about the Twin Cities: people here eat a TON. Just kidding! That's totally not true... everyone knows we eat a ton, but you may not know just how much food the people behind MSP's five most epic food challenges are ready to let you stuff down your gullet. Feast your eyes:

Hot Wing Challenge
The Pourhouse (address and info)
Downtown Minneapolis
We all love a good hot wing from time to time, but how hot is too hot? Well, if you feel like testing your limits, head to Downtown and set yourself up with the Hot Wing Challenge. The secret to the fiery sauce are ghost chili peppers, and if you finish all 12 you'll get a special keychain and cover-free admission to The Pourhouse for life (special events excluded of course). You're also not allowed to drink any milk for this particular endeavor.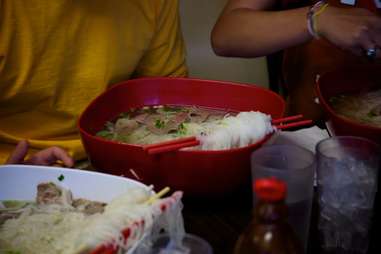 The Pho-King Challenge
Saigon (address and info)
St. Paul
Do you think that you can handle 10lbs of rich, unctuous pho? If so, haul your ass over to St. Paul and take the Pho-King Challenge. You get 45 minutes to slam down your bowl of pho, and if you do, it's on the house and you get a free T-shirt. If you fail, you're on the hook for the whole bill.

The Nookie Supreme Burger Challenge
The Nook (address and info)
St. Paul
We all love our burgers, but how much burger do you think you can handle? Give it your best shot with the Nookie Supreme Challenge. If you can suck down two full Nookie Supremes, which is a full double decker burger with the works, along with the fries, you can earn yourself a free T-shirt.
The Giant Banh Mi Challenge
Lu's Sandwiches (address and info)
Whittier
This sandwich ain't you're Mama's foot-long, this banh mi means serious business. It's 3.75lbs of sandwich with your choice of meat. If you can eat the whole thing down in under 25 minutes the sandwich is free and you get a T-shirt. If you lose, you're out $20.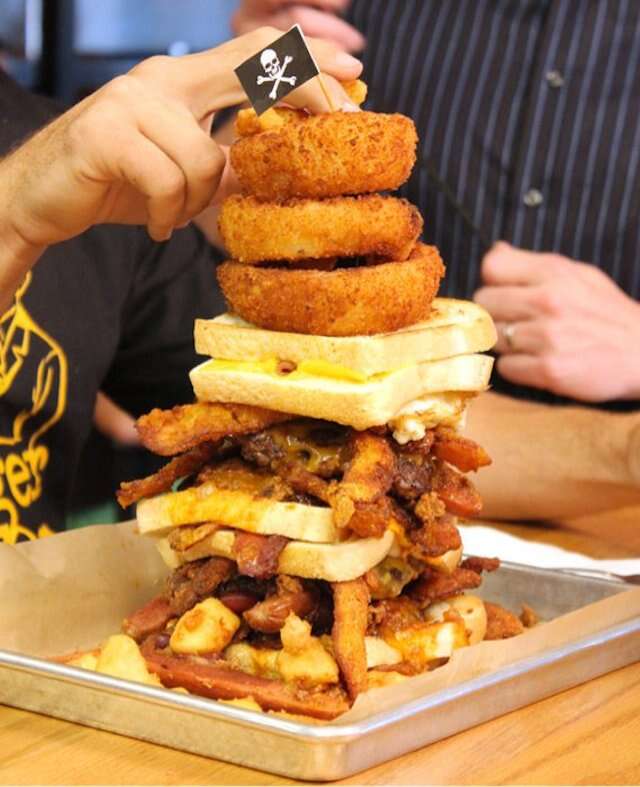 Meat Your Maker Challenge
Burger Jones (address and info)
Uptown
This is NOT just another burger challenge. In fact, this "three level" 10,000 calorie monstrosity contains the works and then some. We don't have time to go into every little detail of this behemoth here, but the highlight reel involves burgers, grilled cheeses, chicken-fried bacon, cheese curds, onion rings, fried eggs, and something called chili-cheese burger dogs. And of course it's not just one of everything listed, but multiple items stacked on top of one another, and if you take it all down in an hour, you get a T-shirt.
Sign up here for our daily MSP email and be the first to get all the food/drink/fun the Twin Cities have to offer.