There are 2789 food trucks in the Twin Cities. Just kidding -- there are probably closer to 100. It only feels like 2789 when you walk out to Marquette Ave on a sunny day only to be confronted with a glimmering line of converted box trucks shining for as far as the eye can see. And to break the decision-making paralysis this type of selection will surely beset upon you, we've culled our eight favorites at which you cannot go wrong.
Recommended Video
Cinnamon Bun Pizza: Pizza or Dessert?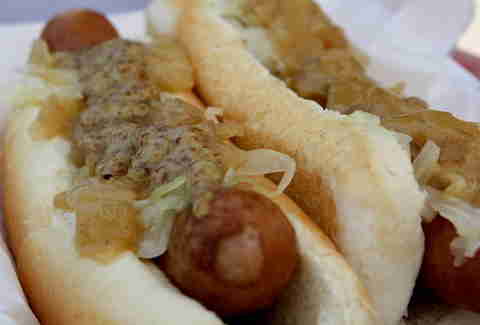 Natedogs
Where To Find It: Literally everywhere
Dish To Get: The seeming simplicity of what Nate Beck's got going on with his bright orange cart Natedogs is gloriously counterpointed by the fact that his basic offerings (skin-on wieners, and brats with scratch-mustards, relish, and stewed onions) are as addicting as they are top-notch; and when you're there, you can't go wrong ordering a pair of skin-ons however Nate would prepare them for himself.
World Street Kitchen
Where To Find It: Downtown Minneapolis, festivals, taprooms; check here to find them
Dish To Get: Before they dropped their Uptown brick-and-mortar, the Wadi bros (who also own Saffron) pedaled their brand of global street eats solely on the streets via the red WSK mobile at which you must sack up and order a madly-rich Pork Belly Yum-Yum Rice Bowl drowning in their secret mayo sauce and an over-easy egg.
Hot Indian Foods
Where To Find It: Downtown Minneapolis, festivals, taprooms; their site's got their current location
Dish To Get: The Twin Cities' first Indian-slinging food truck's more than just a super-slick-looking Sanskrit-laden object, as these cats're also looking to redefine how you look at exotic flavors, chiefly with their trademarked menu staple the Indurrito. It's exactly what it sounds like: traditional Indian grub wrapped up in a burrito.
Moral Omnivore
Where To Find It: Downtown Minneapolis; check their Twitter for where they are right now
Dish To Get: When at Moral Omnivore, you're going to suck it up and order the Beet Sliders seared with smoked Gouda and topped with creamy mustard sauce, basil, and red onion. Its supreme tastiness justifies why an overtly healthy truck is among the best in town -- even to a big-time carnivore like yourself.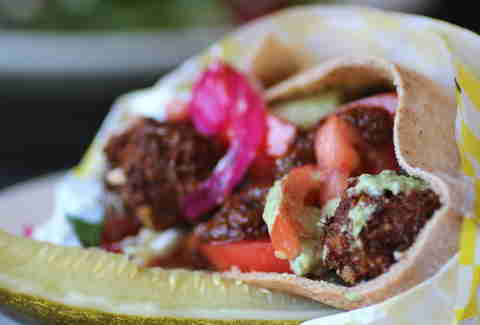 Foxy Falafel
Where To Find It: Everywhere but, more specifically, right here
Dish To Get: What started as farmers' market food stand with pedal-powered smoothies evolved into a food truck and then a resto, and it did so for the good reason that their falafel and pitas are top-notch. Snap up the name-sake Foxy Falafel pita.
Midnord Empanadas
Where To Find It: Downtown Minneapolis, Downtown St. Paul, taprooms; check their Twitter for current location
Dish To Get: It's tough to dislike Midnord when all they do is take every type of food imaginable (from apple pie to mac & cheese) and throw it in a deep-fried dough pocket. This menu is without a single weak link. Oh man, remember when everyone was saying, "You are the weakest link, goodbye!"? Yeah, good times. If you're only ordering one thing, let it be the Tucuman-Style Beef Empanada (shredded steak medallions, pimento, and spring onions).
Sushi Fix
Where To Find It: Downtown Minneapolis, Wayzata; follow their truck's location on Twitter
Dish To Get: MSP's first sushi food truck has since gone on to open one of the Twin Cities' best brick-and-mortar sushi joints, but it's refused to abandon its roots as mobile purveyors of sushi better than what you get at most actual restos. Since their strength is their ability to be playful, something like the Mexican roll (fish with avocado, cilantro, and chili aioli) is a must-order.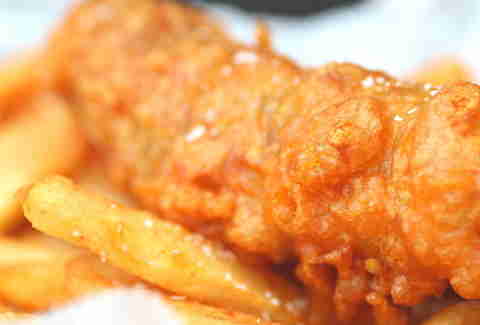 Anchor Fish & Chips
Where To Find It: Minneapolis; find where they are right now
Dish To Get: When the best fish and chips joint in town goes mobile, you best follow it and eat the hell out of its fresh Alaskan cod fish & chips, but know that its "battered sausage" ain't too shabby either.