Sure, people like to make fun of the hot dish. They say it's just comfort food (is there something wrong with Juicy Lucys or cheese curds, too?!), or even worse, they say it's just a way for moms and lunch ladies to get rid of their leftovers. But true Minnesotans know that there is nothing better than a skillet stuffed with tater tots and a whole mess of other awesomeness, especially if it's from one of these five places...
North Loop
Pardon their French (!), but HauteDish's goal is to bring high cuisine caché to classic, Midwestern dishes, like this one that includes things like pork belly and short ribs, and which you won't find in any of the pans at your church potluck.
St. Paul
Buttered Tin brings you a truly authentic breakfast hot dish: a buttery, cheesy beast that changes depending on what they've got in the kitchen, but you can look forward to some assortment of eggs, bread, bacon, potatoes, and -- sigh -- vegetables.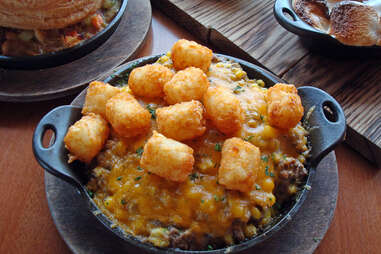 Eagan
A spin-off of the Cupcake franchise, The Mason Jar bills itself as an Iowa (?!) country food restaurant, but if they keep layering tots with housemade cream of mushroom soup, ground beef, corn, and cheddar cheese like this, we'll totally forgive them.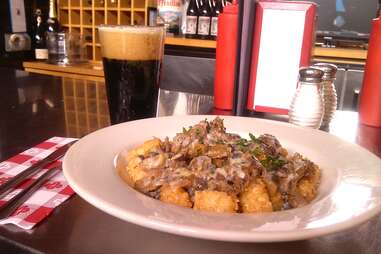 Northeast
We know what you're thinking: another tater tot hot dish?! Well, did you see any beer-braised brisket in the last one? Or caramelized Brussels sprouts and roasted mushroom-Bechamel in the ones mom used to make? Didn't think so.
Northeast
Eli's hot dish starts with top-notch Angus beef and builds on that with an amalgamation of carrots, onions, celery, sweet peas, and mushroom cream sauce, so don't bring your mom here unless you're tryin' to embarrass her.
Sign up here for our daily MSP email and be the first to get all the food/drink/fun the Twin Cities have to offer.