Some may think hot dogs should only be consumed while crossing your fingers in the dire hopes of an actual Twins win at Target Field, but there are actually some sweet Mpls restaurants slinging quality wieners without also charging your for a seat on the first baseline. Here are the seven best hot dog spots in Minneapolis...
West Bank
This West Bank institution has been serving wieners since the 1980s. Featuring quality 100% Vienna beef dogs with a slurry of different dressings, the best is probably the Minneapolis dog; it gets everything a traditional Chicago dog does, but adds coleslaw. It's a creamy, briny, spicy, celery-y boat of goodness.
Northeast Minneapolis
Right on Broadway in NE Mpls sits the unassuming little red building that you've probably driven by a thousand times, but make no mistake, these folks can bang out some serious dogs. The Coney Island dog comes smothered with beautiful beef chili, raw onions, yellow mustard, and then gets topped with melty cheese whiz. Say what you will, but there's definitely a time and place for nuclear yellow processed cheese. This is that time.
Downtown Minneapolis
This little Downtown bistro serves some pretty serious tubes of meat, including the Big Ben topped with smokey bacon and cheddar cheese, and the Sloppy Dog, which comes with sloppy joe meat and a slice of American cheese, but our favorite is the next-level the Truffle Dog complete with a mushroom and leek confit, melted provolone cheese, and truffle salt.
Kingfield
Surprise... some of the best tubed-meat options are on a sushi menu. The dogs themselves have an excellent snap that gives way to a rush of flavor, and things only get better when they pile stuff on top, as evidenced by the ingenious Yakisoba Dog, which is topped with stir fried yakisoba noodles, onions, pickled ginger, and a bit of sweet Japanese mayo.
Lyn-Lake
The newest addition to the Lyn-Lake restaurant scene boasts what might be Minneapolis' best version of the Chicago-style dog. Topped with yellow mustard, raw onions, flamboyantly green relish, tomatoes, sport peppers, a pickle spear, and a wafting of celery salt, these things are like a transporter waiting to take you on a trip to the Windy City.
Various locations
Dogs on wheels is the name of the game for this vendor, but tracking him down is half the fun. Whether it be on the streets of Downtown or out front one of the many fantastic breweries, the dogs from Nate are simply some of the absolute best. Made locally and served with condiments specifically crafted by the main dog himself, you'd be doing yourself a disservice to not get one when you see him. Pro-tip: he also caters.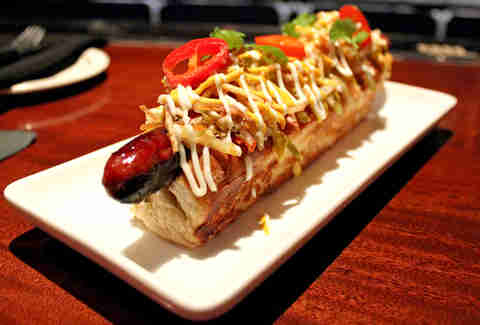 Downtown Minneapolis
We love all the delicious sausages that they bang out at Butcher, but there's just something about the foot long...  Served on a deliciously grilled, buttery, brioche bun and topped with a spicy Cajun chow-chow, crispy shoe string potatoes, yellow mustard, mayo, chilies, and a few leaves of cilantro for good measure, it is simply unrivaled in terms of deliciousness, and it goes extra-well with a shot of bourbon and a cold pint.
Sign up here for our daily MSP email and be the first to get all the food/drink/fun the Twin Cities have to offer.