The Best Italian Restaurants in the Twin Cities
Let your days of eating impostor Italian at the local OG (or some other wannabe) come to an end, for Italian food has finally hit the Twin Cities in a big way. Sure, we've had some excellent longtime spots, but several more have opened their doors recently, so our list of MSP's 11 best Boot-inspired fooderies will let you know which are worth it and which ones you... um, wannabe skipping.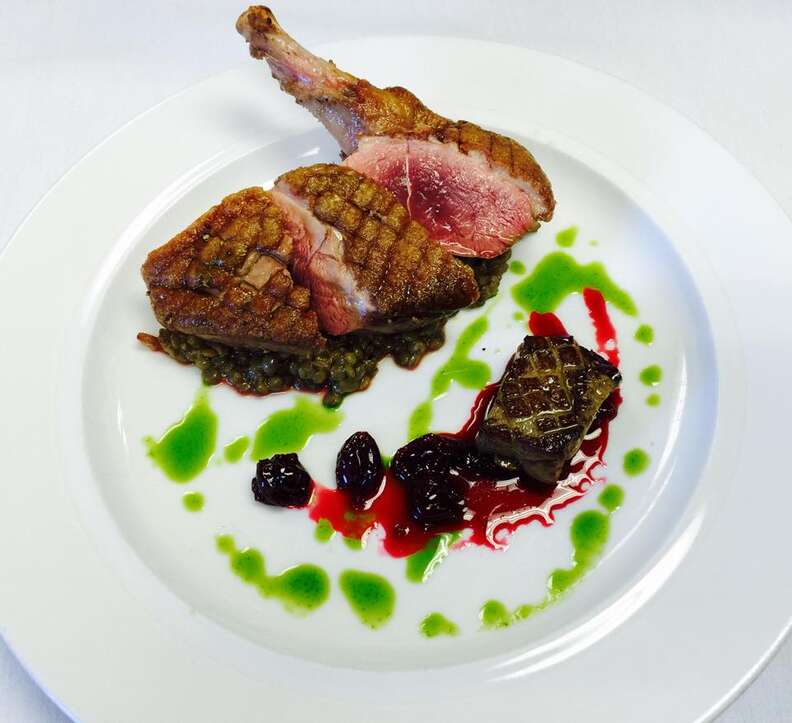 Lilydale
One of the Twin Cities' best Italian treasures is located just outside St. Paul in a small stretch of land called Lilydale. I NONNI focuses on seasonal foods which it then gives the Roman touch. Start off with the Stinco Maiale, which comes with agro-dolce grilled micro pork shanks and chive crème fraiche, or try the Cozze in Acqua Pazza -- steamed Maine mussels with garlic, parsley, and chilies in a tomato brodo. Be sure to check out one of their fresh pasta dishes, like the Tagliatelle con Polpette, which features fried wild boar-veal liver meatballs, cremini mushrooms, lemon crema, and Parmigiano-Reggiano, or go for something heartier like the Scottadito, which highlights grilled Iowa lamb chops, sour cherry mostarda, garden chives, rosemary-garlic potatoes, and wild mushroom-marsala pan sauce.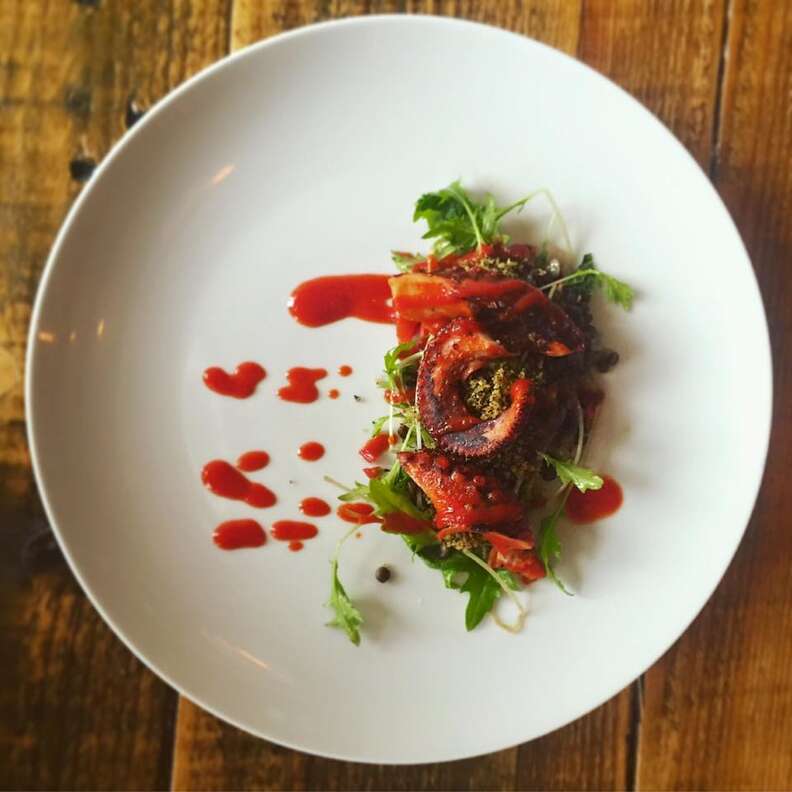 Southwest
Brought to you by the folks behind Broders' Pasta Bar, this sister restaurant delivers in the Italian department. With a focus on fresh, locally sourced, and seasonal ingredients, Terzo offers a unique take on modern Italian cuisine. Try out the Fresno pepper-glazed octopus, the tajarin, which is a traditional hand-cut egg yolk pasta with sage butter and a porcini mushroom ragu, or go for the ever-classic broiled bronzino. Wash it all down with a glass from the ever-changing wine list, or a bottle from Terzo's cellar, which holds over 300 varieties. Beer drinkers have a place here too, with 10 taps dedicated to unique, regional, and imported beers.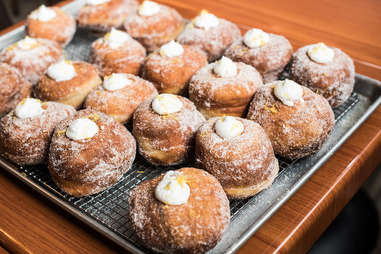 West 7th
While still relatively new, these folks instantly became one of the best Italian restaurants in the Twin Cities the second they opened their doors. Focusing on simple yet familiar flavors kicked up to the next level through the thoughtfully refined techniques of the chef, Mucci's lets you know you're in for a treat every time you sit down at their tables. The bisques are out of this world, the fritti are lightly fried to absolute perfection, the pizzas are unique and delicious, and the pastas are made fresh and served with a variety of robust sauces that'll have you feeling nostalgic even if you didn't grow up with an Italian grandmother.
Downtown St. Paul
No list of Italian dining in the Twin Cities would be complete without the inclusion of this St. Paul institution. While the cafeteria setting offers pretty basic renditions of Italian fare including a variety of pastas and pizza, this place is still a mecca for all things Italian. Head upstairs to Louie for more refined cuisine, or hit the adjacent market to pick up a selection of Italian ingredients including delicious meats, cheeses, and pastas, to work with at home.
South Minneapolis
The original restaurant from Chef Jonathan Hunt offers up a delicious array of quality Italian fare coupled with hard-to-pass-up weekly food and drink specials. Half-price bottles of wine are available Monday-Friday from 4-6pm, with a $20 per person 4 course menu on Tuesday nights. Whether you want to stop in for a simple Neapolitan-style pizza with basil and house-made mozzarella, or half a roasted chicken smothered with an escarole and stone fruit agrodolce, Al Vento has the goods to help quell any Italian craving.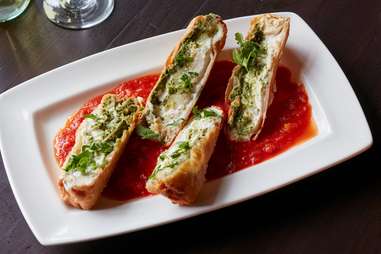 Uptown
The restaurant formerly known as Amore Victoria has found new owners. While they're now known as Amore Uptown, they continue to serve a variety of well-crafted Italian inspired appetizers, pasta dishes, and entrees. Start out with an order of their delicious Amore Rolls, which feature ricotta, mozzarella, and pesto wrapped in thin Italian dough, then go for the gnocchi pistachio in a rich, savory cream sauce with gorgonzola cheese and pistachios.
Highland Park
Yeah, we know they're two separate restaurants, but these sister establishments sit right across the street from one another and both offer delicious Italian inspired cuisine. At Ristorante Luci, dine on simply constructed Italian classics like carbonara or penne with a pork ragu, while at Luci Ancora, you can catch a glimpse of modern Italian cuisine with dishes like the manzo ai ferri featuring American wagyu beef, potato gnocchi, buttered leeks, and honji-meshi mushrooms.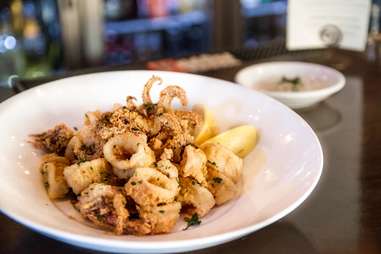 Downtown
One of the first big forerunners in Italian fine dining Downtown, this place is great if you're looking for a tasty local locale for a lunch meeting or just a pleasant dinner while out on the town. For an excellent rendition on Italian-inspired cuisine, start off with a vibrant burrata caprese. Follow it up with a rich, house-made lasagna, or go for the brasiliana salad with palm hearts, celery, tomato, avocado, and a fresh lemon vinaigrette and chase that with a pesto-crusted seabass.
Northloop
James Beard award winning Chef Issac Becker's flagship restaurant is still killing it when it comes to modern Italian-inspired cuisine. Dishes like the soft eggs and lobster, and the gnocchi with cauliflower and orange have become Twin Cities classics, while the other seasonally rotating dishes continue to inspire.
Southwest
When you're looking for pasta, it doesn't get much better than what the folks at Broders' are throwing down. Featuring an excellent selection of house made pastas coupled with fresh, seasonal ingredients, this is what Italian food was meant to be. Check out the incredible carbonara with crisp snap peas, salty speck, rich egg yolk, and vibrant green onions, or go with the cannelloni d'angelo featuring house-made lamb & ricotta salata smothered in a delicious tomato cream and topped with crispy bread crumbs.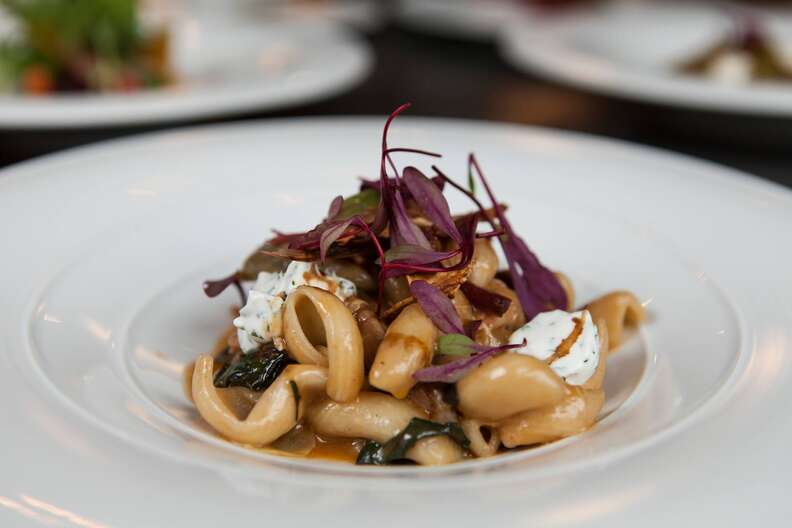 Downtown
This coastal Italian-inspired restaurant was the first in what has been a long line of restaurants offering refined, Italian inspired cuisine along with, you guessed it: freshly prepared crudo. As is true with many things, being first often pays in dividends because under the guidance of La Belle Vie alum Mike DeCamp, Monello might just be the best. The sea urchin crudo with smoked marrow and apple, and the seabass crudo with caviar and crème fraiche are both next-level, while the cappelletti with morels, smoked mozzerella, and truffle, along with the grilled octopus with pine nuts, paprika, and grilled cucumber, are both shining examples of how far Italian food has come in the Twin Cities.
Sign up here for our daily MSP email and be the first to get all the food/drink/fun the Twin Cities have to offer.
Keane Amdahl is a Twin Cities food writer who loves to chow down on Italian foods. Follow him on his crusade to find all of the best foreign fare on Twitter @FoodStoned.