Where to Get the Drippiest, Cheesiest Jucy Lucys in the Twin Cities
Here's the thing about the Jucy Lucy: Minnesotans both have strong opinions and don't give a damn about it. They can hold both in their minds at once. There's a sense of pride in the uniquely Minnesotan burger and battle lines have been drawn, so you have to pick between those that claim to be The Original™. But it's also kind of just a cheeseburger with a vendetta against your mouth.

The Jucy Lucy is a burger where with a melted pocket of molten-hot cheese in the middle. Despite the occasionally ho-hum attitude about it from Minnesotans -- especially as the Twin Cities' culinary scene continues to impress -- it's worth seeking out. If you do, as I've done ad nauseum over the last few months, and ask a local where to get one, the answers are predictable. As much its origin is called Minnesota at large, it's largely the domain of two restaurants. The local is going to tell you to go to Matt's Bar or The 5-8 Club.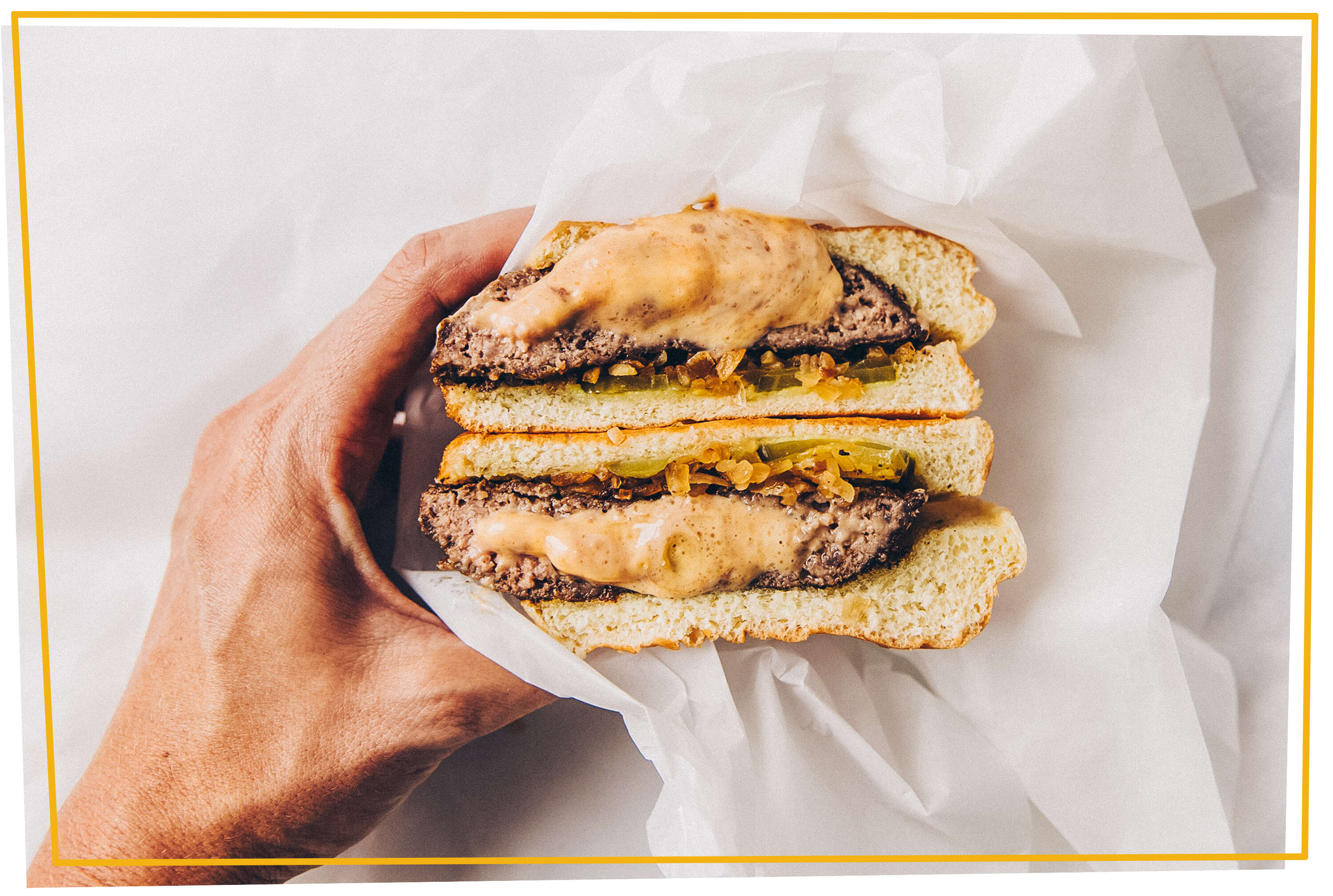 The lore of the Lucy states that these are the OGs. One of the two is the original home, and the answer will vary based on who you ask, because there is no definitive answer. If you're interested in diving deep on the history of the cheeseburger, we have that, too. But this is the place to be if you're looking to actually sink your teeth into one of these bad boys.

Matt's and The 5-8 Club, being the two giants of the form, make any sort "best" Jucy Lucy list something of a futile enterprise. But that doesn't mean for a second that there aren't other places flipping a mean Lucy worth the hunt. In fact, we've compiled an entire list of alternatives for you below.
Warning! The Jucy Lucy is not your average cheeseburger
You might be thinking you've got it figured out at this point. You can handle eating a hamburger with a minor twist. That is the exact kind of attitude that gets people hurt.

What you have to know before your first bite:
1. No one is going to ask how you want the burger cooked. There's a balance to be struck between cooking the burger slowly enough that the cheese can melt without turning the burger into a beefy brick. That burger is coming medium if it's done well and burnt if it's not.
2. Watch your mouth. No, we're not talking about swears. The cheese in the middle is a molten pocket ready to sear your face. The server is probably going to warn you or, if you're eating somewhere the Lucy is the dish du jour 365 days a year, the server will probably be wearing a shirt with some kind of kitschy warning.
So, is it Matt's or the 5-8?
For a burger where the ingredients are simply burger, cheese, and bun, there are big differences between these two. However, they both lay out the essentials for finding a good one: You should be in a dive bar. If you walk in and it's dark with the option to sit at a mottled bar, you're on the right path. Neon beer signs are a good indicator, as is an absence of plates.

At Matt's, your burger ($7.75) comes with nothing but a stack of napkins for the mess you're about to make. (Though, you should ask for onions.) A sign behind the bar reads: "No ice. No plates. We blew the budget on napkins." It's served wrapped in paper. The bun looks cheap -- it probably is -- and the patty is pretty well-seared. There's a whole lot of flavor in the burger, with a pocket of liquid-y, oily cheese ready to burst forth. Moreover, the burger is well-seasoned and always fresh because this place goes through an unimaginable amount of beef.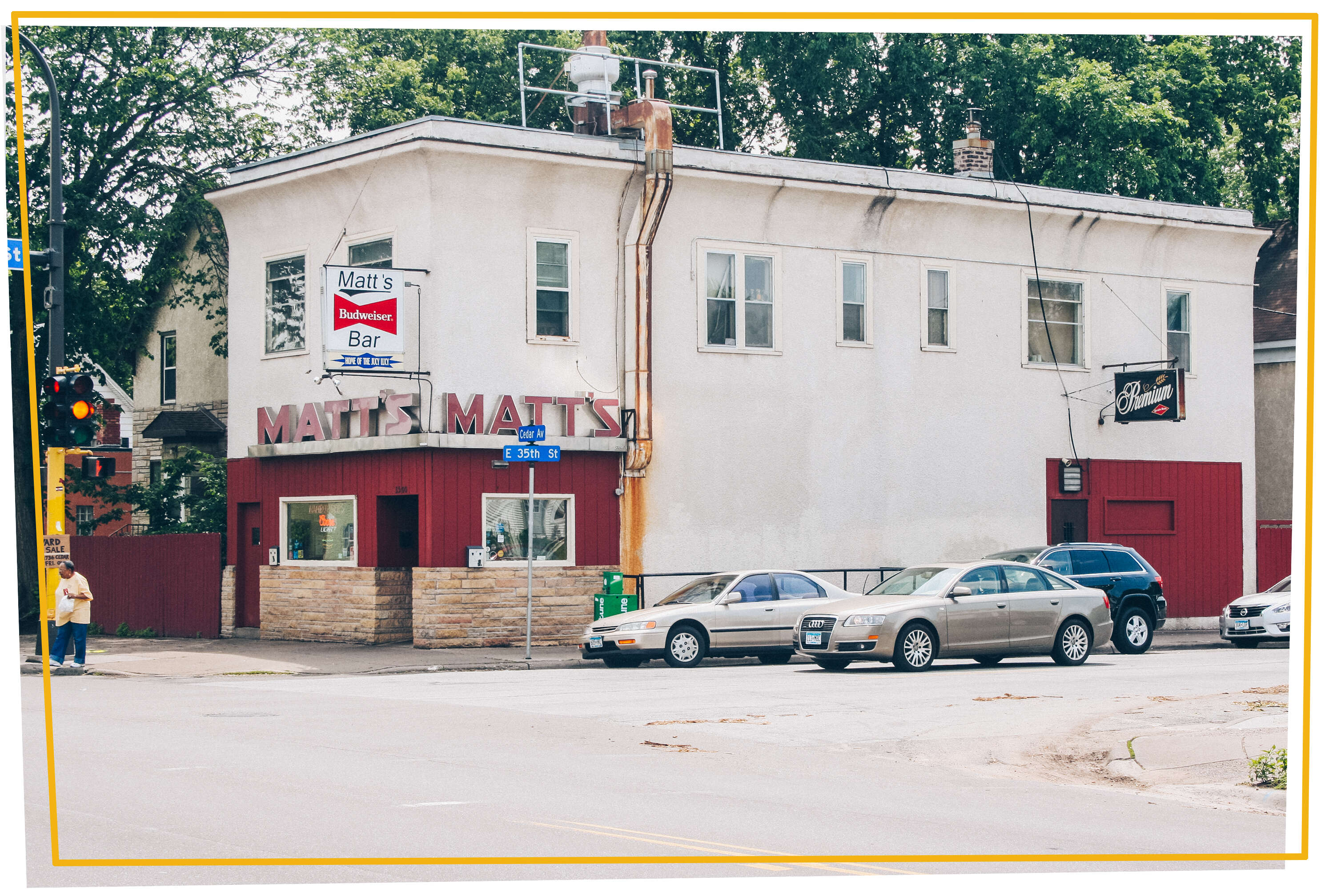 The experience at The 5-8 Club ($10.99) isn't all that different. It's relatively nicer, but you can still tear pull tabs while you wait on your Lucy to arrive in a basket. The cheese isn't as explosive -- a relative assessment -- since it's a creamier American cheese that drips out of the patty more than the gusher you get at Matt's. (And that lost cheese becomes a great dip for your fries when the burger is gone.) Instead of coming with nothing, you're getting the addition of pickles and, again, ask for the onions. The drawback is that, while the cheese is creamier and pretty much perfect, the meat doesn't compare to Matt's. The old flattop behind the bar at Matt's makes every slightly charred burger tell the tale of 100,000 meals cooked in the same. If that grosses you out for some reason, go to The 5-8 Club.
The best traditional Jucy Lucy experiences
I may contradict this in a moment, but if you're getting a Lucy, get a Lucy. Don't get it all dressed up for prom. If you're ordering something with extras and a cheese finer than American, you might as well just get a burger.
Highland Park, St. Paul
Look, if you're asking for my favorite, it's The Nook. It has everything you need, including a dive bar vibe and servers sporting shirts with pithy sayings about the burger. The bun here is perfect: basic, fluffy, and doesn't call attention to itself. The burger doesn't have too much or too little cheese puddling in the middle. Wait, did I say not too much? I mean, there can never be too much, and The Nook has about as much as a human can fit inside a burger without looking like you're trying to set a world record. Even better, the nicely seasoned patty comes beautifully medium-rare.
Cost: $9.50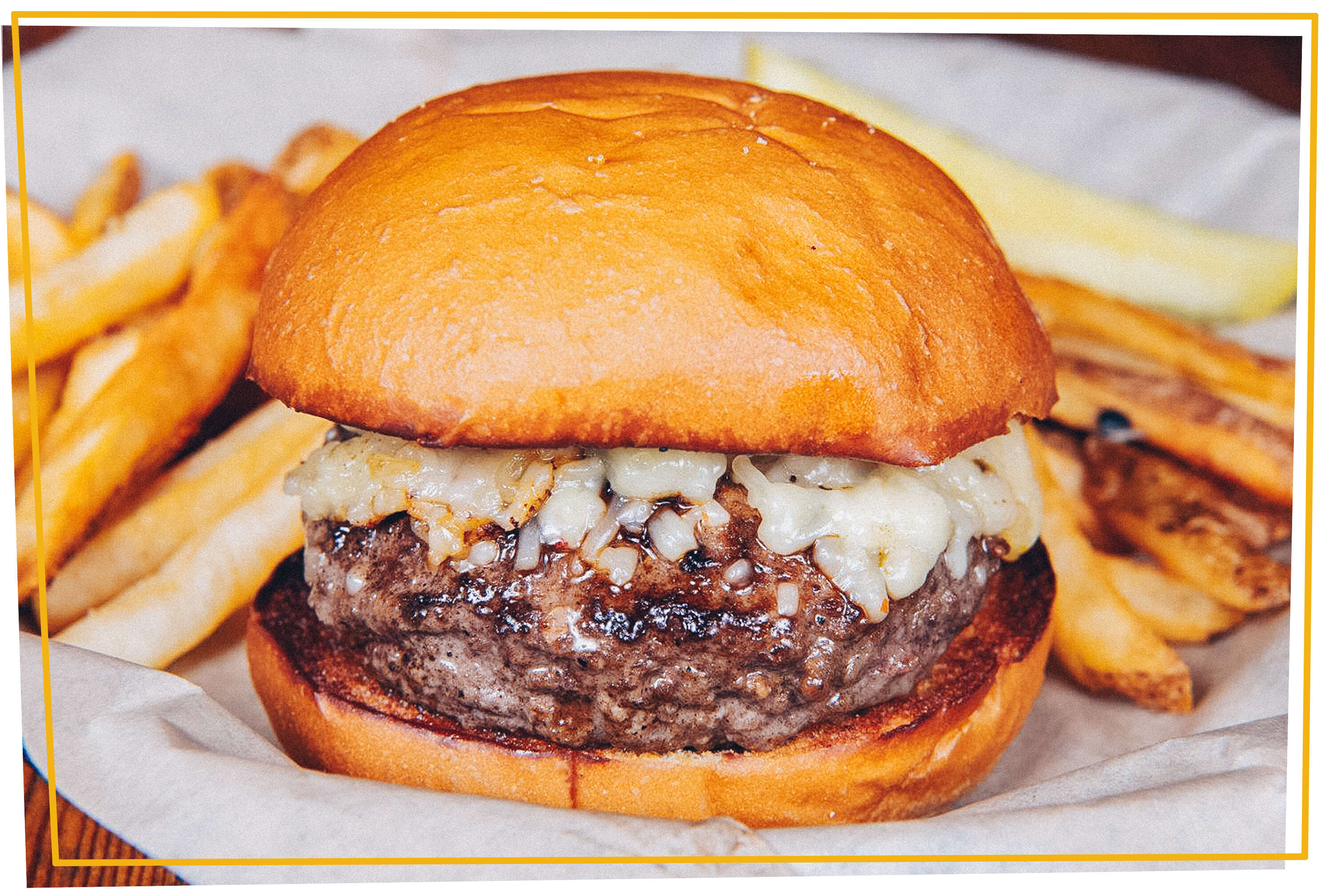 Downtown, Minneapolis
The Washington Avenue bar and grill is a bit underrated for its Lucy. Unlike Matt's, The 5-8, and The Nook, people around the restaurant are ordering things that aren't a Jucy Lucy. (Or one of the handful of Lucy variants that Crooked Pint offers.) The buns are fresh with a burger that carries cheese on top and inside. It's charred a bit like Matt's and almost tastes like what you'd imagine a faithful Matt's imitation to be, if it was elevated just a touch. The cheese isn't quite as perfectly gooey as The Nook or 5-8, but the fries are solid, and it does everything you need a Lucy to do.
Cost: $10.99
Cooper, Minneapolis
It can be kind of a confusing place. Something about the exterior feels familiar, as though the city has 30 of them. There's even a bit of a fast-casual vibe inside the baseball-centric restaurant. But Peppers & Fries does a damn fine Lucy. Lodged inside the toasted bun is a burger with cheese on top and inside. You might expect the fiery-hot center to be lacking in cheese since they added some on top. Wrong. This. Has. So. Much. Cheese. This might be the city's biggest cheese pocket, including the weird Packers fan outside with an actual pocket full of cheese. It comes out looking gorgeous, as though it was getting ready for a photo shoot.
Cost: $12.95
St. Anthony West, Minneapolis
Ray J's feels like a bar that could be in any Midwestern city, which, if you didn't grow up in one, includes a pile of beer signs, TVs, and pull tabs on every table. Oh, and there's the barebones, as-god-intended-it burger. Unless you say differently, the Jucy Lucy comes with nothing on top and a pickle spear on the side. It's far less leaky than most with a modest, creamy amount of cheese in a burger that is a little larger than others. The texture is what sets it apart.
Cost: $12
The Pearl & The Thief
Downtown, Minneapolis
At the time of publication, The Pearl & The Thief is temporarily closed. It's moving from its original location in Stillwater to Minneapolis, just steps from US Bank Stadium. But (wildly busy) chef Justin Sutherland tells Thrillist that the restaurant aims to be open by the end of 2019. That's good news because, at an August celebration of the Lucy hosted by Tillamook, he previewed a Southern twist on the burger that will be on the new Pearl menu. It's actually worth breaking the above rule about when you should eat a Lucy. The Pimento Cheese Jucy Lucy comes doused with mustard BBQ, bourbon onions, and bread and butter pickles. The little bit of kick mixed with strong savory flavors makes it pretty damn enjoyable.
Cost: TBD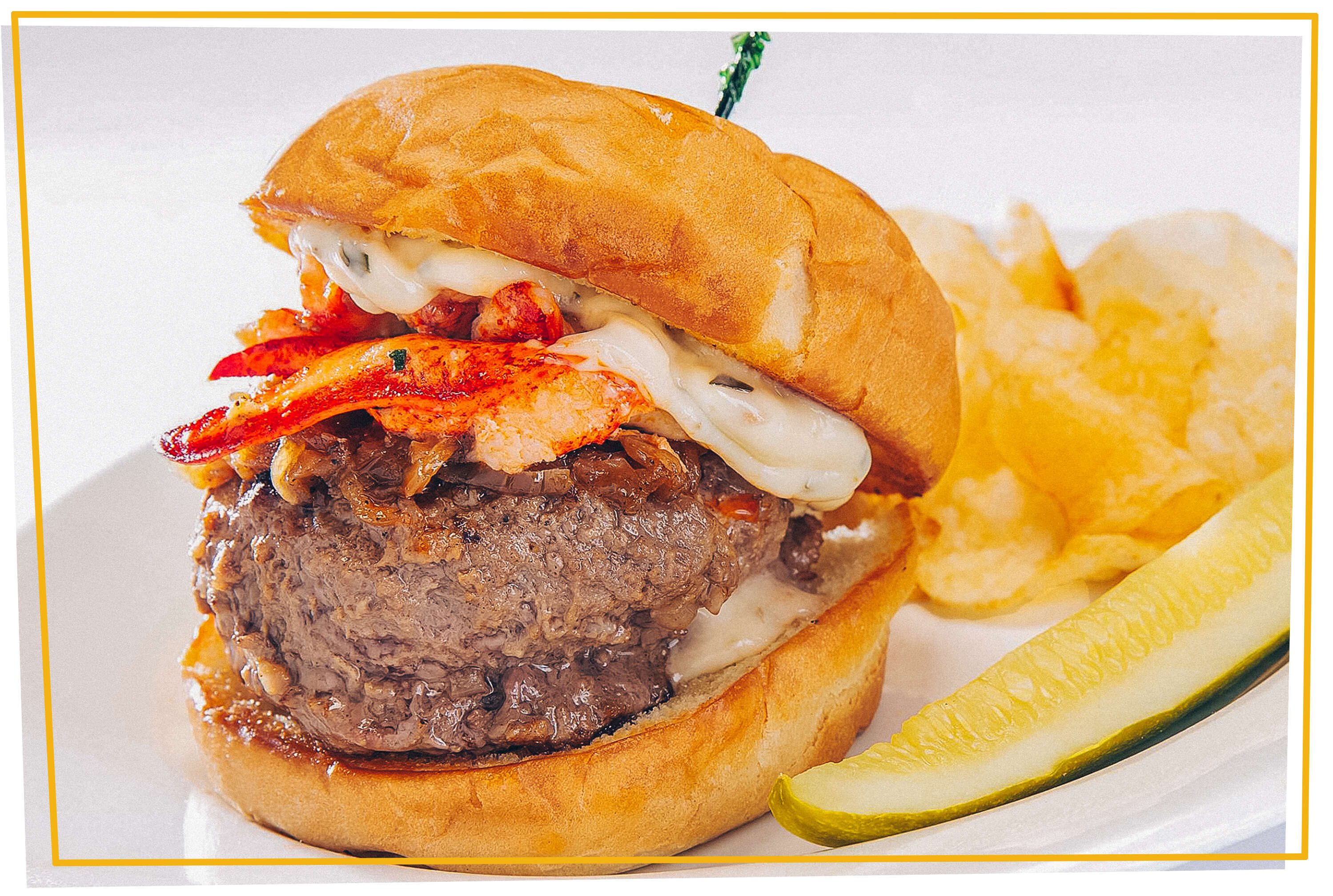 North Loop, Minneapolis
The Lobster Lucy comes topped with lobster claw and heap of caramelized onions under a tarragon aioli. Inside the American cheese is mixed with Tallegio, but maintains a nice, gooey creaminess. If the lobster wasn't already a giveaway, this is a rich man's Lucy. Nonetheless, it has reverence for what a Lucy should be. It's explosive, the cheese is just right, and the bun is the plain, fluffy burger handle you want it to be, even if the tarragon is a bit much. Lesser Lucys (none on this list) can leave a thick pocket of cheese in the middle, ignoring the much-needed distribution inside so that you never get a cheese-less bite. Smack Shack does it right. You'll be a mess when you're done.
Cost: $19.95
Sign up here for our daily MSP email and be the first to get all the food/drink/fun the Twin Cities have to offer.
Dustin Nelson is a Senior Writer at Thrillist. He wrote this from the hospital where he is being treated for multiple cheese-induced burns to his tongue. Follow his recovery on Twitter @dlukenelson.