The 8 Best Juicy Lucys in MSP
Philadelphia may have its cheesesteak, Chicago its hot dog, and New York its pizza, but Minneapolis has the best signature dish of all: lutefisk, with its pungent lye flav... ewww, wait... the best signature dish of all is obviously our gloriously cheese-stuffed burger, the Juicy Lucy. Our eight favorites are below...
Nokomis
One of two places that claim to have invented the Juicy Lucy, the 5-8 Club started as a speakeasy back in 1928, and even though their beer's legal now, maybe their burgers -- which in addition to cheddar, are stuffed with bacon and topped with onion straws -- shouldn't be. It might just be the perfect food, unless you ask 5-8's bitter rival...
Powderhorn
Matt's Bar, which despite being slightly younger than the 5-8, firmly believes themselves to be the true inventor of the Juicy Lucy. Or as they call it, the "Jucy Lucy," which this no-frills dive cooks on a grill sitting right behind the bar.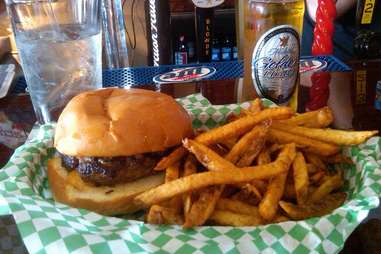 Highland
One taste of a Juicy Nookie -- like the Pepper-Jack-cheese-and-bacon-stuffed Guy's Bug Bite Burger -- and you'll understand what Fred Durst did it all for... except maybe trying to make comeback in 2012, and thinking Napster was a good idea, and telling everyone he got with Xtina, and...
Merriam Park
Of course at the Blue Door they call it the Blucy Burger, and while you can get it with classic American cheese, their speciality is melted bleu cheese (get it now!?). The real treat here though might be their deep-fried Spam Bites. Never has fried meat in a can been so good.
North Loop
The place is more side salad than cheese curds, and definitely not your typical greasy spoon, but somehow they've put together a delicious homage to the Minneapolis favorite made with... ewww, black beans? Yes.
Downtown
Grumpy's doesn't do anything extravagant inside their Lucy, but they do top those suckers with creative options like guacamole, jalapeno bacon, and butter that's made from the other thing that made Lucy famous: peanuts.
Northeast
Ray J's is another classic, and super-solid take on this... um, classic, though you'll want go wild with a side of their famous wings, which many call the best in the city.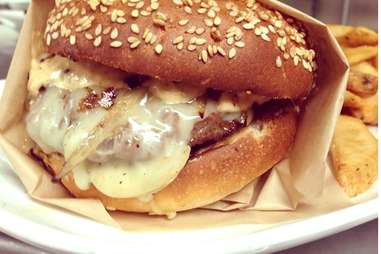 Downtown
Crooked Pint has put together a whole ensemble of Lucy look-a-likes, including a serrano peppers-/ habanero Jack cheese-/ sautéed onions-stuffed number called the Hot Lips Lucy, which, we cannot lye... err, lie, is probably their best.
Sign up here for our daily MSP email and be the first to get all the food/drink/fun the Twin Cities have to offer.