MSP's 7 Best Mac and Cheese Spots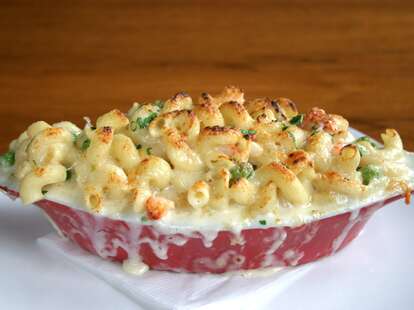 Sorry, hot dishes. Sorry, cheese curds. But mac and cheese is the ultimate comfort food. However, it can't possibly maintain its lofty position atop the fattening/delicious food pyramid if you don't know where to get a good bowl -- that's why we nobly put on our stretchy pants, did the delicious research, and tracked down MSP's seven finest curdy treats.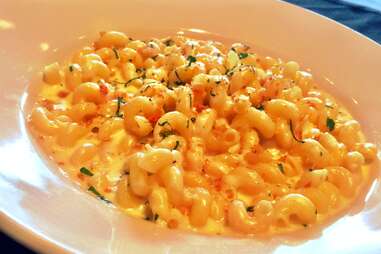 Uptown
Never heard of cavatappi noodles? Well, in Italy it means... something, presumably, and in The Lowry it means you're about to eat a huge pile of little pasta covered in Swiss, smoked gouda, and (if you want it) your choice of things like tomato and ham.
Northeast
Technically, this heaping bowl of sweet peas, lobster, and fresh WI Parmesan is a small plate, which is good, since it means you can afford to do what we do: order their cheese curds, too, and throw a couple of those bad boys on top.
Golden Valley
This spot's also known as the Bad Day Bar, but how can you possibly have a bad day when nomming on pasta w/ gorgonzola, fontina, aged Wisconsin cheddar, caramelized onions, tomato & smoky bacon w/ a roasted garlic crust? You CAN'T!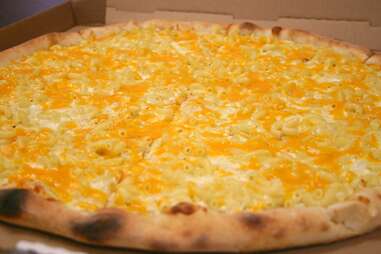 Uptown
Always a late-night favorite for college students, Mesa prides itself on its wide and eccentric range of pizza toppings, including their signature slice: the infamous Macaroni and Cheese Pizza featuring a creamy sauce and noodles baked right onto one of their enormous by-the-slice pies.
St. Paul
Brassa is all about small dishes you share, but you're not going to want to share their mac and cheese: only available at their St. Paul location, it's a classic version that's perfect with smoked beef and cornbread.
Downtown
You could describe almost everything at HD the way you typically describe mac and cheese (there're lots of noodles and cheesy, creamy goodness to go around on this menu), but you shouldn't, 'cause that would be an insult to their real version: a taleggio, king crab, and truffle oil monster, that looks (and probably tastes) like no other mac.
North Loop
Plans for Smack Shack's permanent home were announced some time early in the Van Buren administration (they actually incited the Panic of 1837), but the permanent home of the lobster-ific food truck didn't open until 2013, and the chance to eat their famed Lobster Mac & Cheese under a roof was worth the wait.
Sign up here for our daily MSP email and be the first to get all the food/drink/fun the Twin Cities have to offer.