The 11 Best Eating 'Hoods in MSP, Ranked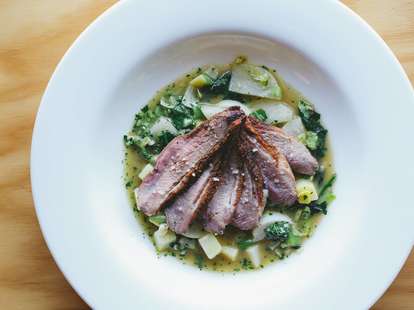 Roasted Duck

| The Bachelor Farmer
Roasted Duck

| The Bachelor Farmer
11. Loring Park
Sadly, this neighborhood lost its shining star when longtime four-star Twin Cities restaurant La Belle Vie closed its doors. That doesn't mean you can't still get some great food in this neighborhood. With several other outstanding restaurants like 4 Bells, Butcher & the Boar, The Third Bird, and Café Lurcat, this neck of the woods still has a lot to offer.
10. Calhoun Square
Calhoun Square isn't technically a neighborhood; it really lies at the intersection of four different ones. That being said, there are definitely a lot of great restaurants in the area. Libertine has the meat market cornered, while Lucia's, despite new ownership, is still working to bring the farm to your table. If you're in the mood for a quick slice, Mesa Pizza is right there, and just down the street a bit sits Barbette, one of the Twin Cities' favorite French bistros.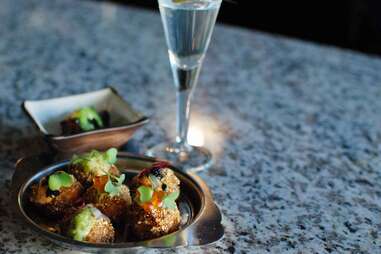 9. Payne-Phalen
This St. Paul neighborhood is home to unique restaurants like Tongue in Cheek, which now offers brunch Wednesday-Thursday and incorporates a lot of fresh new vegan options into the menu, along with places like Cook, which melds classic American food along with a mélange of Korean-inspired dishes. You can also get your classic pub fix at Ward 6, and it's worth noting that even though it's technically next door in the Dayton's Bluff neighborhood, one of St. Paul's best restaurants, The Strip Club, is just a short jaunt away.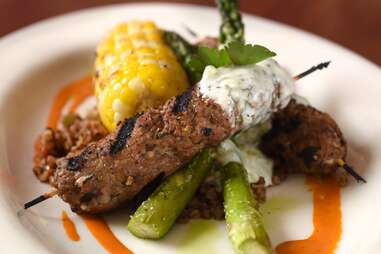 8. Cathedral Hill
Minneapolis gets a lot of love for its food scene, but St. Paul's Cathedral Hill is a whole other world of deliciousness. The recently renovated Commodore resides here for classic fare like lamb chops and seared salmon, along with other more classic restaurants such as WA Frost & Company, Moscow on the Hill, The Happy Gnome, and Red Cow. Soon, the former Salt Cellar location will reopen as Fitzgerald's, a bar-restaurant with nachos, wings, and pizza, named after the famous author who lived in the area.
7. Midtown/Phillips
The Midtown Global Market could be a food destination on its own, with classics that include The Rabbit Hole, El Burrito Mercado, and Los Ocampo. Add that to newer spots such as Eastlake Brewing and Taco Cat (previously a bike-only taco delivery service), and you could easily eat here for days without getting bored. Outside of Midtown and tucked inside the American Swedish Institute is fast-casual restaurant FIKA, which serves up some of the best Scandinavian eats in the Twin Cities.
6. Northeast
This expanse of town covers a lot of area, but you're always within arm's reach of some truly excellent food. Featuring an eclectic mix of tastes coming from restaurants like Masu, Red Stag, and Alma on the south side, and Chimborazo, Sen Yai Sen Lek, and El Taco Riendo to the north, this 'hood's got damn near anything you could want and then some. Try Kramarczuk's, Emily's Lebanese Deli, and Brasa for some finer fare, or make a reservation for the soon-to-open Young Joni, a wood-oven-driven restaurant dealing in chef Ann Kim's delicious pizzas, tacos made with house-made tortillas, and a variety of Korean snacks. We're guessing is going to be a Northeast game changer.
5. Whittier
There's so much good here that that It's hard to top this Minneapolis neighborhood, which has rightly earned its moniker, Eat Street. One of our new favorite spots, Pimento Jamaican Kitchen, is serving up delicious slow-cooked Jamaican delicacies like jerk pork and slow-stewed oxtail alongside a slew of well-priced ethnic restaurants. Check out the pho at Quang Restuarant or the Szechuan wontons in black bean sauce at Rainbow Chinese. You can find freshly baked goods at the The Copper Hen Cakery & Kitchen and Glam Doll Donuts, along with all things fermented at the GYST Fermentation Bar, as well as the newest Black Sheep Pizza location. Whittier still has the higher end covered, too, with fine-dining restaurants like Icehouse and Eat Street Social, whose food and cocktails reign among the best in the city.
4. Midway
If you're looking to get your Asian food fix, St. Paul's Midway neighborhood might be the place to be, thanks to authentic Chinese dishes like the hot pot from Little Szechuan, or Cambodian cuisine like the larb at Cheng Heng. If you're into Thai food, check out any one of the fragrant curries or excellent whole fish dishes from On's Kitchen, Vietnamese/French food from Ngon Bistro, or a delicious bowl of pho from Trieu Chau. You've also got Korean staples like the bulgogi from Mirror of Korea or the ttukbokee from Sole Cafe. You might've just made a month's worth of dinner dates in this one neighborhood, but pull out your calendars, because this list just scratches the surface.
3. Southwest Minneapolis
The Southwest sector of Minneapolis has an awful lot going on, with stunning restaurants from well-known chefs delivering seriously high-quality food for very reasonable prices. Chef Steven Brown offers up Tilia and St. Genevieve, while chef Erick Harcey's two newer restaurants, Upton Forty-Three and The Dirty Bird, join the culinary scene. Others such as The Harriet Brasserie in Linden Hills, Broders' and Terzo just slightly south in Lynnhurst, Pizzeria Lola, Red Wagon Pizza, and George & the Dragon are local favorites. Just don't forget about Piccolo, one of the Twin Cities' truest culinary gems (which also offers a suckling pig).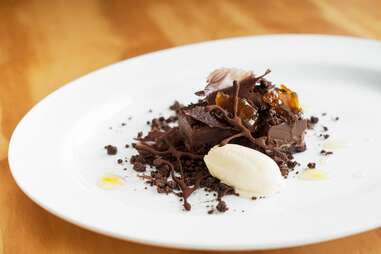 1. North Loop
It's impossible not to love what this neighborhood has going on when it comes to food because it's home to two of our most nationally recognized restaurants: The Bachelor Farmer and Spoon and Stable. While it has a handful of modern restaurants -- think Borough, Smack Shack, Bar La Grassa, and HauteDish, -- it's also home to one of the Twin Cities' oldest restaurants, the Monte Carlo, which originally opened in 1906. There's also the Red Cow for when you need a simple, solid burger or a specialty sandwich.
Sign up here for our daily MSP email and be the first to get all the food/drink/fun the Twin Cities have to offer.
Keane Amdahl is a Twin Cities food writer and neighborhood explorer who is fascinated with the bounty that MSP has to offer. Follow his culinary adventures on Twitter @Foodstoned.