The 7 Best New Brunches in the Twin Cities
If there's one thing people in the Twin Cities love more than a great brunch, it's... well, these 25 things... but we also really like a great new brunch, so we scoured MSP, from some of the top restaurants to some more down to earth spots, and found seven sweet ones you should try this weekend. Feast your eyes...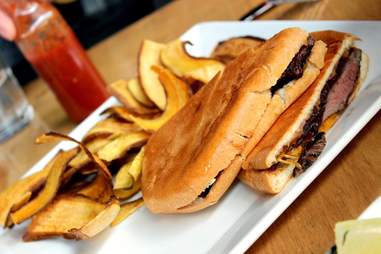 Keane Amdahl/Thrillist
Uptown
If you're looking to get a side of brunch with your margarita, head on over to one of Lyn-Lake's newer additions for a slurry of Mexican-themed in-between meal options. The Steak + Egg Torta is a total winner and comes with a jalapeño potato hash that's certain to pry those tired little eyes wide open.
Uptown
One of our favorite new(ish) meatery is serving a variety of delicious weekend offerings, including special pancakes, beef-bacon BLT's with house-made beef bacon, and salmon pastrami Benedicts. Oh, and let's not forget about its selection of signature Bloody Marys and mimosas.
Southwest
Pizza for brunch? Yes please! This Southwestern Minneapolis pizzeria is turning its wood-fired ovens over to the brunch gods not only on the weekends, but also on Mondays too, for all of you service industry folks who never get the chance to indulge. In addition to a variety of brunch-y pizza options, it's also serving its own delicious take on chilaquiles and an array of fresh baked pastries.
Midtown
This one is the brunch you need to prepare for in advance because it's only going down once a month, so mark your calendars if you plan on going to Chef Thomas Kim's unique approach to your weekend favorites. Yeah, you can get the incredible poutine, which comes with a rich, porky gravy and a slow poached egg, or you can go for a hash with pork belly and kimchi. The choice is yours, but be sure to choose wisely because you'll have to wait a while before you get the chance to make your next pick.
 
Downtown Minneapolis
European-style breakfasts get a thumbs up from us, so we couldn't be happier about what the folks over at Zentral are up too! Featuring a delicious array of offerings like Belgian-style waffles, Dutch-style pancakes, and crispy schnitzel topped with a fried egg, this is guaranteed to be the way to kick off a Sunday morning good proper like.
North Loop
That crafty Gavin Kaysen is at it again, but this time he's bringing brunch items ranging from Dill-Cured Salmon on "everything bagel" flatbread, and a fried egg sandwich with ham, arugula, and black truffle aioli, to his delicious smoked oysters and lush Bison Tartare. If you're feeling particularly French-y, go with the Red Wine Poached Eggs with wild mushrooms.
Kingfield
Quite possibly the hottest brunch spot in all of Minneapolis at the moment, the South American-inspired cuisine at this food truck gone brick-and-mortar was destined for the brunch treatment with options like the Breakfast Arepa, which comes filled with a fried egg, black beans, tomatoes, and cheese, or the delicious Arepa Benedict with Spanish sausage, spicy hollandaise, and chicharrón. Let's not forget about the cocktails either, because you know that you're there for those just as much as you are for the food.
Sign up here for our daily MSP email and be the first to get all the food/drink/fun the Twin Cities have to offer.