The restaurant business is a difficult game; places are always coming and going. In the Twin Cities, we've seen our fair share of "hot spots" close rather quickly -- sometimes within just months of opening. But like clockwork, new ones continue to pop up and test the limits, all competing to leave their unique mark on the culinary landscape... which is exactly why we thought it best to highlight the newer places currently doing so in our lovely metropolis, places that won't likely be going anywhere anytime soon. (Fingers crossed.)
Seriously, we'd rather not add anymore headstones to the Twin Cities restaurant graveyard.
All of the restaurants on this list are part of our ongoing quest to find this year's best new restaurants in America, and we're combing through every opening in every Thrillist city. Get involved on Instagram -- #BestRest2016 -- to let us know your picks and your favorite dishes at each of these new spots.
Recommended Video
This Mojito Hot Toddy Is the Destroyer of Colds
More From
Openings Cheat Sheet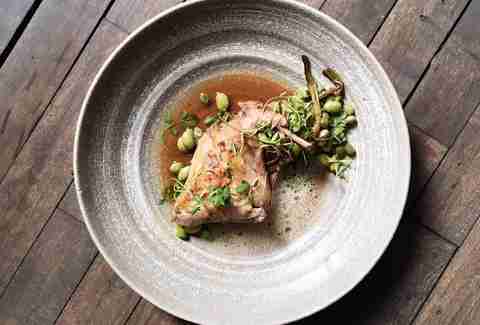 Linden Hills
Chef Erick Harcey's new Nordic-inspired restaurant has been met with nothing but critical praise, and rightfully so. The dishes are all a combination of his roots, blending bright and bold Scandinavian flavors with classic French technique. Some of the highly rated dishes include fermented lettuce, pistachio, gjetost, and pickled gooseberry; hay-roasted pork chop with carrots, charred onion, walnut, and nasturtium; and the oh-so-delicious rabbit with crayfish dashi, spring vegetables, and truffle rice. Harcey also recently opened a place kicking out arguably the best chicken in town, The Dirty Bird, which is located right behind Upton 43. Head on over if you've still got room after that pork chop.
West 7th
Mucci's Italian turns out some incredible takes on Italian comfort food. The seafood misto is littered with freshly fried sea creatures on top of vibrant chili aioli, making it a go-to for seafood lovers. The pizza is one of the best in the city, and the mushroom bisque is so good that it's hard having just one bowl. Add to that the fact that the pasta is made from scratch, and it's obvious to see why this place is making such a mark. Bottom line: if you're into Italian food, this is your new stop.
Lowertown
Modern Southern-inspired cuisine has found a nice little home in St. Paul's booming Lowertown district. It's not BBQ per se, but some of it is very much inspired by the idea. This place rocks a delicious 24-hour smoked beef brisket, a rack of baby back ribs served up on Texas toast with a side of pickles that's like no other, and a grilled, bone-in ham steak that'll satisfy any meat eater. Other highlights include a dish simply called "The Farm" -- composed of braised oxtail, a buttermilk biscuit, sunny-side-up duck egg, crispy pig's ear, pickled squash blossom, and chili oil. Be sure to also check out the takes on shrimp & grits and chicken & waffles. Also, whatever you do, don't overlook the cocktail menu.
Southwest
Legendary Twin Cities chef Steven Brown brought the goods with St. Genevieve, a restaurant featuring beautiful, well-crafted French cuisine paired with a satisfying wine list. The lamb tartare is as stunning to look at as it is to eat, and there's not a miss when it comes to the selection of delicious tartines. Among everything on the menu, the duck entrée could be the real winner, though, featuring both breast and confit along with pickled red cabbage, red potatoes, and French mustard. It's all perfectly matched with a great wine list, which is packed with reds, whites, roses, Champagnes, and more.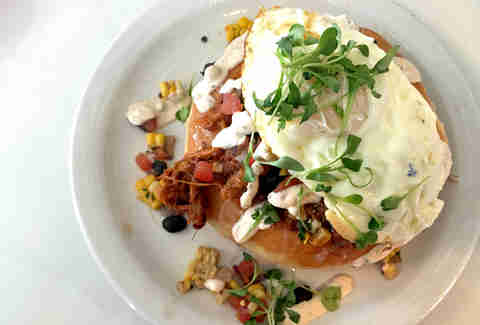 Longfellow
A lot of places in the Twin Cities have been embracing the "simpler" approach to food, and this Longfellow diner is definitely at the epicenter of that movement. Located where an old, dilapidated Taco Bell used to be, Hi-Lo's owners brought in a classic diner vibe with some incredible menu options. The Hi-Tops -- frybread covered in a variety of sweet and savory toppings -- are a must-try, and the buttermilk fried chicken (with maple-bourbon syrup, country gravy, and micro arugula) is even better than it sounds. Toss on some Cuban pulled pork with a citrus glaze, a sunny-side-up egg, some black bean & sweet corn salsa, sour cream, and micro cilantro, and you've got a menu that's good until the very end -- all the way to the adult milkshakes.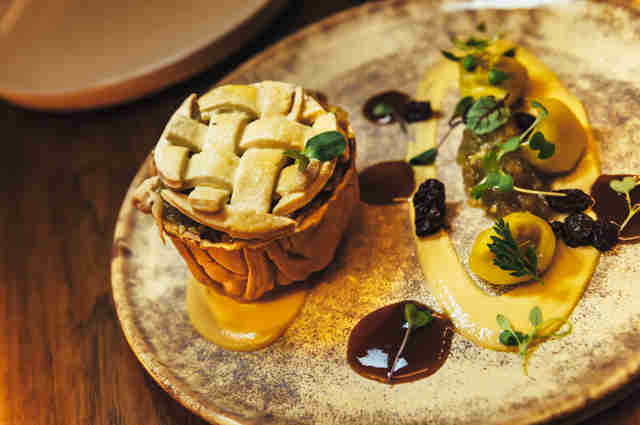 Merriam Park
Former W.A. Frost executive chef Wyatt Evans now has a place of his own, and boy is it doing farmhouse cuisine just right. The menu is jammed with both safe bets and new, exciting meals that push the palate. The smoked ocean trout with charred cucumber, sorrel, and rhubarb is great for someone looking for a less risky choice, but if you really want to venture out, try the black pudding with celery root, pickled apple, and juniper crumble. Aside from the brunch and dinner menus, Heirloom offers a comprehensive list of beers (with on tap, malty, and hoppy menus available), wines by the bottle or glass, and ciders.
Whittier
Twin Cities locals were waiting for this one to come out of the suburbs and into the city for quite a while, and now that it's here, we couldn't be happier. This place is serving some fresh takes on traditional Jamaican cuisine, like the Kingston-style jerk chicken or pork, braised oxtail, or curry goat -- all of which sport big, kick-you-in-the-mouth flavors. It also has the classic Jamaican patties (fried pastry dough filled with either spicy beef or mild chicken). Feel free to wash it all down with a bottle of Red Stripe.
West St. Paul
It's no secret that West St. Paul has a longstanding history with tacos, but this new addition is upping the game for real. The restaurant, as you might expect, is decked to the hilt in luchador swag, but it offers over 17 different fillings for the tacos, rice bowls, and meat plates. In addition, the menu holds a variety of tortas, tamales, and classic Mexican soups like menudo and posole.

Sign up here for our daily MSP email and be the first to get all the food/drink/fun the Twin Cities have to offer.