Newsflash: The best pizza place is not always the closest pizza place. Unless of course you live by the best pizza place, and you'll totally know if you do or do not thanks to our power ranking of the top eight purveyors of sauced slices in the Twin Cities.
8. Di Noko's
South Minneapolis
What you're ordering:12in Chicago-Style Deep Dish, uncut, topped with sausage
South Mpls's Di Noko's is the strongest #8 of all time, as the only knock against it is that it's only takeout and delivery. But once you taste its deep-dish-done-right (that molten cheese! That thick crust!), you wouldn't care if Di Noko's made you eat in an alley.
7. Fat Lorenzo's
Nokomis, Bloomington
What you're ordering: The New Haven
Fat Lorenzo's Nokomis locale could probably make the top eight on ambiance alone with its wacky indoor/outdoor murals of cherubs and tomatoes, but it takes number seven because of hearty pies ranging from simple meatiness to the rare-in-this-berg New Haven pie topped with baby clams in an herb sauce and Asiago.
6. Pizzeria Lola
Southwest
What you're ordering: The Forager
Say what you will about Southwest's instant legend Pizzeria Lola, but if you say their wood-fired pizza's not worth every bit of the number six slot, then we are done being friends! The My Sha-Roni! with mozz, natural-casing pepperoni & house-made fennel sausage is pretty killer, but the melt-in-your mouth Forager (three kinds of mushrooms, plus Taleggio, Fontina, and truffle oil) is a must.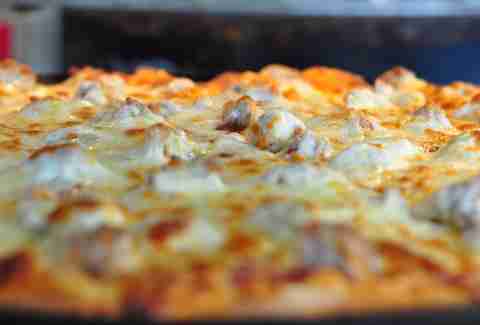 5. Red's Savoy Pizza
Various Locations
What you're ordering: The Hammer (Italian sausage, banana peppers, sauerkraut)
Many and varied are the everyman's pizza joints in this town, but none manage to blend the simplicity of a greasy, foldable slice and classic ingredients with real flavor and texture better than the square-cut perfection at Red's. They've got locations all over town now, but the one where everything's gonna be just right is at the original: 421 7th St E in St. Paul.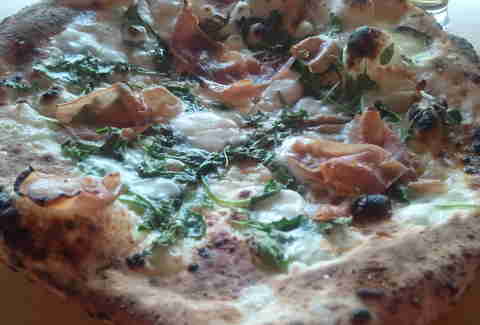 4. Punch
Various Locations
What you're ordering: The Bufalina
It might be a chain now, but Punch changed the Twin Cities pizza landscape when it brought Neapolitan pies to town, and it's still slinging mean ones. Their margherita's perfectly restrained and balanced, but it's the more creative ish like The Bufalina with mozzarella di bufala, arugula, and prosciutto that drive the flavor-train home.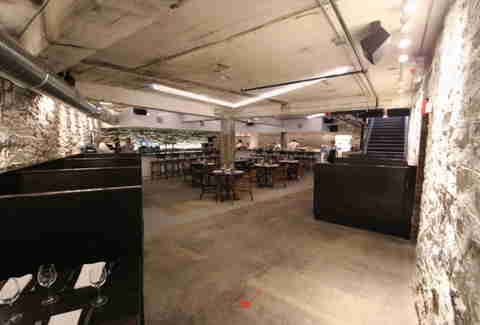 3. Burch Pizza Bar
Lowry Park
What you're ordering: The Polpo
How many other pizza places in town are run by a James Beard Award-winning chef? We'll save you the time of counting: the answer is ZERO. There's also a killer ambiance from the cellar-turned-wood-fired-oven pizza place, and an arsenal of 'za that ranges from a crispy margherita to insanity like the braised octopus/Fresno peppers/avocado pie called The Polpo.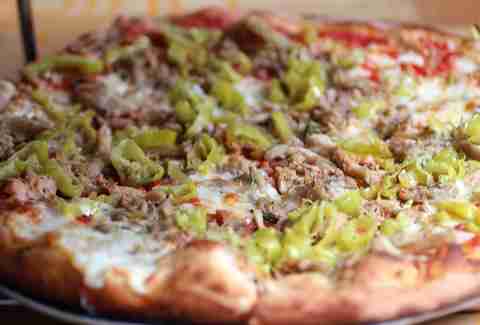 2. Black Sheep Pizza
North Loop, Downtown St. Paul
What you're ordering: The #8
The coal-fired insanity that is Black Sheep Pizza (w/ North Loop and DT St. Paul locales) has a strangle-hold on second position because of the flavor profiles of everything from the meaty #5 (fennel sausage, hot salami, green olives) to the melt-in-your-mouth #8 that's packing chicken and pickled peppers.
1. Pig Ate My Pizza
Robbinsdale
What you're ordering: The Piggy Pizza
When a rag-tag group of cheffing savants famous for mind-bending grub put their insanely popular original concept on hiatus in order to reconfigure it into a pizzeria, only glorious things can happen. And they do. Whether you opt for the standard pepperoni, bacon, prosciutto Piggy Pizza or something more askew, like the Parm foam-topped cracker & cheese pizza on literal cracker crust, you can't go wrong.