The 5 Best Bowls of Ramen in Minneapolis, Ranked
Some people would say that because of the frigid temperatures and the ability to hide additional pounds under heavy sweaters/coats, winter is the perfect time to enjoy a few warm bowls of glorious ramen. Other, more accurate, people would say any time is the perfect time to enjoy a few bowls of ramen. Either way, you're gonna need our list of the five best ramen spots in Minneapolis...
Kingfield
What you're getting: Chicken broth with pork
One of the newer additions to the Kingfield restaurant scene not only serves a selection of great, responsibly sourced sushi, but it's also got a mean bowl of ramen. The savory broth is chicken based, but it comes served with a few slices of decedent pork and a soft-boiled egg, which makes it perfect for warming up your frozen innards. If your Grandma were to make you a bowl of ramen to help fend off a cold, it would likely be a little like this.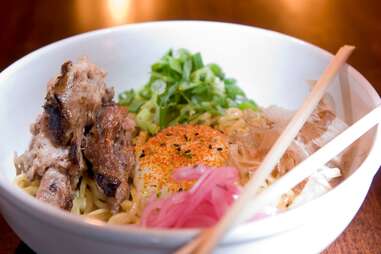 Lyn-Lake
What you're getting: Abura Ramen
What's that you say? Brothless ramen? Is that even a thing? Well, in fact it is, and it's actually quite delicious. It comes served with several traditional ramen accompaniments like roast pork, bonito flakes, green onions, pickled onions, a poached egg, and some chili oil. Once the egg is broken, the yolk and the oil work together to dress the noodles.
Northeast
What you're getting: Tonkatsu Curry Ramen
This ramen features a slightly sweeter broth that pairs incredibly well with the succulent, umami-packed fried pork cutlet that's set adrift in the middle of the bowl with just a drizzle of rich tonkatsu sauce. The gai-lan (Chinese broccoli) adds a brightness that binds all of the flavors of the ramen into one tidy little package while the yolk from the beautifully poached egg adds richness and depth. We highly suggest you get this with a Big Man Japan, and if you don't know what that is yet, well then, you best be getting on your way.
Seward
What you're getting: Kimchee ramen
Located in the center of an Asian market under the guise of a typical deli, this place makes some seriously sweet ramen with a rich and silky broth that coats the inside of your mouth, which will likely already be on fire from all of the delicious kimchee that's pack into it. The acidity from the fermented cabbage aids in cutting through some of the fattiness of the dish creating a perfectly balanced flavor profile.
Downtown
What you're getting: Tonkotsu 'Tonzen'
When it comes to truly authentic ramen, this one is the go-to. It boasts decadent, expertly prepared soft-boiled eggs and a dense, fatty broth that coats the noodles almost as though it were a sauce while the sharp strands of pickled ginger add a dramatic bit of flavor. It's easily Minneapolis' best bowl of pork ramen.
Sign up here for our daily MSP email and be the first to get all the food/drink/fun the Twin Cities have to offer.