The 13 Best Restaurants in Columbia, Missouri
Courtesy of Dak Dillon
Columbia, Missouri is the cool middle sister that sneaks off with St. Louis' sandwiches and KC's BBQ and makes both her own. From classic subs to biscuit-bunned burgers, CoMo is coming up, starting with these 13 fantastic restaurants.
Courtesy of Shotgun Pete's BBQ Shack
28 N 9th St
Located at the site of an old hitching post, BBQ here has all kinds of style influence and takes cues from nearby KC, Memphis, and even South Carolina. You'll be hard-pressed to choose between BBQ nachos, BBQ sundaes (brisket piled high in parfait glasses), rib tips, and sausages.
 
514 E Broadway
Although other sliders often rake in the accolades, CoMo's real dark horse burger is a few blocks West. Try The Roomie (pepper Jack, jalapeños, and Frank's RedHot) or The Love Story (blue cheese, bacon, and ranch), and obviously order the hand-sliced sweet potato fries -- you'll want to smear the spicy aioli that comes with them on just about everything.
Courtesy of Ozark Mountain Biscuit Company
Changes daily
Devotees are known to stalk the truck as it relocates almost daily and it's for good reason: the biscuits are amazing in the their own right, but new heights are reached when they're paired with fried chicken, pulled pork, and cabbage slaw, or used as a vehicle for the cheddar burger with zucchini pickles. And by the way, the pecan pie is fried.
 
909 Cherry St
This place capitalizes on this town's obsession with all kinds of pies (thin crust! Thick! Chicago-style!), by offering a variety of original pies like the bánh mì pizza with house-made kimchi, or the truffled crimini with mushrooms, smoked Gouda, and white truffle oil. But don't fear: if plain ole pepperoni is more your thing, you'll find slices here all day, every day.
Courtesy of Art Wuttisak/ Kampai Alley Sushi
907 Alley A
Find it tucked away in one of the intersecting alleys Downtown. Nigiri and sushi rolls are obvious but the grilled Brussels sprouts in lemon chili sauce and fried green tea ice cream are standouts.
 
Best sandwich spot: Sub Shop
209 S 8th St
Offering the same classic subs -- meatball, sausage and kraut, and Italian -- on house-baked rolls since the '70s, it's no wonder it's one of the 33 best college sandwich shops in America.
Best fancy restaurant for when you're not paying: Sycamore
800 E Broadway
Pork belly sliders, house-made gnocchi, flash-fried oysters, and rich, sumptuous treatments of duck, pork loin, and salmon make this place a rare treat... for your parents to pay for. But if they're not, the lunch menu is surprisingly affordable and portions are generous. Treat yourself to the tuna salad sandwich with a side of Parmesan fries and feel like a million bucks without the bill.
 
12A Business Loop 70 East
If it's not pollo a la brasa -- a day when the kitchen serves rotisserie chicken Peruvian style, a buffet of all-you-can-eat fries, and a salad bar -- go for the lomo saltado beef stir-fry and the carnitas tacos six-pack. The outside looks like a strip mall, but one thing's for sure: this is the best Peruvian-influenced Mexican cuisine in a strip mall.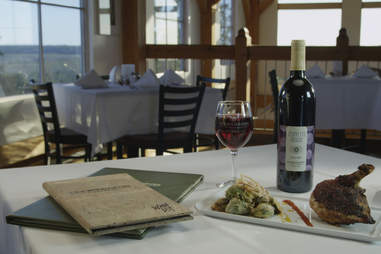 Courtesy of Les Bourgeois
14020 West Highway BB
Rocheport, MO
Though a little outside the city limits, this vineyard with a bluff-top A-frame and bistro overlooking the Missouri River is well worth the drive (and the privacy). The French-inspired fare is both classic and adventurous (think frog legs with Sriracha remoulade), and the local prosciutto-wrapped trout and pork loin pair nicely with the label's own inventory. Chicken and waffles make an appearance on the brunch menu, so if mimosas and slow mornings sound more romantic than wine over a candlelit dinner, you're covered.
Courtesy of Chelsea Myers of Tiny Attic Productions
Best breakfast/brunch: Café Berlin
220 N 10th St
Expect no greasy spoon, as this cafe prides itself on serving fresh local fare. Favorites range from apples and andouille sausage to chilaquiles, homemade granola, and the Schuyler, a hard egg sandwich with jalapeños, red onion, bacon, and chipotle mayo on fresh-baked sourdough.
22nd S 4th St
Satisfy the need for chocolate chip pancakes, biscuits and gravy, or The Stretch (a raucous mess of scrambled eggs, chili, onions, cheese, and hash browns piled together) until 2am, or come by late night for the Friday Night Burger Club, when a creative new burger is introduced after 11pm.
 
Best for watching sports: D. Rowes
1005 Club Village Dr
All things smoked, BBQ'd, and grilled (particularly the wings) are worth digging into, but don't overlook other tasty options, like the fried catfish sandwich or classic Philly. Plates are overflowing, drinks are refilled often, and the staff knows that you might want to follow the Rams, Chiefs, and Blues all at once. It's cool, they get it. And there's a screen for all of them.
 
11505 Smith Hatchery Rd
Although Chim's Thai has several locations scattered across the city, the Cooper's Landing location wins for best food and best scenery. Bike the statewide Katy Trail right up to the campsite where Chim cooks out of a permanently parked food truck or drive right over; the chicken satay, pad Thai, Thai cucumber salad, and other daily specials will taste fantastic either way. Park yourself on a bench and watch the sunset over the Missouri River.
Sign up here for our daily MSP email and be the first to get all the food/drink/fun the Twin Cities have to offer.